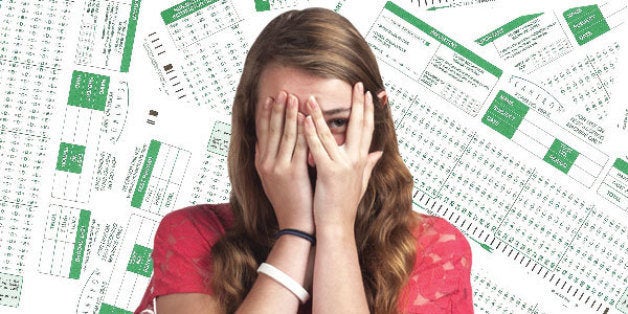 This article was written by teen reporters from The Mash, a weekly publication distributed to Chicagoland high schools.
By McKayla Braid, Plainfield East High School, Kathryn Cua, Hinsdale Central High School, and Anna Quesse, Fremd high school
Take as many AP and honors classes as possible, but don't forget about extracurriculars. Study until you know the material like the back of your hand, but make sure to get a good night's sleep. Oh, and remember to keep up a healthy social life.
As high school students, we face a lot of conflicting expectations. On top of it all, we're always being tested. If it's not the ISAT, it's the ACT. If it's not the ACT, it's the SAT. Or the PSAE. Or the PSAT. Or the PLAN test. And the list goes on.
State and national laws require students to take a number of exams. But last year Chicago Public Schools had a whopping 25 district-mandated standardized tests. On Aug. 7, CPS CEO Barbara Byrd-Bennett announced that the district would drop 15 of those tests.
"As a former teacher and principal, I heard loud and clear the concerns of our parents and educators that over-testing is not in the best interests of our children, thus I recognize the need to pursue a policy that increases valuable learning time," said Byrd-Bennett in a press release.
While the plug was pulled on more than half of CPS' standardized exams, some students and experts argue that there are positive outcomes from mass testing.
"I don't think there are any kids that actually enjoy being tested," said Naperville Central sophomore Caroline Loughman. "But in terms of importance, I think testing is a pretty good way of determining how students are picking up material and progressing."
Human behavior and education expert Dr. Gail Gross said she agrees that testing is an effective way to gauge students' engagement and understanding of materials.
"It shows the child where he is lacking, and it shows the teacher what to work on," Gross said. "(Teachers) have to know where (students) are so that they can tailor a curriculum for their class. They have to know if what they're teaching is working, and they have to know if children are learning. The way we know if children are learning is if they can replicate what they've learned."
If the sole purpose of testing is to check a student's understanding, why do some teens feel so much pressure to do well? Demand from parents, peers and teachers can cause anxiety. But perhaps the biggest stressor is the weight of particular tests.
Examples of high-stakes testing include the ACT, SAT, PSAE — and for some Chicago students, a high school entrance exam.
Lane Tech junior Angela Intia had to endure the full load of CPS district-mandated tests last year. Still, she said the most difficult test she took was the high school entrance exam.
"Your future is riding on one test, and it's really nerve-wracking," Intia said. "It doesn't show your complete performance. It just has so much pressure riding on you that you can't help but mess up a few times."
For Hinsdale Central senior Lisa Schmidt — and many other juniors and seniors — the real pressure comes with a national test, the ACT.
Schmidt said that the pressure students feel to score well on the ACT or SAT "gets to the extreme that students measure themselves by their test score rather than their academic record or sport. It becomes a 'What's your number?' game between students."
Though students may think that they're the real victims of over-testing, teachers also feel the strain. Ivette Cortez, a seventh and eighth grade Spanish teacher at Erie Elementary School, knows the effects of testing firsthand.
"I can see why it's considered an epidemic," Cortez said. "In the seven years I've been teaching, they've been giving the ISATs the whole time, and I see what it does to students. … The test itself has done irreparable damage to the education system, but it's also done damage on the psyche of every student."
The damage, Cortez said, comes from the time it takes to teach the material covered on the ISAT.
"You can't teach seventh graders to use citations and at the same time teach something else that will come up on the ISATs," Cortez said. "You have to kind of do this dance back and forth. Today, I'll teach this, which is on the ISAT prep test, and tomorrow, hopefully, I'll get to something from the books."
Some students say they can tell when teachers are feeling the pressure to push testing material.
"I do think schools only teach us what's on the test and they leave out the important things," said Plainfield East senior Gerardo Marroquin. "They just teach us enough for us to do well on the test instead of teaching us things to benefit us."
Education speaker and consultant Gary Stager said he believes that the hyper-focus on how students score on tests has taken away from the profession of teaching.
"Tests are making the teachers less capable," Stager said. "It's removed the art of teaching from the profession."
More than that, Stager said that the motives behind some tests aren't so black and white.
"Schools across the country have become sweatshops where kids are doing nothing but preparing for these tests, which are published by multinational-corporations … who also get paid for the test, so there are a lot of financial incentives involved in keeping this momentum growing," Stager said.
In recent years, financial incentives from state and federal governments have been tacked onto tests to hold teachers and schools accountable for student growth. However, when little or no gains in achievement are made, this incentive-based system can negatively impact schools. In some cases, a school's federal funding depends on test results.
President Obama's Race to the Top initiative has given more than $4 billion to 19 states that have developed plans to confront education reform. Test results are a factor in deciding who receives these grants.
However, a 2011 study by the National Research Council found that "test-based incentives have not consistently generated positive effects on student achievement."
Furthermore, these incentives "can encourage teachers to focus narrowly on the material tested—in other words, to 'teach to the test,' " the report said.
Dial back the competition
Even now that there are fewer standardized tests for CPS students, some feel that the competitive spirit still lingers.
Gross said she believes things will improve when parents, teachers and students put in a collective effort to change the way students learn.
"We, as a country, need to work on teaching collaboration instead of competition," she said.
With the high level of competition among high school students, it's easy to forget that message.
"Not everyone makes an A, and that's all right," Gross said.
$1.7 billion The amount states spend on standardized testing each year, according to the Brown Center on Education Policy at the Brookings Institution.
20 Number of Illinois schools that don't use standardized tests, such as the ACT and SAT, for a "substantial number" of its admission decisions, according to fairtest.org, a national testing advocacy group.
616 Number of organizations that have signed the National Resolution on High-Stakes Testing, a petition to reduce state and federal governments' reliance on standardized tests when grading schools, and overhaul the No Child Left Behind Act.
$4.3 billion The amount of grant money offered by the Obama administration's Race to the Top program, which aims to reward states that show significant improvement in education, including better test scores.
Calling all HuffPost superfans!
Sign up for membership to become a founding member and help shape HuffPost's next chapter