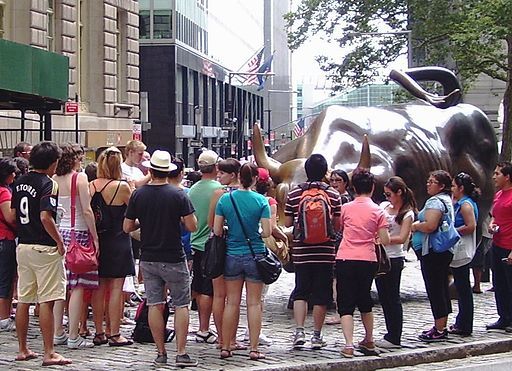 Wall Street's Charging Bull was set in place in 1989.
It was a year that opened with the inauguration of George Bush the Elder. His was a presidency fraught with dissension and Bush navigated tentatively. Saturday Night Live satirized him with the mantra "Wouldn't be prudent." Ten months into his term, on Friday, October 13th, the stock market crashed for the second time that decade. It was just two months later that the sculptor, Arturo Di Modica, stationed his bronze bull under the giant Christmas tree in front of the New York Stock Exchange, a gift to the people of New York.
The sculpture was originally "guerilla art," meaning that the work was not commissioned—the artist paid for its manufacture and placement, and located it where he wanted. Imagine the logistics of installing an 11 foot tall, 16 foot long, 7,100 lb sculpture.
Picture the scene: it needed a big truck, a crane, and a posse of handlers—all shouting. Normally you would have a fistful of permits, barricades and police officers to hold back gawkers, and the mayor to "say a few words." Di Modica skipped those steps and boldness was his friend. The bull was so big that no one thought to challenge him. It was just part of another unpredictable day in the Big Apple and it was met with New Yorkers' habitual expectation of the unexpected. No one walking past asked pointed questions and no authorities were called—everyone assumed the sculpture was a commission. Di Modica himself expected the bull's removal to be required as soon as city officials figured out who was responsible for its arrival.
But Charging Bull stayed by popular acclaim. It's an oversized, whimsical, approachable, dynamic figure that seems to imply respect—love even—for New York. It became an attraction immediately, drawing crowds on its very first day and ever since. As a photo-op it is now second only to the Statue of Liberty. There it has stood for almost 30 years, a symbol of the most powerful financial market in the world, an icon of runaway capitalism.
When a Canadian magazine called Ad Busters instigated the Occupy Wall Street movement, it used the photograph of a ballerina posing on the back of the bull as the central image on announcements of the first Occupy gathering. Young, slight, and above all female, the dancer was the bull's first formal encounter with a woman. Gently mocking as it felt at the time, the poster now seems prescient as it asks, "What is our one demand?" The answer wasn't simple, of course. Wall Street stands for too many things: corporate influence on government, the greed that caused the global financial crisis of the day, and the wealth gap between the very rich and everyone else.
As any artist will tell you, Di Modica's sculpture has been irrevocably altered—destroyed in a way. Fearless Girl, by artist Kristen Visbal, was commissioned by State Street Global Advisors, and the juxtaposition of this new work changes everything. The bull's untamed rampage is now about to be halted by a child—not a woman, but a self-assured little girl. What does it say? Without the bull, she's nothing. With the bull, she's the statement of a new order.
And what about that bull? He was always a creature of his context. He was a bull without a bear. He was unchecked, a powerful and essentially optimistic creature. Meanwhile, Di Modica's own feelings about the bull may have shifted. In 2010, he placed another one in Shanghai. While New York's bull looks powerful and mature, the Shanghai version seems younger and stronger—possibly Di Modica's comment on the developing Chinese economy.
Fearless Girl, installed on International Women's Day last week, is a creature of her time also. Who is she? The girl, despite being cast in bronze, is clearly of European heritage. It's a choice that may be viewed with some irony as the world progresses, but which draws on the iconography of American children's literature. She has a swinging ponytail, stands arms akimbo, and embodies a level of confidence seldom found in adult women. We know her—she's who we wanted to be, who we want our kids to be. She's the modern version of Ann of Green Gables, Laura Ingalls, Nancy Drew, and perhaps even Dorothy from the Wizard of Oz. She's brave, committed, not too pretty but still charming. Expect books, dolls, and action figures as part of the bull's attempts to subvert her.
But the girl has already appropriated the bull—or her sculptor has. The unfettered creature about to go on a heroic rampage now has to make a calculation: to charge or not to charge? A ring in his nose might be next.
While the juxtaposition of the two sculptures is a concept developed by a finance company, the statement it makes could have come from the Women's March itself. It speaks to women's rights, to equal opportunity, and opposes the corruption that comes with unbridled power. Yes, the Women's March is a young organization. Yes, its powers do not look strong as yet. But there's a readiness there to confront the old bull: capitalism as it is currently configured, the corporate establishment, and the homeboy New York loves to hate, Donald Trump.
And, by the way, there's a photograph circulating on Instagram of some suited finance hopeful humping Fearless Girl. Really? Yes—we do have a long way to go. And I hope the bull gores his ass!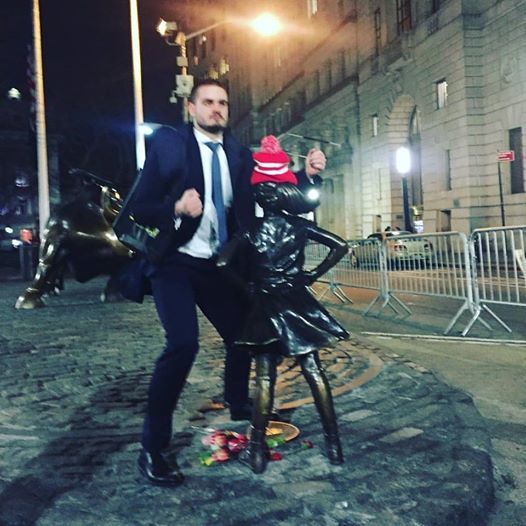 This blog was previously posted on the Sanity Papers, March 12, 2017. Follow Sanity Papers on Facebook for more updates.
REAL LIFE. REAL NEWS. REAL VOICES.
Help us tell more of the stories that matter from voices that too often remain unheard.