In 2013, a group of daily givers, myself included, committed to provide seed funding to a fledgling social change project every single day of the year. At the Pollination Project, we continue this practice of daily giving by making seed grants every day in 2014. Over 20 people have joined our daily giving team thus far, and we welcome you to join us too! Here are the extraordinary people and projects that the Pollination Project's daily givers supported this week.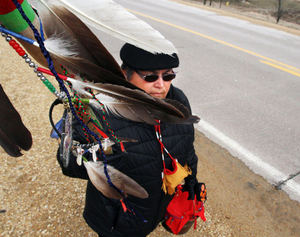 Sharon Day, an Ojibwe elder, is leading the Ohio River Water (Nibi) Walk starting on Earth Day, April 22, 2014. This walking prayer brings together a group of Indigenous Women and their allies, carrying a ceremonial copper water vessel 966 miles from Pittsburgh, PA to Cairo, IL where the Ohio River joins the Mississippi. Their motto is "Every Step is A Prayer. " The Ohio River Walk is aimed at drawing attention to the perils facing the River, which is the most polluted in the US. Sharon believes, "Today we're missing a spirit connection to the water because all we have to do is turn on a faucet. They are just products that we consume, as opposed to life-giving forces. We must change this idea of water as a commodity. We need to care for the water instead of merely use it." As Sharon and her Indigenous sisters walk from town to town along the river, they will raise awareness through local outreach to community members, educational gatherings, media. They hope to awaken a wider ecological consciousness rooted in recognizing water's gift of life by demonstrating their love and respect for the source gift.
Julie Struck is a former college art professor driven to help the homeless and victims of domestic violence in her Evansville, Indiana community. Her program ArtSpeak, empowers its participants to find help and healing through visual art and creative writing activities. Julie believes "art gives people a sense of ownership, control, identity, accomplishment, community and social engagement," and she is currently developing a six-week skill building arts education and healing program for her underserved audience. In addition to the skill building program, Julie is facilitating an exhibition of accomplished artworks by the local homeless community. By bringing this exhibition to the public, she will be bridging this challenging societal gap through art and storytelling.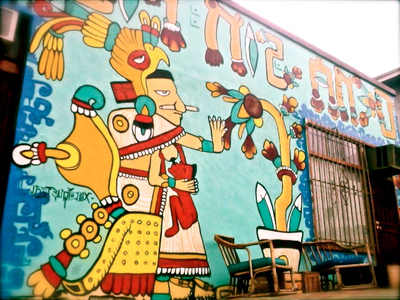 In a world of barriers, increasing isolation and fast food, long-time caterer Meg Taylor feels that preparing and sharing meals is the answer to revitalizing community. In her words, "Food and its culture are a gateway to being less afraid of each other." In an effort to build connection and empathy, Meg is starting Cooking Corps, a weekly vegan dinner cooked and shared among neighbors at Cena Sin Pistolas, or Dinner Not Guns, a Los Angeles, California meeting place for local activists and artists. "Cooking Corps asks cooks of very diverse backgrounds to adapt their traditions to plant-based ingredients, and to come together to share a fundamental part of themselves - the culture and joy behind the way we fuel our bodies and get our life energy - in an environment of empathy and mutual aid," Meg explains.
Nicole Bluh and Eugene Cook want to invite and empower their community to tune in to the rhythms of the Earth and connect with themselves in the process. Co-directors of the Good Shepherd Agro-Ecology Center project, Nicole and Eugene are planning to build a Medicine Wheel in the center of the urban farm and community center located next door to the Good Shepherd Community Church in southwest Atlanta, Georgia. The volunteer-run center aims to improve community food access, educate the community on local plants and demonstrate how restoration of the land and the practice of sustainable farming can be beneficially integrated. "Just as the garden can be the grounds for all subjects in life, the Sacred Wheel is a representation of all cycles in life. By entering into the wisdom of the cycle we may align our physical being with the cycles of nature to gain peace and harmony from wherever we are at," Nicole and Eugene said. Nicole and Eugene have already seen how connecting people back to the land grows community, revitalizes health, stabilizes families, nurtures economies and builds confidence.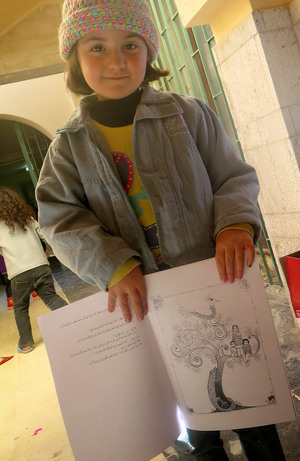 When Jean Bradbury started teaching art in Jordan to Syrian refugee children last spring, she saw a need that called her, a teacher and a parent, to action. After the art workshops at the refugee camp, the children didn't have any materials to take back to their tents to continue creating, learning and healing. Already the founder of Studio Syria, a Seattle-based non-profit which provides art and educational opportunities to Syrian children living as refugees, Jean decided to produce an activity book and distribute it with a kit of colored pencils, sharpeners and extra paper. She started with 400 test booklets and gave them to kids at roadside camps, in fields and city lots, as well as in the sprawling refugee camp near the Syrian border. Containing art projects, math problems and reading activities, the cover of the book prompted the child receiving it to write their name and draw a self-portrait. "It is impossible to spend time in the Middle East now without being moved by the suffering of the Syrian people and the plight of the nearly quarter of a million children in Jordan who struggle to attend school," she said. "As a parent, and as a teacher, I know how important education is to a child's wellbeing. And of course, an educated populace is the best hope for peace."
Considered one of the most biodiverse spots on the planet and called home by indigenous peoples, Ecuador's Yasuní National Park pristine rainforest is threatened by oil drilling. Pedro Bermeo and his organization Yasunidos are working to protect the park and its inhabitants by hosting Zapateadas for the Yasuní in the streets of Ecuador's capital city of Quito. These celebrations featuring music, dance, theater and art are "...a mixture between a classical manifestation and a collective expression in favor of life, based on spiritual rituals of the indigenous peoples of the Andes," Pedro said. The coalition of indigenous groups, feminist associations, environmental organizations and individuals are working to gather the many signatures needed to compel a referendum which would save the rainforest from exploitation and degradation. The group is also looking to showcase sustainable and healthy alternatives to the traditional destructive development model.
As passionate vegans, Justin and Rosemary Van Kleeck couldn't stand by while the farmed animals abandoned at county animal shelters were returned to the agricultural system to suffer. Based in the Triangle region of North Carolina, they founded Triangle Chance for All, a non-profit which works to provide or secure permanent sanctuary to rescued farmed animals. Their three-acre "microsanctuary" outside of Chapel Hill has six residents: two adult hens, two roosters, and two young chickens, all of whom were rescued from county shelters. They also rescue and place animals at other sanctuaries or in homes to insure they will never be used as commodities again. "Most of society distinguishes 'companion' animals like cats and dogs from 'food' animals like cows, pigs, chickens, sheep, and goats. It is perfectly acceptable in that system to 'love' one group like family while eating the other and making them endure the most tortuous of conditions," Justin said.
Congratulations to our grantees this week for their outstanding work to bring justice, peace, health and compassion to their communities. These are just a few examples of what a little seed money can do when put in the hands of someone with a vision and a plan to change the world.
Related
Popular in the Community