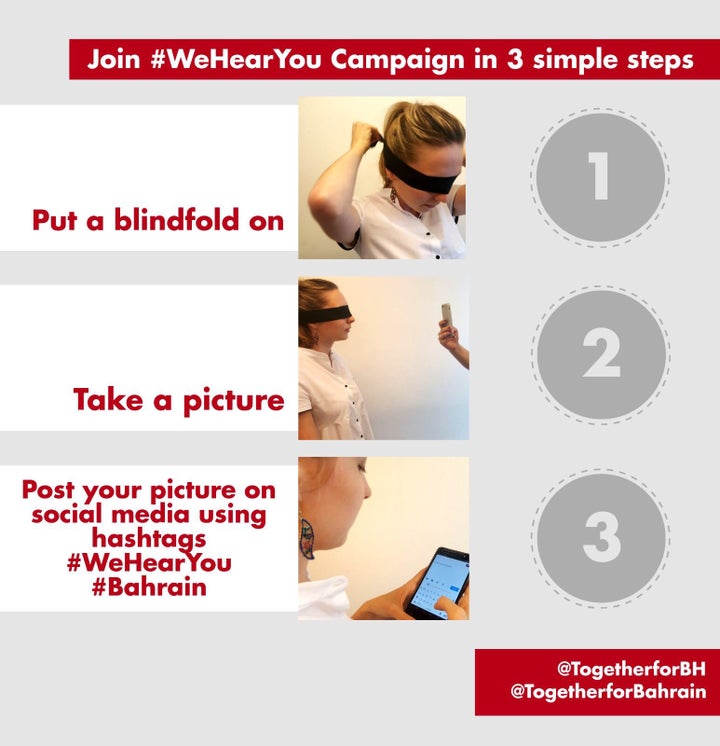 Close your eyes and imagine what it's like to be blindfolded as a prisoner. Do it for just a few minutes. When you've finished reading this article tightly shut your eyes and try to picture yourself in a jail in a repressive country known for torturing prisoners.
In a country like Washington's military ally Bahrain, where the authorities routinely blindfolded prisoners before subjecting them to beatings, and worse.
A new social campaign has started to remind people of prison conditions in Bahrain, and why people are being wrongfully jailed. People are asked to try the blindfold test by wearing one and tweeting a picture to @TogetherforBH and tagging #WeHearYou.
In the years I've worked on documenting human rights violations in Bahrain, dozens of former prisoners have told me credible, consistent stories of how they were blindfolded and abused.
Jalila Al Salman was the vice president of the Bahrain Teachers Association, and was arrested in 2011 for her peaceful dissent against the government.
"I can't forget my feelings when I was first blindfolded," she told me. "It was terrifying to be suddenly in the dark without knowing why, and what is it that they don't want me to see. My eyes were hurting me but I couldn't do anything because my hands we're cuffed. Pushing me around in the dark was another horrible thing. I didn't know where I was or the structure of the place. I had no mind map for where I might be. So all you can do is try to cope with the pushes and drawing a map in my mind to use later," she said.
"Being guided around by those arresting was not comfortable. I had no idea what they were going to do or where they were taking me. It's a complete fear of the unknown. It's just me with them, at their mercy. Pushing, pulling, hitting and beating were the simplest things I faced. Being in the dark hurts a lot and I'll never forget that experience - it's still terrifying when I think of being in a similar situation."
Ebrahim Demestani was one of dozens of medics rounded up and jailed by the regime after the widespread protests for democracy in 2011. He recalls feeling that his torturers "knew the right of my position and the crimes they did. That is why they they don't expose their faces and kept us blindfolded."
Matar Matar was a Member of Parliament for the main opposition group Al Wefaq, and was also arrested, blindfolded and abused in 2011.
"I can't forget the experience of being blindfolded," he told me. "Of smelling something burning close to me, and someone whispering in my ear, threatening my life. I was blindfolded during all the interrogations. I was offered to be treated as a human if I cooperated or as an animal if I didn't. I was kept blindfolded standing outdoors in the sun in hot days, not allowed to eat or sleep. I fell down, unable to stand, but just got more insults."
Interfaith cleric Maytham Al Salman told me that when he was arrested for his peaceful criticism of the government he was kept blindfolded for more than 30 days.
"The days passed without me noticing them pass. I had no conversations with anyone besides the officers interrogating me. The conversations included slaps, punches, intimidation and extreme forms of harassment. I lost consciousness in one torture session and when I woke in hospital I saw light for the first time and a when I asked a nurse the date I realized I'd spent the last 36 days blindfolded," he said.
"I use to spend the days in an internal 'perceptual cinema' through which I used to connect with the images of my loved ones and family. I recall replaying a movie of my life and analyzing all the steps and actions taken to judge whether they were ethical or not. I used to wonder during my experience if my kids and loved ones would ever have to pass through the same experience, and asked myself what I could do help people of all backgrounds avoid to avoid the hardship I've been through."
Today Bahrain's prisons are full of inmates who haven't received a fair trial, and who have been blindfolded and abused. The #WeHearYou campaign aims to show they're not forgotten, that people outside Bahrain care about what's happening in the repressive kingdom.
Rebecca Hickman is English and lives in Copenhagen, Denmark. She's one of many Europeans who are joining the campaign by posting a photo of her blindfolded on social media.
She says she joined the campaign because "I just couldn't understand why countries like the UK were rendering the issue of abuse in Bahrain invisible. I am the same age as a lot of the detainees, and my life is so different, and they should be able to have my life, without having to chose losing their freedom in their fight for something that I take for granted. I feel like I have my rights, and so I have the privilege and obligation to help those who don't."
The #WeHearYou campaign runs until June 1.
Related
Popular in the Community