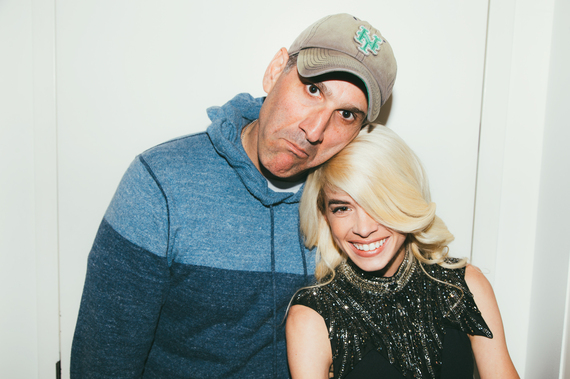 Photo by shootmepeter.com
There's something so very retro about Lauriana Mae, yet something so contemporary. She's sort of like Amy Winehouse blended with some added R&B undertones... Okay, never mind, forget it. Comparisons are subjective, so I'll stop right there and just say this Jersey-native is a standout on her own. Her vocals are strong, unique and can be heard on her recently-dropped City of Diamonds EP. That, by the way, is a follow-up to her 2011 well-received Love Mae EP.
Mae gets her originality -- vocally and personally -- from a mixed bag of musical tastes that were tossed her way as a kid by her mother and family. A veteran of the church choir, she honed her skills there while listening to a pair of "Bills": Billy Joel and Billie Holliday. She finds herself lyrically and vocally attracted to both. Yet, she's inspired by contemporary artists, obviously -- including those she's already collaborated with: B.o.B. and Action Bronson. Late last month, the singer/songwriter performed "Ya Neck" at Primary Wave's "A-Sides Studio," and crushed it. She also sat down for an interview that can best be described as "fun" and "cute." I have nothing to do with the latter adjective. Anyway, watch on. (Filmed by shootmepeter.com.)
Click here for the A-Sides exclusive interview with Lauriana Mae.
Like Mae, New York City-based Erica Glyn stands out in a field of non-standees. A better opening sentence? Methinks, yes. But, here we are. Anyway, Glyn is a multi-talented singer, songwriter and producer who easily stands out in a crowd of blended-in artists. The traditional "singer/songwriter" tag is usually associated with a girl or guy and her/his guitar, but Glyn takes that stereotype and steps on it with proverbial pumps. A mix of rock, psych, and strong vocals is what pushes Glyn above the rest of the pack. Did I repeat the first two sentences, but present them slightly differently? Perhaps, but it's true.
Glyn just dropped her Dollars For Thieves EP, and it's indie rock in its purest form: She writes, she produces and she records. In addition to DIY, she's performed with everyone from St. Vincent to Citizen Cope, and as an engineer, worked with everyone from Hillary Clinton to Stephen Colbert. Anyway, watch her perform a track below and talk about awesome stuff. (Filmed by shootmepeter.com.)
Watch the exclusive A-Sides interview with Erica Glyn.
A-Sides "Delve Into Twelve" Countdown
Each week A-Sides unleashes its top 12 tracks of the week AKA the "Delve Into Twelve" based on the following contributing factors: songs I'm playing out that particular week no matter when they were released (think overlooked songs, unreleased tracks and old favorites), songs various publicists are trying to get me to listen to that I did and dug a bunch, posts and trends I've noticed on my friends' Facebook walls and, most importantly: what my toddler is currently enjoying thoroughly with an assist from my newborn.
About A-Sides with Jon Chattman:
Jon Chattman¹s music series features celebrities and artists (established or not) from all genres performing a track, and discussing what it means to them. This informal series focuses on the artist making art in a low-threatening, extremely informal (sometime humorous) way. No bells, no whistles ‹ just the music performed in a random, low-key setting followed by an unrehearsed chat. In an industry where everything often gets overblown and over manufactured, Jon strives for a refreshing change.