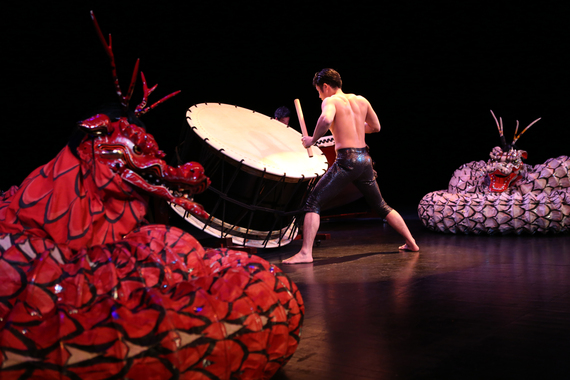 REVIEW:
It was a fantastic Saturday evening at BAM as the 'KODO' ensemble concluded its 3-day performance in Brooklyn of its One World Tour. If you are not familiar with the art of drumming called Taiko, it's an extraordinary drumming extravaganza and as a friend said, "A great way to empty out aggressive energy." Surprisingly Taiko is performed largely by females, but 'KODO' performers are mostly male. This ancient but modernized drumming requires tremendous dexterity and strength. A gift of physical power and suppleness that requires a young body to engage with some drums that are larger in size than they are. With consistent & determined skill, 'KODO'S' artists harmoniously brought forth the shine and sparkle akin to the northern lights that can only be seen under perfect conditions.
Seasoned artistic director and performer, Tamasaburo Bando, who has often acted in traditional Kabuki Theater calls this production 'Mystery.' He explains that, "In the folk arts that have been handed down across Japan, there's a sacredness, an air of mystery within prayers. The drums express this, and I'd like for the audience to feel it. I hope theater-goers will experience the same sort of other worldly splendor that you sense in a temple or a shrine, or when you discover things in nearby woods."
Truly Mr. Bando with 'KODO' producer Nobuyuki Nishimura achieved this with their amazing ensemble of 15 performers, who transformed from dragons to musician's, from athletes to actors. With excellent choreography by Kazumi Boy and lighting design by Kenichi Mashiko, the stage was truly trafficking magic.
Popular in the Community