A woman may need to have her arm amputated because she was so badly injured during demonstrations against the Dakota Access pipeline.
Journalist Ryan Vizzions posted graphic photos of 21-year-old Sophia Wilansky's injuries on Facebook Monday, showing her blood and exposed broken bones. He wrote that a "concussion grenade" hit Wilansky on Sunday night, when police used tear gas, rubber bullets and water against pipeline opponents in sub-freezing temperatures.
A concussion grenade is a type of weapon typically used in close combat, and does not explode into fragments upon detonation the way that a traditional grenade does.
A press release from the Standing Rock Medic & Healer Council corroborated Vizzions' report, saying that "several eye-witnesses" reported that authorities were throwing concussion grenades. Fragments of some foreign material were found in Wilansky's wound, Linda Black Elk of the Medic & Healer Council told The Huffington Post.
Wayne Wilansky, Sophia's father, told The Guardian that his daughter was in surgery for eight hours on Monday and said it's possible her arm may need to be amputated.
"The best-case scenario is no pain and 10-20 percent functionality," he said.
The young woman, who was completely conscious, saw law enforcement throw a grenade "right at her," her father said at a press conference on Tuesday.
But law enforcement and former military sources — none of them involved in responding to the Dakota Pipeline protests — were skeptical that a concussion grenade would have caused Wilansky's injury, since they don't send off fragments and shrapnel.
A Morton County Sheriff's Department spokeswoman told the Los Angeles Times that law enforcement officers did not use concussion grenades that night and said the department was unsure how Wilansky was injured.
HuffPost was unable to reach the department.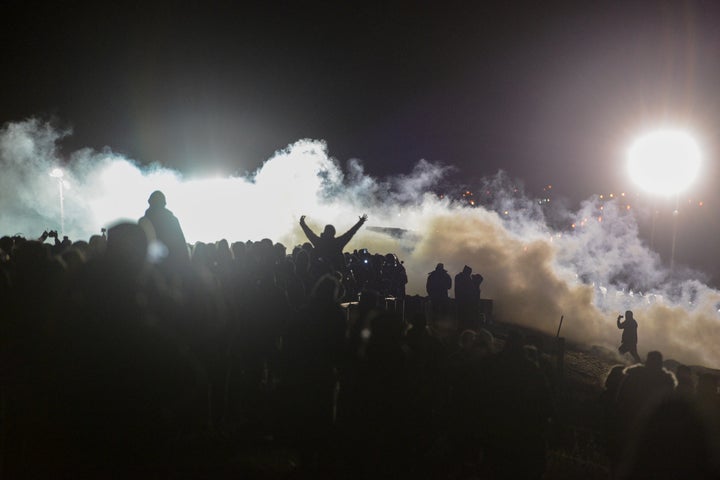 Wilansky was one of at least 300 people injured Sunday night and early Monday morning, Medic & Healer Council coordinator Michael Knudsen told HuffPost. He said 26 people went to the emergency room with "blunt trauma and open wounds," mostly from rubber bullets being fired at close range or tear gas canisters that law enforcement shot from cannons, he said.
Those numbers do not include the many individuals — Knudsen estimated between 500 and 600 — that medics treated for symptoms of hypothermia after officers shot water over the crowd in temperatures hovering around 22 degrees Fahrenheit.
Though video footage shows law enforcement officers shooting large jets of water directly at the crowd ― using water cannons, activists said, though the sheriff's department said it used fire hoses ― Sheriff Kyle Kirchmeier claimed that the water just a "mist."
Opponents of the pipeline, which is slated to carry crude oil from North Dakota to Illinois, say it poses a huge threat to water safety since a leak would contaminate the Missouri River, an important water source. The chief executive of Energy Transfer Partners, the company building the pipeline, said last week that he's refusing to budge on the pipeline route.
Before You Go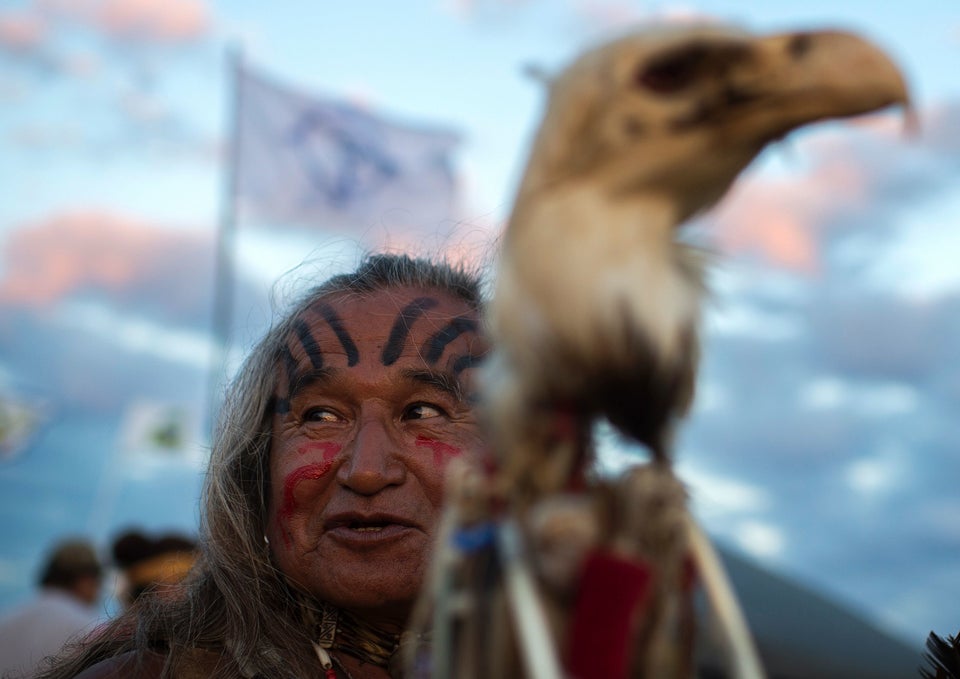 North Dakota Pipeline Protests
Popular in the Community