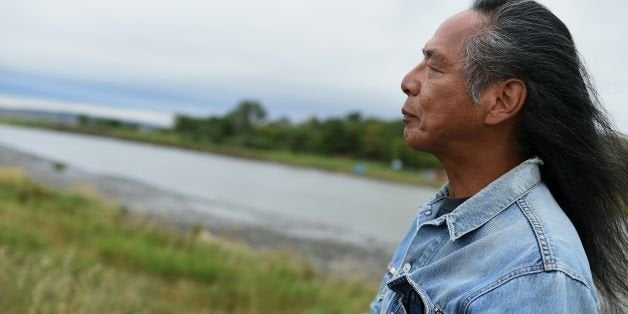 This reporting was made possible by CREDO Mobile
Sunday night, on a bridge just north of the Standing Rock Sioux Indian Reservation, Morton County police, backed up by the North Dakota National Guard, unleashed a sub-freezing-weather barrage of water cannons, mace and tear gas canisters, 40mm rubber bullets, concussion grenades, 12-gauge bean bag rounds, and other projectiles on hundreds of people demonstrating peacefully against the North Dakota Access Pipeline.
The police assault resulted in approximately 300 people requiring medical attention and at least 26 people evacuated to three area hospitals. Local EMS crews reported they had to bring in off-duty staff and rigs from as far as Cheyanne, Fargo, and Bismarck to handle the influx of injured people. One ambulance driver told this reporter that it was by far the biggest mass casualty incident the area had ever seen.
Among the critically wounded:
-- Sophia Wilansky, a young woman from New York City, was shot in the arm with an exploding concussion grenade. She was transported by ambulance to a hospital in Bismarck before being airlifted to Minneapolis, where her arm was amputated. According to a Gofundme page setup by the victim's friend, Wilansky was handing out bottles of water to those trying to recover from exposure to mace and tear gas when she was hit.
-- An elder on the front line suffered two episodes of cardiac arrest and had to twice be revived on the scene before being transported to an area hospital for treatment.
-- A young man suffered a grand mal seizure after being exposed to a barrage of mace and tear gas canisters fired from 40mm grenade launchers into the densely packed crowd of people who had gathered on the bridge.
-- A woman shot in the face with a 40mm rubber bullet suffered an eye injury that medical staff say could result in permanent vision loss.
-- A young man was vomiting blood due to an internal injury when he was hit at close range with a 40mm rubber bullet.
-- Multiple people lost consciousness after being hit in the head with less than lethal projectiles, or by falling down after being hit.
-- Multiple people soiled themselves, vomited and/or hyperventilated after being exposed to wave after wave of tear gas and mace.
-- Multiple people suffered fractures and/or serious contusions after being hit at close range with less then lethal rounds or falling down after being hit.
-- Multiple people suffered hypothermia from exposure to the elements after being drenched by police water cannons in temperatures that dipped as low as 22 degrees Fahrenheit.
By nights end, many activists and reporters on the scene also reported that they believed police purposely targeted journalists and medics, as well as aimed to maim by shooting 40mm canister rounds directly at peoples' bodies and targeting peoples' heads, necks, and extremities with less than lethal projectiles, as opposed to shooting for participants and observers center mass.
The violence began shortly before dusk, when a few dozen "water protectors", their preferred designation, moved toward the highway barricade on the bridge blocking access to the drill site of the controversial DAPL project.
Their goal was to remove the two disabled trucks blocking the bridge so that the only direct route from the reservation to medical centers in Bismarck could be reopened.
Currently, the closure of the bridge and with it the Standing Rock Sioux Tribe's access to North Dakota Route 1806 doubles the time it takes for someone on the reservation to be evacuated to area medical centers, including the area's only level two trauma center. This reporter has made the trip multiple times in the last week. According to Google Maps, the trip that currently takes about an hour and a half should normally take about 40-45 minutes. In an emergency medical situation, this can mean the difference between life and death for not just those out at the encampments, but anyone who calls the reservation home.
At around 5:30 p.m., after the group had successfully removed one of two trucks in front of the armed barricade with the help of a tractor trailer, the police opened up with a hail of tear gas canisters, mace and other less than lethal projectiles. Upon hearing the familiar sounds of 40mm cannons and 12 gauge shotguns in the air, more water protectors from the camp then began to join their comrades on the bridge -- eventually resulting in hundreds of individuals being trapped in the enclosed space amid volley after volley of less than lethal rounds, mace and CS gas.
As the sun set and temperatures began to drop below freezing, police started spraying water cannons indiscriminately into the crowd. The police assault on the unarmed, peaceful demonstrators lasted until nearly three o'clock in the morning. But even with all the violence, the protectors seemed undeterred as a rotating group of them held their line on the bridge well into the next day before withdrawing to plan more direct actions for the coming week.
Following the violence, the Standing Rock Medic and Healer Council issued a statement over concern "for the real risk of loss of life due to severe hypothermia under these conditions." The group called on the Morton County Sheriff's Office to "immediately stop the potentially lethal use of these confrontational methods against people peacefully assembled."
The Sheriff's Department issued it's own release defending its actions, including repeatedly blasting demonstrators with water in temperatures floating in the middle-20s, by claiming that the campfires some lit on and around the bridge to warm those drenched by police water cannons constituted arson, and that chanting and singing toward the police line was in fact a "riot."
However, there was no violence seen by this reporter or reported by the hundreds who marched on the bridge from the Oceti Sakowin Camp, which has grown over recent months into an international solidarity village in support of the Sioux's resistance and has come to represent the larger fight against fossil fuels and an economic system that places the rights of corporations above people.
Peter James Callahan is a journalist, broadcaster and media consultant. He is the former Communications Director for Democracy Spring and has also worked as a multimedia producer for The Huffington Post. You can find him on Twitter @PJC_dc.
This reporting was made possible by CREDO Mobile
Popular in the Community