Native American leaders vowed on Saturday to protest through the winter against a North Dakota oil pipeline they say threatens water resources and sacred lands and are weighing lawsuits over police treatment of arrested protesters.
Standing Rock Sioux Chairman Dave Archambault II said he and other tribal leaders were working on providing food, heat and shelter for protesters opposed to the $3.8 billion Dakota Access Pipeline.
"We're just working through some technical details as far as where the land is, and the type of land that can be used for some permanent structures," Archambault, who was flanked by Cheyenne River Sioux Chairman Harold Frazier, told reporters in Mandan, North Dakota.
At least 10 shelters were being readied on tribal land against temperatures that can fall below -35 Fahrenheit (-37 Celsius) for days at time, he said.
"Let's reroute the pipeline. It doesn't have to put our water at risk," said Archambault, who was flanked by Cheyenne River Sioux Chairman Harold Frazier.
Opponents of the pipeline scheduled an afternoon rally at the state capitol in Bismarck against the 1,172-mile (1,885-km) pipeline being built by companies led by Energy Transfer Partners LP. It would offer the fastest route to bring Bakken shale oil from North Dakota to U.S. Gulf Coast refineries.
The project has drawn opposition from the Standing Rock Sioux Tribe, as well as environmental activists, who say it threatens water supplies as well as sacred tribal sites. More than 400 protesters have been arrested since Aug. 10.
Archambault said his tribe may pursue a class action over police tactics on Thursday. Officers in riot gear swept through a protester camp on private land using pepper spray, bean bag rounds and an audio cannon against demonstrators who refused to leave. At least 142 people were arrested on Thursday and Friday.
The Morton County Sheriff's Department has said some protesters set fire to roadblocks and threw rocks, bottles and homemade gasoline bombs at officers.
Frazier said elderly women had been pepper-sprayed and some detainees had been held in dog kennels.
Sheriff's spokeswoman Donnell Preskey said the state Department of Corrections had inspected and approved the holding area for those arrested.
Detainees had been sent to jails around the state, and many had been released after promising to appear in court, she said. Preskey said the protest site was quiet on Saturday.
The U.S. government in September halted construction on part of the pipeline. The affected area includes land under Lake Oahe, a reservoir on the Missouri River where the line was supposed to cross.
The U.S. Army Corps of Engineers is deciding whether to grant the pipeline company an easement to build under the lake. Two-thirds of tribal members at the Standing Rock Reservation are jobless and average yearly income is $4,421, according to North Plains Reservation Aid, a charity.
Opposition to the pipeline has been backed by celebrities and actors, including Mark Ruffalo, Shailene Woodley, Susan Sarandon, Chris Hemsworth and Riley Keough.
(Reporting by Ian Simpson in Washington; Editing by James Dalgleish)
Before You Go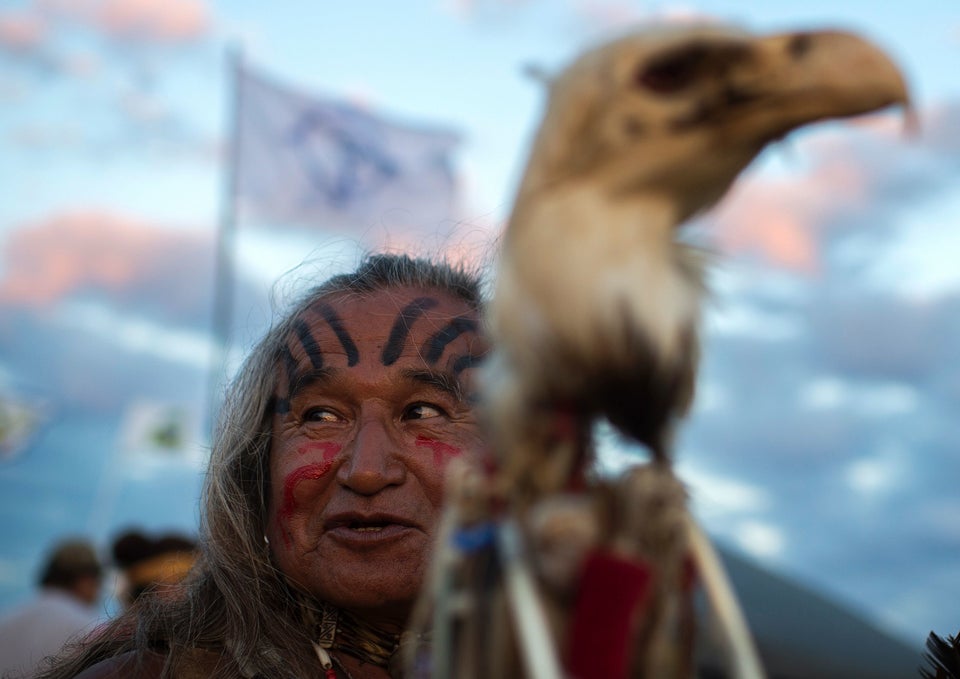 North Dakota Pipeline Protests
Popular in the Community