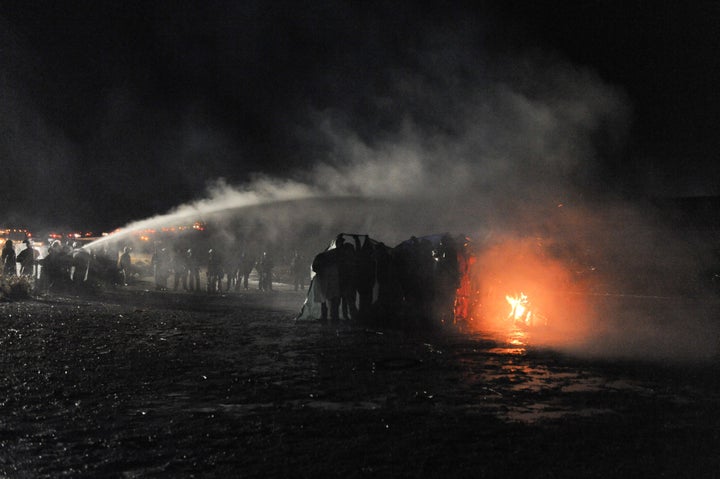 WASHINGTON ― Thanksgiving began in the fall of 1621 when a group of Native Americans joined with newly arrived English settlers to create a harvest feast together and protect each other from violence.
This year, as Americans pick out their turkeys and count their blessings, members of the Sioux Nation in Standing Rock, North Dakota, reported being attacked with tear gas, rubber bullets and water cannons in subfreezing temperatures as they protested an oil pipeline that threatens to contaminate their water and disrupt their sacred sites. Approximately 300 Native American and non-native protesters were injured in one 10-hour clash with law enforcement on Sunday evening, according to the Standing Rock Medic & Healer Council, and 26 were taken to hospitals with severe head and limb wounds, eye trauma, internal bleeding and hypothermia from being doused with water in 22-degree weather.
"Basically, it's an act of war," said Frank Sanchez, a delegate from the Yankton Sioux Tribe, in an interview with The Huffington Post.
The government says the $3.7 billion Dakota Access Pipeline is the safest, most efficient way to carry crude oil from North Dakota to Illinois. But the project has become a rallying point for Native Americans because the pipe would cut under the Missouri River within a mile of the Standing Rock Sioux Reservation, potentially contaminating the local tribes' source of fresh water and encroaching on land that the U.S. government had agreed to set aside for them in an 1851 treaty. The clash between protesters, who call themselves "water protectors," and North Dakota law enforcement reached a boiling point on Sunday, when force was used to keep protesters off a barricaded bridge about a mile south of the pipeline construction site.
The Morton County Sheriff's Department said the demonstrators were being violent. The Sioux ― who have long suffered economically ― say the blocked-off bridge is the main access point to their reservation, and they are trying to protect the land and water that have sustained them for centuries.
"I'm a prisoner of war in my own land," said Sanchez. "That's the only way I can see it. We have the right to hunt, fish and gather, as we always did, but all the barbed wire fences and posts to 'Keep out' have to come down so we can continue living the way we've always lived."
Sanchez, 61, is in Washington, D.C., this week lobbying the federal government on behalf of the Sioux tribes. He is a direct descendant of the man who signed the Treaty of Fort Laramie in 1851, in which the U.S. government ceded portions of five states to the Sioux and agreed to strict rules preventing outsiders from accessing Sioux territory. But Congress soon broke its end of the bargain by seizing the Black Hills of South Dakota in 1877, when gold was discovered there ― and the government's land grabs have continued.
"This issue could have been settled years ago, but we don't have the money for attorneys to represent us," he said.
The government seems to have at least recognized the problem, temporarily suspending construction in Standing Rock. Last week, the U.S. Army Corps of Engineers said it needed more time to decide whether to build on Sioux land.
In the meantime, the Sioux will be celebrating Thanksgiving alongside hundreds of non-native allies who have joined the protests in North Dakota. For Native Americans, Sanchez said, Thanksgiving "is just another day."
"When we wake up in the morning, we say thank you all day long ― for creation, for life. Things are beautiful, people are beautiful, little babies, everything I see. This coffee is excellent," he said, smiling and pointing at the Starbucks cup in his hand.
"But people need to realize that these situations still exist in this country. We're not savages, but there have been times when we had to prove we were human. These wounds need to be addressed and healed in order to really be thankful."
Before You Go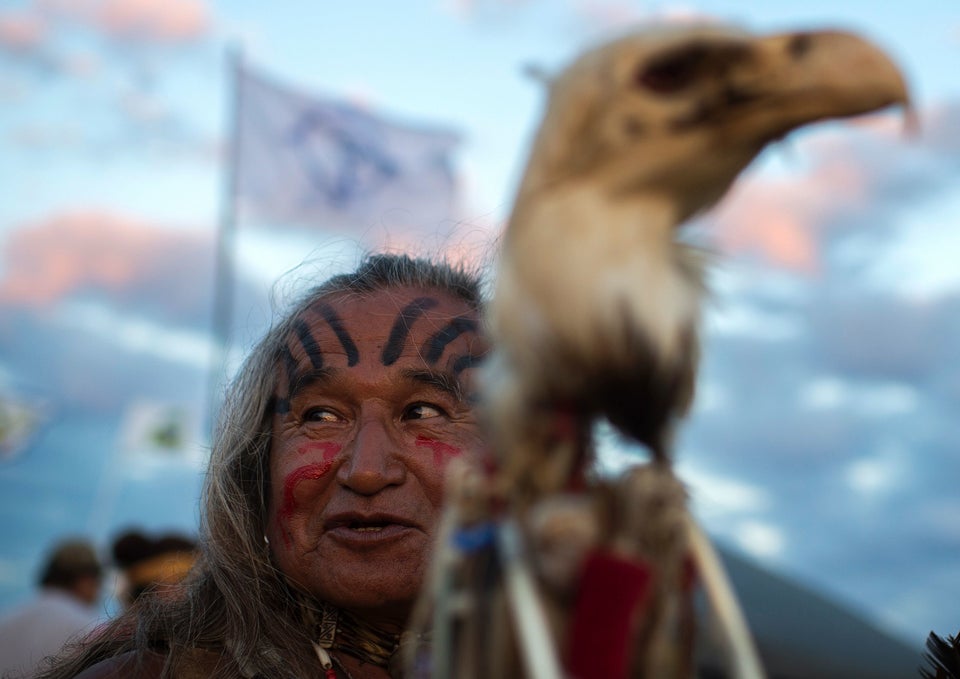 North Dakota Pipeline Protests
Popular in the Community