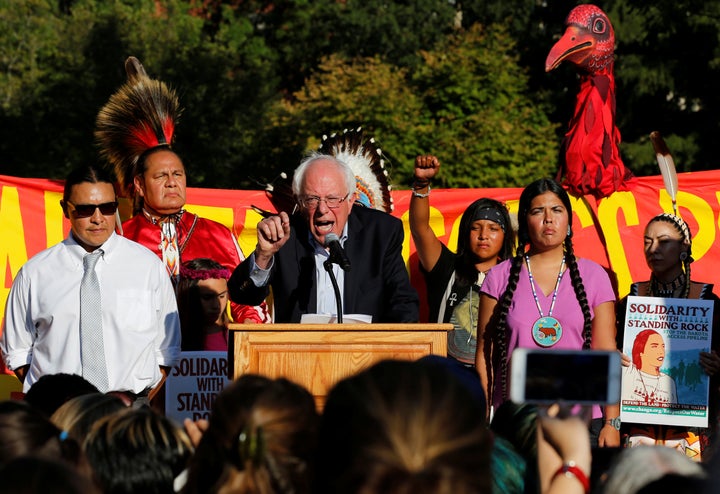 WASHINGTON ― Just hours after 22 more people were arrested for protesting the Dakota Access Pipeline in North Dakota on Tuesday, the Standing Rock Sioux Tribe brought its battle against the pipeline to the White House.
The rally, which drew over 500 people, was meant to persuade President Barack Obama to stop construction on the nearly 1,200-mile-long pipeline between oil fields in North Dakota and Illinois. The tribe says the pipeline will contaminate its only water source and cross indigenous burial grounds, desecrating sacred land. Last week, the Justice Department asked the company to "voluntarily pause" the project ― but the construction continued earlier this week, according to activists.
Rally speakers included Sen. Bernie Sanders (I-Vt.), former Obama adviser Van Jones and leaders from the Native American community. In front of a crowd of over 600 people, they urged the administration to conduct a new review of the pipeline proposal and stop construction permanently.
Although the pipeline fight has grabbed headlines in the last few weeks, the protests started in North Dakota in April, rallying behind the mantra "Water is life." The tribe says the U.S. Army Corps of Engineers, which approved the permits for the pipeline's water crossings, did not properly consult them.
The protests began with a handful of tribe members but have grown to 4,000 people now camping around the site and attempting to interrupt construction. More than 50 people have been arrested since July, and security dogs attacked a number of protesters on Sept. 3. But the protesters have not given up ― and their numbers keep growing.
In his remarks, Sanders said the Obama administration's position on the pipeline is part of a long history of corporations and the federal government taking advantage of Native Americans.
"In absence of the pipeline company's compliance, further administrative action is needed," Sanders told the crowd outside the White House Tuesday. "That is why I am calling on President Obama today to ensure that his pipeline gets a full environmental and cultural impact analysis. And in my view, when that analysis takes place, this pipeline will not continue."
Sanders drew much of the rally's hype, but Native American youth took center stage. Jasilyn Charger, a representative of the National Indigenous Youth Council and a member of the Standing Rock Sioux, said she has spent the last month traveling by foot from North Dakota to Washington, D.C., with a group of activists to petition Obama to get more involved.
"What we are demanding of the Obama administration is to say no to the Dakota Access Pipeline ― to shut it down completely," Charger said. "There's no need to put millions of children's lives at stake. We're demanding Obama holds himself accountable."
Tribe members performed traditional dances, songs and drumming at the rally Tuesday. Despite the big-name politicians supporting the cause, the focus was on its indigenous attendees.
"We're seeing indigenous people come together in a way that's unprecedented — this has not happened in a very, very long time," said Tara Houska of the Cree tribe, who served as the emcee for the rally. "It's an incredible moment, but it's also a moment where we say enough is enough."
After the speeches, the crowd marched to the White House fence chanting, "We are the people. You can't ignore us. We will not let you build this pipeline."
"What keeps me going is knowing that everything man-made breaks, and everything man-made leaks — including laws, and the government," said Charger. "It's up to us, as citizens of the United States and of this land, to uphold our government and plug those leaks."
Before You Go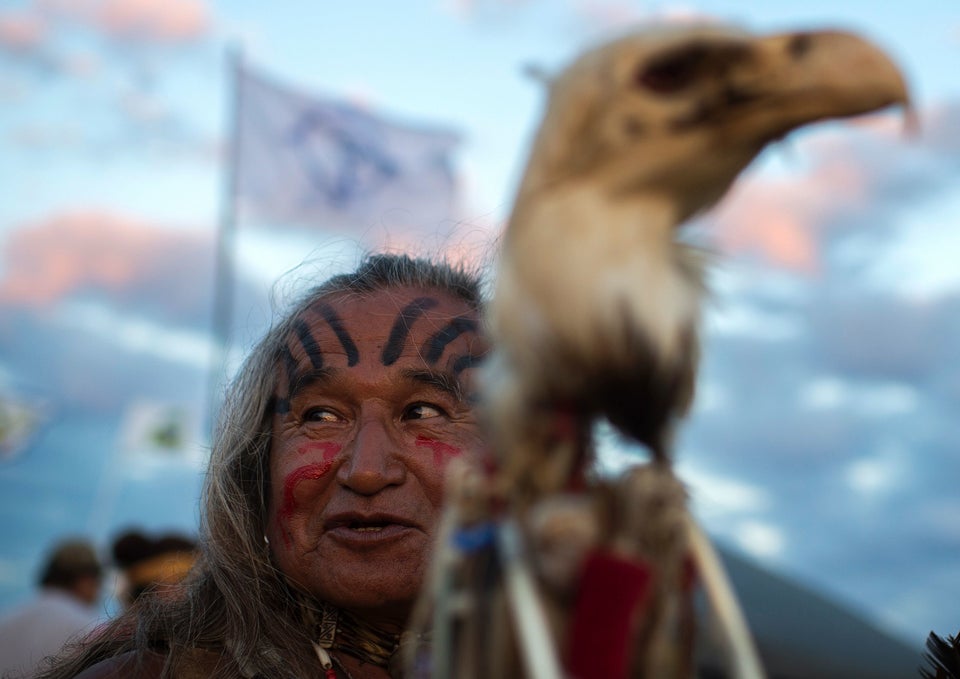 North Dakota Pipeline Protests
Popular in the Community