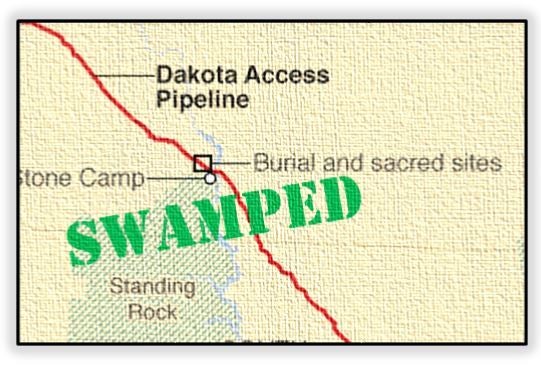 Halting of the Dakota Access Pipeline at Standing Rock this past December by the Army Corps of Engineers, in order to investigate alternate routes, came as a relief to many. The water protectors and protesters who stood their ground — in the face of harsh weather — water cannons being fired upon them — and an uncertainty about the future — once again are in that position as President Trump has cleared the path for approvals to be made in moving the pipeline projects forward.
Facts Are Stubborn Things
"Make America Great Again" — America is great in its culture and history — one that goes back long before party politics — campaign promises — oil profits — alternative facts.
In touching on the Dakota Access and Keystone XL pipeline earlier this week the White House press secretary Sean Spicer stated that, "we can increase jobs, increase economic growth, and tap into America's energy supply more..."
As President Trump's administration frames the argument in this light, they don't make all the facts available as to what types of jobs are created — ones that are temporary and a few thousand in number.
On the other hand, the potential for environmental cleanup jobs created as the result of a spill from the pipeline — that's a real possibility.
North Dakota has seen increased spills over the years due to constant drilling — 1,607 spills reported in 2013 spiking to 1,846 spills the following year in 2014. Not to mention the adverse health problems (and costs) that can result from people who ingest and interact with polluted water.
Winter Is Coming
"Make America Great Again" — America is great when people come together to express their freedom to organize — protest — and protect their right to clean water, safe environments and the preservation of a heritage — where so much has already been taken.
Having both the rhetoric and thought process to match his words about the weather, Rep. Steve King (R-Iowa) expressed his jubilee at the executive actions to move the Dakota Access and Keystone XL pipeline forward in an interview on MSNBC saying,
"Well, the first thing is, this is the perfect month to do this. It's cold up there in the Dakotas in the wintertime...I think the president just needs to send a message we can't hold up progress in America."
Congressman King speaks of progress and criticizes the principles of protesters — while failing to provide that his motivations, standing and position on the issue — is perhaps influenced less by his passion for progress and more for the continued campaign donations of the Oil & Gas industry that supports these pipelines. During his tenure in office, he's received $78,950.00 in campaign contributions from them.
Expanding the Swamp
"Make America Great Again" — America is great because in a land of the free — home of the brave — we recognize the difference between right and wrong — legitimate and illegitimate — greed and selflessness.
Having owned stock in Energy Transfer Partners and Phillips 66, President Trump has clear ties to the company behind the pipeline — which creates an overt appearance of impropriety in his decision making process as it relates to issuing executive actions — counter to that of the Obama administration on the issue — where no such conflicts existed in regards to the decision making.
Given that President Trump often campaigned on the mantra of "draining" the financial and political pull of special interests — it appears the facts paint a different picture — one where the swamp is expanding in many different directions within his administration.
"Drain the swamp" much like other well-known phrases such as "I'm not a crook" have long been used by elected leaders to apply misdirection away from the true nature of that person's character — so often defined in both rhetoric and actions.
The situation unfolding at Standing Rock is unfortunate after the hope delivered last December. In contrast to President Trump's vision to Make America Great Again — by siding with special interests over people — the mantra of those opposing the pipeline might choose a similar set of words of greater significance — Keep America Great!
RELATED ARTICLE BY STEPHEN KRASNER
Related
Popular in the Community