Um, can you say back pain?
Airbus has filed a patent for a new "seating device" -- yes, device -- that would reduce bulk on aircraft.
And while we all scoffed at Ryanair CEO Michael O'Leary when he revealed plans for "vertical seats" in 2010, the prospect of standing-room-only cabins is becoming a little more real.
A study released last week investigated the potential effects standing cabins would have on low-cost airlines. The study revealed that airlines could fit 21% more passengers and offer discounts of up to 44% if they added standing sections.
So what would these standing seats look like? A peek at Airbus' patent design reveals a bicycle-esque seat, no backrest and no sign of tray tables or in-flight entertainment. Grand.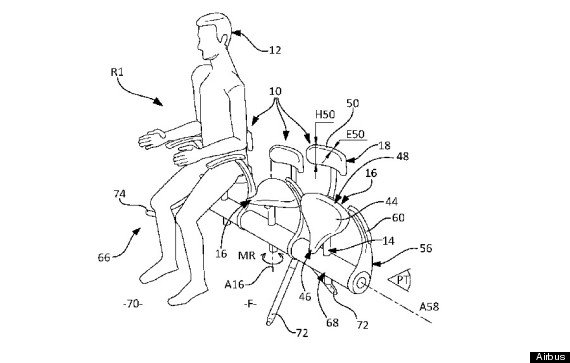 "Reduced comfort remains tolerable for the passengers in as much as the flight lasts only one or a few hours," the Airbus patent states. "It is now no longer possible to further reduce the seating width, particularly in economy class... It is (also) difficult to continue to further reduce (the) distance between the seats because of the increase in the average size of the passengers."
Alternatively, the SkyRider seat, which was revealed in 2010, appears to be a slightly more comfortable version of Airbus' design, with a full backrest and a saddle seat. The "perching seat design" could be used on short flights ranging from one to three hours, Wired reported at the time.
Slimmer, lighter airplane seat models are already being swapped into airplanes, making flights noticeably more crowded.
But the big question remains: Would you book a "standing seat" if it meant a discount?