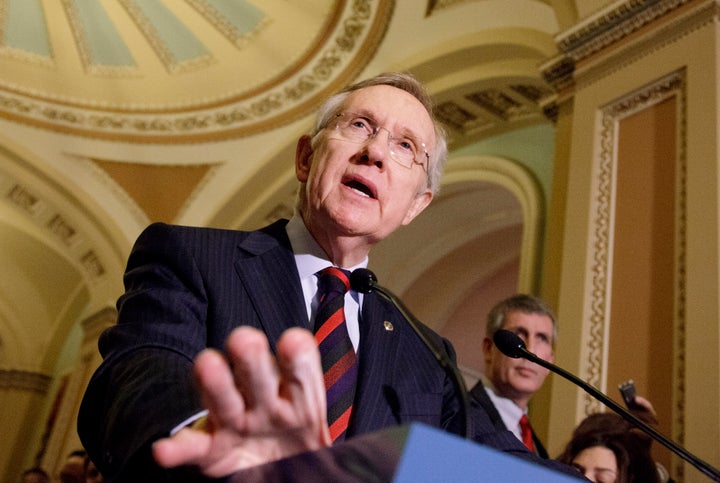 In recent weeks, I've said repeatedly that I was dumb-founded that in 2012 we are actually debating whether women should have access to contraception. I had no idea I'd be even more dumb-founded today, when, instead of coming together to fix our economy and strengthen the middle class, the Senate is considering a measure so extreme that it would allow any employer -- religious or secular -- to deny their employees coverage of any preventive service, including contraception, mammograms --anything the employer deems unfit to be covered.
Let me say this once and for all: the power to decide whether to use contraception or any other preventive care service should be up to each individual woman, not her boss.
Of course, the Blunt Amendment is just the latest attack on women's health from the far right wing in Congress. Whether it's their attempt to defund Planned Parenthood or to roll back a common sense preventive care provisions in the Affordable Care Act, make no mistake about it, this concerted effort to reduce women's access to essential preventive care demonstrates a callous disregard for the health and safety of women.
Attacks like these are why Senator Boxer and I started One Million Strong For Women, to build a grassroots movement of Americans fed up with the far right's attempts to undermine women's health. We've been joined by several champions in the Senate including Senator Schumer, Senator Reid, Senator Franken, Senator Blumenthal, Senator Murray, the DSCC as well as over 260,000 of you. I hope you'll add your voice today as well.
Let's be clear. Neither the recent controversy over the HHS contraception rule or this week's Blunt Amendment has anything to do with religious freedom. You don't have to take it from me, just ask Supreme Court Justice Antonin Scalia. In the majority decision of the 1990 case Employment Division v. Smith, Justice Scalia wrote, "We have never held that an individual's religious beliefs excuse him from compliance with an otherwise valid law prohibiting that the State is free to regulate."
The extreme amendment Republicans are bringing up for a vote makes it clear as day -- this is a political and ideological overreach -- not a religious issue. The fact they want to exempt all businesses from providing any preventive care for women is outrageous.
Please know that we will not stand for these attempts to undermine the ability of women to make their own decisions. If our Republican colleagues want to continue to take this issue head on, we will stand up as often as necessary to draw a line in the Senate and oppose these attacks against women's rights and women's health.
It is time to agree that women deserve access to preventive health services, regardless of where they work. And it is time to agree to get back to work on legislation that can create jobs and grow the economy.
I hope you'll join the conversation today on Twitter at #1million4women.
Support HuffPost
The Stakes Have Never Been Higher
Related
Popular in the Community