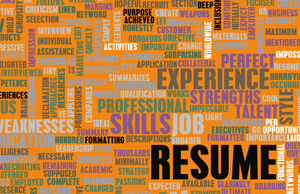 Of the many resources displaced—or at least changed—by the rise of the Internet and the transition to all things digital, one item is as relevant today as it has been well before the emergence of the Web. I refer to that document of indispensable worth—to employers and employees alike—known as a résumé: A means of conveying a person's skills and qualifications, in addition to that individual's experience and expertise. That fact, according to this writer for Forbes, is critical for job seekers:
"The 'one-size fits all' approach won't cut it in a marketplace of increasingly specialized needs. So plan on having several versions of your résumé adjusted for the different jobs you are applying for. Include ways you can make an immediate contribution to the organization that reflects the homework you should be doing about the organization you're applying to. Make sure that you—and at least one other person you trust—carefully review your résumé and adjust it to contain the keywords that recruiters will be searching for."
This recommendation is important for several reasons, starting with the need to pair qualified applicants with the ability to search for jobs in a multitude of industries. The success of that enterprise depends, again, on the nature of one's résumé—its quality and depth, its resonant construction and its compelling content. As this piece in the New York Times, which references the work of Susan Ireland, author of The Complete Idiot's Guide to the Perfect Resume, demonstrates:
"Be concise in the job-objective or summary part of the résumé, which comes after your name and contact information. If you are seeking a position similar to one you have held, simply state your professional title, Ms. Ireland said (for example, user interface architect). Otherwise, indicate the job you want next or emphasize the skills that the job involves."
"Tweak your résumé when necessary. Be sensitive to wording differences among industries. For example, banks have customers, while libraries have patrons and hospitals have patients, Ms. Ireland said."
It is this emphasis on strengthening a résumé that will more effectively capture the attention of HR executives and hiring committees. The value of such an asset is incalculable, given its ability to generate responses and inspire offers from businesses large and small. Consider, too, the following advice from the Albany Business Journal:
"Your experience is what your potential employer is most interested in. List your most recent employer first, and then work backward. Be sure that the name of the employer, your dates of employment and your responsibilities are clearly listed. The description of your job duties should have high impact. It should not simply read like a job description. Your writing should emphasize results, not just responsibilities."
These suggestions are a way for job applicants to improve their chances of securing work, as well as an opportunity for companies to more easily hire the right employees. Applying them is a boon for everyone.
Related
Popular in the Community