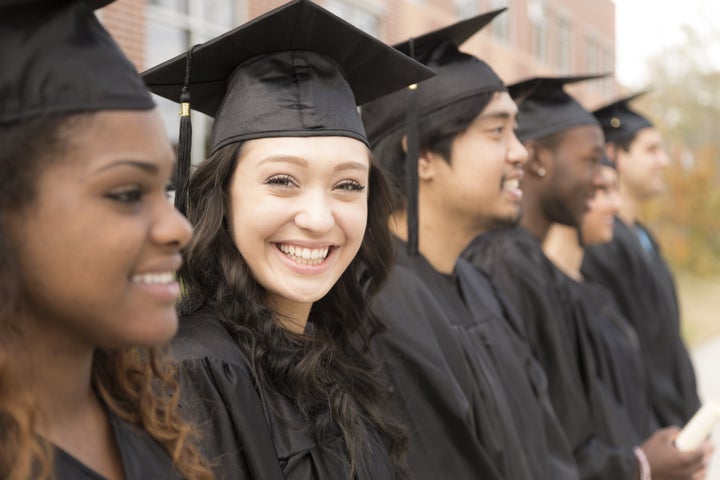 No "woke" higher education leader needs to be told that these are trying times in America for Latinx students, whether those students were born here or they immigrated. Assaults on their aspirations and their families abound, evidenced in everything from the federal repeal of DACA to the pardoning of convicted former Arizona sheriff Arpaio and ICE raids across the country; and from the chants "build that wall" to the Department of Justice-issued threats to affirmative action.
Leaders of Hispanic-serving institutions — those colleges or universities whose goal is to help Latinx students who are often first generation and/or low-income — are particularly aware of these issues, and the effects they are having on their students, speaking out against these base attacks and providing direct support to students on their campuses. But they also are aware that external threats to Latinx students are not the only threats that stand between striving Latinx students and their aspirations: There are long-standing practices and issues on college campuses that threaten student success as well.
These leaders' awareness seems to be paying off for the students on their campuses. When compared with similar institutions, Hispanic-serving institutions (HSIs) do a better job graduating Latinx students. In an upcoming report, "A Look at Latino Student Success" by The Education Trust, we compare graduation rates for HSIs and non-HSIs that had students with similar levels of academic preparation (measured by average SAT scores of incoming first-year students) and financial need (measured by receipt of a Pell grant). Institutional leaders often try to blame low graduation rates on the students they serve, but we found that — despite having students with lower SAT scores and students from lower socioeconomic backgrounds — HSIs had higher graduation rates for Latinx students and lower gaps in degree completion between Latinx and White students than non-HSIs (see chart).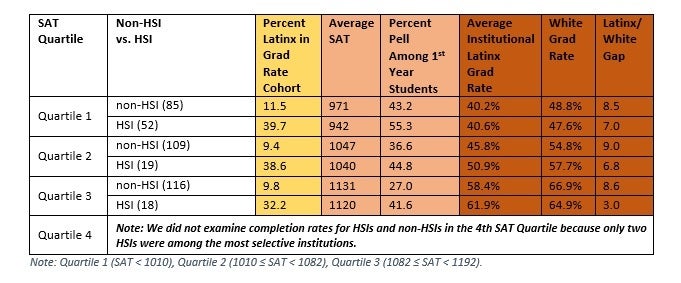 These findings suggest that HSIs — at least some of them — are doing something right. And leaders looking for ways to better stand up for and support Latinx students might want to take a closer look at them. When campus leaders are serious about making sure Latinx students are adequately supported both inside and outside the classroom, success follows. We encourage institutions to consider the following:
Emphasize culturally-relevant programs, policies, and curricula. When students feel their institution is more committed to diversity, they perceive the racial climate more positively, which — in turn — leads to a more rich and healthy learning environment that takes advantage of the contributions and perspectives of the diverse members within that campus community. This is why it is critical for institutional leaders to respond strongly and appropriately to racist incidents on campus as well as to the external pressures that students of color face.
When students feel their institution is more committed to diversity, they perceive the racial climate more positively.
It is also important that university leaders ensure diversity-related programming and content are core pieces of an institution's social programming and curriculum. Research shows that interactions across race, and reading and discussing content on race, both inside and outside the classroom, are linked to student gains in: college satisfaction, perceptions of the campus racial climate, critical thinking, intellectual engagement, cultural or racial awareness, sense of community, openness to and value of diversity, civic responsibility, and much more.
 Increase Latinx student enrollment and Latinx faculty on staff. Obviously, HSIs enroll more Latinx students than non-HSIs, but they also have more faculty and administrators who are Latinx. Research shows that diverse faculty see the benefit of diversity in classrooms, feel better prepared to deal with diversity, and are more likely to address issues of diversity in their class. The experience of faculty who see themselves in the students they teach, and vice versa, positively impacts learning, retention, and graduation. When students of color are underrepresented at predominantly White colleges and universities, evidence shows they are more likely to feel tokenized, isolated, and unhappy with the campus racial climate. These perceptions have negative implications for persistence and completion. The relationship between student underrepresentation and success is something campus leaders at selective institutions, which enroll far too few Latinx students, must consider as they make decisions about who they will recruit, financially support, and admit.
Race relations is about as problematic as it has been in recent memory. Thus, leaders have a responsibility to be proactive about ensuring their campus is a learning environment that promotes success for all students. With fewer than 54 percent of Latinx students who enroll at four-year institutions earning their bachelor's degree in six years, there is clearly a great deal of work that needs to be done. Simply enrolling Latinx students is not enough. Leaders must prioritize Latinx student success and work to understand their unique needs. That's the difference between truly being a Hispanic-serving institution and just being a Hispanic-enrolling institution. Hispanic-serving institutions consider the population of students they serve, provide support services and programming to ensure student success and respond to acts of discrimination appropriately, ultimately providing their students with a sense of comfort, safety, and belonging on their campuses.
Calling all HuffPost superfans!
Sign up for membership to become a founding member and help shape HuffPost's next chapter
BEFORE YOU GO