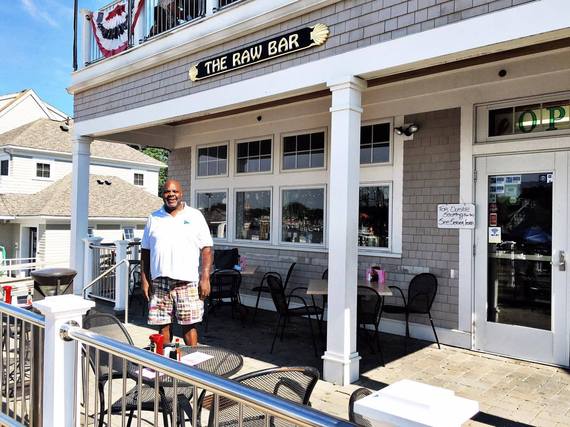 So it begins.
Bob Weekes is a very successful restauranteur on Cape Cod, he is the owner of the very well known and beloved "Raw Bar" with locations in Hyannis & Mashpee and also "Bob's Seafood Cafe"
Raised in Queens, New York he moved to Cape Cod in 1975. From the time he was a young man he knew he wanted to be involved in the industry, especially since his father had been involved in it. There was one particularly defining moment though which Bob recalled at our meeting, he said he was about 14 years old and was helping out at the restaurant and for an event that 3 bartenders were doing, they required a bar back. Bob's Father allowed him to accept the work as a bar back and at the end of the night he was handed a $100 bill. He said he remembered it being the most money he had ever had in his pocket and that he was too nervous to ride the bus home so his Mom told him to take a cab. That $100 bill would lead to a lifetime of service in the restaurant industry.
Money is not my God.
Recently I saw several people share a post where Weekes took to Facebook to chastise some of his customers in defense of his hardworking employees.
It was that gesture that made me want to sit down with this tough, straight talking, successful character. It turns out this was not the first time that Weekes reprimanded his customers for the sake of his employees and family. Mr. Weekes mentioned that one summer on July 4th they opened the Raw Bar and the place was swarmed. The staff were having a hard time managing because they could have used an extra person on. Weekes daughter who was 8/9 years old at the time was there with him and she was leaving snacks out on the table. At one point she came to see her Dad and she was crying, when he enquired why, she said it was because everyone was screaming, hollering and being rude. Weekes didn't say a thing and at that moment closed the entire restaurant down. That is the kind of person we are talking about here, a principled man with the utmost respect for people and someone who will not bend his morals for the sake of a quick buck.
Treating his staff with respect is paramount to the realization of success for Bob. It is not having several successful restaurants but instead his defining moment of success will be,
"When all my customers come in with a great attitude. As long as people are complaining and being aggressive with my staff - I am not successful".
What competition?
Bob mentioned that he didn't feel that he had any competition.
"I feel that we all do our thing and some do it better than others and I like recommending other restaurants to people".
He said that when he recommends a great place to someone they are going to remember to come back to him and to thank him for the great recommendation. He talked about how a local restaurant was on the defensive when another new restaurant was coming to the same street but Bob welcomed a new restaurant with open arms and all he hoped was that the new restaurant would have amazing food, which would bring more and more people to that area, leading to more customers for his restaurant also.

Values, Values, Values,
I feel that writing anything about Bob would be done incorrectly if I did not stress the importance of old school values to him. At one point there was an absolutely NO cell phone use policy in his restaurants and he stuck to that rule fiercely. Bob is all about the experience of the restaurant, it's not
just
about the food or drinks to him, it's the entire experience of being there that he sells. I loved hearing him tell a story about how couples would come to his restaurant and they would sit near another couple and start chatting, maybe share some drinks. People who never knew each other prior to this, strangers - making friends, strangers making plans to meet up again on their vacation for drinks and then eventually making future plans to vacation at the same time, year after year. Bob wants you to come to his restaurant and for you to wake up in the morning and think about him, think about,
"Wow that was an amazing lobster roll" and, "man, I just had the best time at that restaurant last night".
He wants you to take it all in, use the restaurant to get to know someone you didn't know before, learn something from them or about them. Bob is a very well traveled man and I am certain he has found the way into many hearts by his thoughtfulness, telling me that when he travels he brings little gifts to give out to people. Opening up the hearts of those serving him and absolutely opening doors, especially doors to authentic Italian Kitchens in where else but... Italy.

Still learning every day.
Bob took his time answering as we chatted, I am certain that he is more of a listener than anything. There were several lessons, or words of wisdom he was able to drop into our conversation that he had learned from either a mentor or a customer that really made me pause to think. My favorite story was about a customer of Bob's who had been to Africa recently and they told Bob how the custom for greeting each other there was not a hand shake, or a hug, it was to look directly at someone in the face and say the equivalent of "I see you", to them. How amazing is that? Bob found it to be so profound and said, that is all people want,
"To be acknowledged and heard".
A great nugget of advice that would do us all well to really hear. Acknowledging each other, validating one another and also serving as some form of accountability. So when you find yourself at The Raw Bar, eating one of their renowned lobster rolls and sipping on a mudslide with a cherry bomb, remember that, Bob sees you. So mind your manners, take it all in and enjoy every second of the experience.
Request for help.
Bob did not ask me to share this with you all, but I did ask his permission if I could. While we were chatting he told me that he has been going to Dialysis 3 times a week because he needs a Kidney.If your interested in being a donor please contact Tracy Brann at Beth Israel Hospital 617-632-9851. I feel confident saying that if Bob could do this for you, he would.
Follow Nicky Mooney on FB
REAL LIFE. REAL NEWS. REAL VOICES.
Help us tell more of the stories that matter from voices that too often remain unheard.