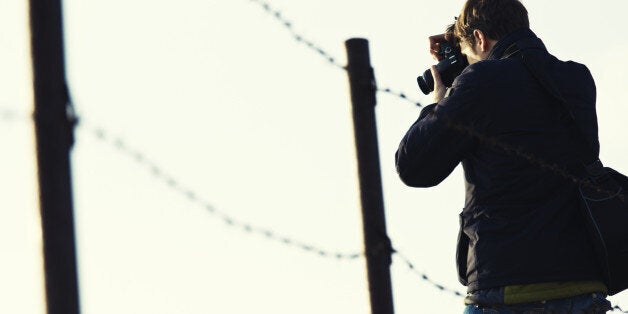 By Margaret Huang, interim executive director of Amnesty International USA
This year's White House Correspondents Dinner included one notable new guest who was absent from the previous year's proceedings. Last year, President Obama paid tribute to Washington Post reporter Jason Rezaian, who was imprisoned in Iran for 18 months on accusations of espionage. This year, following his release, Rezaian was in the room.
In his speech, Obama vowed that "as long as I hold this office, my administration will continue to fight for the release of American journalists held against their will -- and we will not stop until they see the same freedom as Jason had."
It is fitting that these remarks came just days before World Press Freedom Day, which is observed on May 3. Amnesty International has long championed the idea that a free press is central to human rights, and has worked for decades to free journalists who have been unjustly imprisoned and whose rights have otherwise been violated. Around the world, journalists play an important role in speaking truth to power, holding leaders accountable, investigating wrongdoing, and bearing witness to abuses. And some are paying dearly for it.
President Obama's sentiments about the need to protect American journalists are heartening. But it is not just American journalists like Mr. Rezaian who are targeted. And in too many cases, countries that the United States considers allies are the ones whose oppressive policies stifle the freedom of the press.
Take for example, the case of Muhammad Bekzhanov. Mr. Bekzhanov was the editor of a banned opposition newspaper in Uzbekistan. He was arrested in 1999, beaten with rubber truncheons, suffocated and given electric shocks until he confessed to "anti-state" offenses. His family fled to the United States, and he remains in detention to this day as one of the world's longest-imprisoned journalists.
President Obama can do more to ensure that Mr. Bekzhanov and other imprisoned journalists are freed.
Similarly, just south of our borders in Mexico, another U.S. ally, journalists face deadly peril just for doing their jobs. It is especially dangerous for those who specifically work to expose wrongdoing. In February, crime reporter Anabel Flores Salazar became the 17th media worker murdered since 2010 in the Mexican state of Veracruz. Mexico, our friend and neighbor, is one of the most dangerous places in the world to be a journalist.
And then there is the case of Khadija Ismayilova, an award-winning investigative journalist in Azerbaijan. Her work exposing corruption and wrongdoing at the highest levels of government resulted in a smear campaign run against her in the state-controlled media, followed by trumped-up charges of tax evasion, embezzlement and illegal business. She was sentenced to over seven years in prison last year. The U.S. State Department has rightly called for her release, but more must be done to free her and others.
There is hope. In 2014, five reporters with the Unity newspaper in Myanmar were jailed and the newspaper shuttered after the publication of an article about an alleged secret chemical weapons factory. Just last month, after years of pressure, the Unity 5 walked free along with other prisoners of conscience Amnesty has campaigned for as the new government led in part by Aung San Suu Kyi--a former prisoner of conscience herself--took office.
Public pressure is a powerful tool in achieving meaningful change. We must let our leaders know that we care about the Jason Rezaians of the world, and that we also care about the Muhammad Bekzhanovs, the Anabel Flores Salazars, the Khadija Ismayilovas and every other journalist, photographer and media worker who has been subjected to abuse simply because they exposed uncomfortable truths about people in power.
All reporters must be free to do their jobs without fear of reprisal, injury or even death. Journalists imprisoned solely for the legitimate exercise of their right to free expression must be released. The killing of journalists must stop and those responsible must be held to account. We pause today to commit ourselves to action on behalf of journalists around the world facing intimidation and oppression just for doing their jobs. Please join us by taking action on behalf of any of the journalists mentioned above or by visiting amnestyusa.org
Related
Popular in the Community