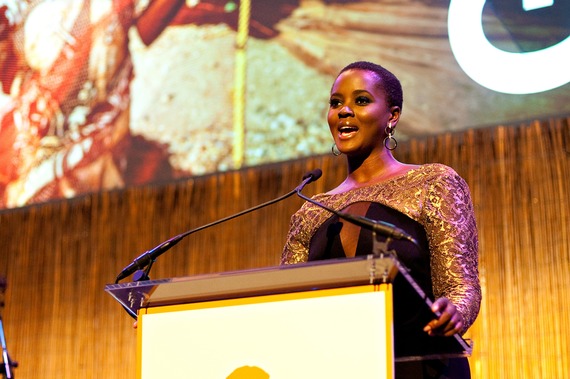 Philomena Kwao at Women for Women International's 2015 Annual Gala. Photo credit: Paige Elizabeth, 2015
Mother's Day -- a day we put aside each year to celebrate mothers around the world. Between planning brunch or sending flowers, we tend to forget how lucky we are to have access to maternal health care and truly how dangerous motherhood can be. So dangerous that about 303,000 women die every year as a result of pregnancy and childbirth and about 99 percent of these deaths occur in developing countries. Only ten countries in the world account for over 60 percent of maternal deaths worldwide and of those, nine are currently in or recently emerging from conflict.
War and armed conflict disproportionately affect women and can turn what is supposed to be a joyous and beautiful experience -- childbirth -- into a horrific or even fatal one. War destroys health care systems and disrupts community networks, leaving no accountability or acknowledgement if and when things go wrong.
Even closer to home, maternal health is not at the level it should be. I grew up in the UK and now reside in the United States, and my family is from Ghana. Whilst maternal healthcare is certainly more advanced in the West, many developed nations still fell short of United Nations Millennium Development Goals, which aimed to improve maternal health. Even more surprising is that the United States is one of eight countries in which maternal mortality is rising.
In Ghana, where many of my friends and family reside, the statistics are even more disheartening. Though maternal health services are free in Ghana, poverty persists and reproductive education is poor. For every 100,000 Ghanaian women who go into labor, 319 of them die. So every time a friend or relative gets pregnant in Ghana, I worry. I've witnessed the devastation that occurs when women face childbirth with untrained medical staff, insufficient facilities and a lack of access to basic medication. No one should have to go through this.
My mother was born in Ghana, but she moved to the UK when my sisters and I were born. We were lucky that my mother survived childbirth and was able to raise us, and I am blessed to enjoy a beautiful relationship with her. But many children are denied that chance and many women denied the gift of watching their children grow up and in areas of conflict and war, the chances of surviving childbirth drop significantly.
Organizations like Women for Women International are paramount in educating women in these conflict areas and helping to rebuild communities after war. Women for Women International's twelve month program educates women in health care and illness prevention for themselves and their families. Through healthcare and education, women regain the power and agency taken from them during conflict and they can begin to rebuild their communities. When a woman is educated, a nation can grow, and I am proud to stand with Women for Women International this Mother's Day.
No woman, anywhere, should be denied access to quality healthcare because of race, ethnicity or socioeconomic status. No woman should die as a result of childbirth, and no woman should suffer during and after her pregnancy because of war. The reasons for maternal mortality are numerous, and there is no one direct reason why many women across the world die during childbirth. However, investing in women's health education and access to health care is an important place to start. As we celebrate Mother's Day, and celebrate the unique bond between ourselves and our mothers, let us remember and take action to invest in mothers everywhere.
Calling all HuffPost superfans!
Sign up for membership to become a founding member and help shape HuffPost's next chapter