"Resistance to high-risk extreme extraction is building a global, grassroots, and broad-based network the likes of which the environmental movement has never seen." Naomi Klein, This Changes Everything (2014)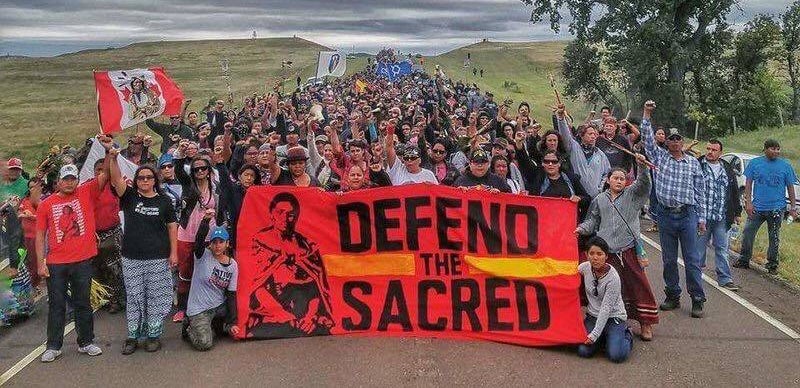 Something extraordinary and unprecedented is happening within the environmental movement. The epicenter of this "Earth"-quake is Sacred Stone Camp on the Standing Rock Indian Reservation in North Dakota.
For some time, a small group of Standing Rock Lakota ("Sioux") has gathered on the banks of the Cannon Ball River to protest the continued development of the "black serpent": the Dakota Access Pipeline (DAPL). When and if completed, the 1200-mile, 30-inch-diameter pipeline will transport daily 500,000 barrels of crude oil from the Bakken Oil Reserve to Patoka, Illinois, where it will then be shipped to processing facilities.
Proponents of the pipeline tout the "efficiency" and "safety" of pipelines relative to oil transport via truck and rail. Opponents, principally residents of Standing Rock Reservation and other reservations along the DAPL's proposed route, hold that pipeline construction threatens sacred ancestral lands, and that the pipeline itself -- prone to eventual leaks, like all pipelines -- threatens precious water resources all along its route, particularly the Missouri River, the nation's longest.
Given that the developing conglomerate -- Energy Transfer Partners -- has nearly four billion dollars at stake, expect a fierce fight. Indeed, on Labor-Day weekend, the developer's private security guards were caught on Democracy Now! video unleashing attack dogs and pepper spray on protestors. The video went viral, mobilizing resistance. North Dakota's governor, Jack Dalrymple, has since called in the National Guard, and an arrest warrant is out for journalist Amy Goodman, who reported the event.
It's a David and Goliath struggle, but the odds just might be on David. In a short time, Sacred Stone Camp has grown from seven teepees into a semi-permanent camp of several thousand men, women, and children. Two hundred fifty tribes from across North (and South!) American have joined the protest in solidarity. A GoFundMe website has collected nearly $700,000 to support the camp's needs. Last week solidarity protests sprung up in dozens of cities across America, among them Phoenix, Boulder, Richmond, Sacramento, San Francisco, Denver, New York, Albany, Washington, and Kansas City.
"There are moments in history that can heal the past and the future. This is a healing moment. It's extraordinary." Carolyn Raffensperger, environmental activist (The Guardian, September 12, 2016)
What we are witnessing is the solidification of Blockadia, Naomi Klein's term for the environmental resistance movement. Here's a front-line post from Blockadia by "Tim."
"I just returned from the Sacred Stone camp and it was one of the most powerful events of my life. I am a non-native white man from Connecticut with a backpack full of camera gear and a drone to document the event. I had no idea of how or if I would be welcomed by the Tribal members. Let me tell you, from the moment I set foot on that sacred land I was welcomed with open arms and open hearts . . . . These are quite frankly the best people I have ever met. Their connection to Mother Earth, their ancestors, and their community was something that truly left me in awe."
As Blockadia unites groups that were once separate, it becomes an irresistible force. In New York, Black Lives Matter (#BlackLivesMatter) has joined #NoDAPL in the long overdue recognition that the struggles of African Americans and Native Americans are fundamentally conjoined. The same mentality that would poison the water in Flint, Michigan, to save a few municipal bucks, is hell-bent on profiting from oil and gas extraction that is jeopardizing water resources on Native lands, and in truth, nationwide. In some cities, Dreamers have also joined the resistance, as the social-justice and environmental movements begin to link arms, heeding the call of Pope Francis.
From the chapter "Blockadia" in Naomi Klein's environmental blockbuster This Changes Everything:
"What unites Blockadia . . . is the fact that the people at the forefront -- packing local council meetings, marching in capital cities, being hauled off in police vans, even putting their bodies between the earth-movers and earth -- do not look much like your typical activist, nor do the people in one Blockadia site resemble those in another. Rather, they each look like the places where they live, and they look like everyone: the local shop owners, the university professors, the high-school students, the grandmothers."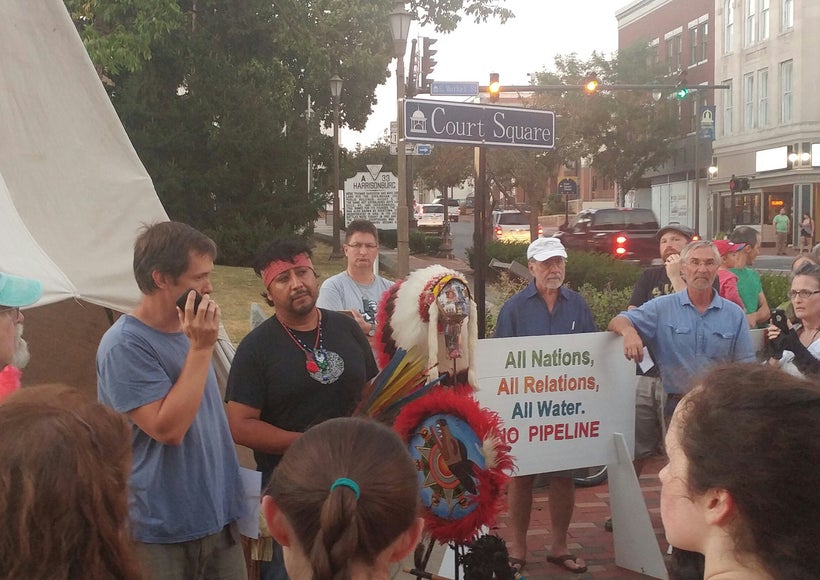 On Tuesday, September 13, I attended a sympathy protest in my locale: Harrisonburg, Virginia, a rural college town of 50,000 residents. The protest -- which set up a symbolic teepee on the town's courthouse square -- drew one-hundred people, astounding for a city our size. Sure enough, as Klein suggests above, these protestors are salt-of-the-earth citizens: Mennonites, Quakers, and all manner of people of faith; children, high school students, and college students; professors from area universities; parents; grandmothers and grandfathers; a Central American Dreamer and an indigenous South-American shaman; lawyers and doctors; home-builders and activists; a homeless blogger and indefatigable truth-teller, and a few of the city's well-heeled.
What unites us is simple: a love of the Earth and a love for the peoples of the Earth. Both are jeopardized by the fossil-fuel industry's profit-driven insistence on business as usual at a time when atmospheric carbon is choking-off the very life-support systems of the planet.
Our best science tells us that the preponderance of fossil fuels must remain in the ground if we are to have any chance of stabilizing the climate and preserving a viable future.
When historians of the future -- assuming humankind has one -- write of the upheavals and transitions of the twenty-first century, the world's indigenous peoples will be the heroes and heroines who, on the front lines of Blockadia, led the fight to preserve a livable planet.
May Wakan Tanka, the Great Spirit, bless them -- and all those who stand in solidarity with them.
Mitakuye oyasin!
Calling all HuffPost superfans!
Sign up for membership to become a founding member and help shape HuffPost's next chapter
This post was published on the now-closed HuffPost Contributor platform. Contributors control their own work and posted freely to our site. If you need to flag this entry as abusive,
send us an email
.