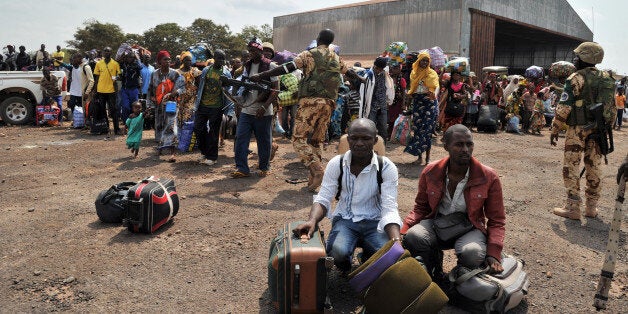 Last week, as I flew into Bangui, the capital of the Central African Republic (CAR), what first appeared as a densely populated city came into sharp focus as a sprawling, miserable settlement of tarps, sticks, and rags. With a total population of about 750,000, almost 400,000 people in Bagui are displaced and 100,000 people are now huddled in an encampment by the airport, seeking refuge from a vicious cycle of attacks and lawlessness. Humanitarian agencies have improvised the delivery of food, water, and basic supplies, but the urgent hope is that the deployment of international troops will bring security fast enough to allow people to return home, especially before the spring rains turn this camp into a giant swamp.
For decades, CAR has topped the list of forgotten countries. Landlocked in the middle of the African continent, surrounded by neighbors with longstanding tensions of their own and left to decay through decades of incompetent and corrupt leadership, CAR is the poster child for why development matters-especially development linked to inclusive, legitimate, democratic governance. In a free fall of violence since the collapse of a short-lived consensus government in March 2013, warring militias have taken up arms in communities across the country, motivated increasingly by revenge, while religious labels are being slapped onto tensions with much deeper, historical roots.
Like many conflicts, the current crisis in CAR is complicated. But what isn't complicated is the suffering of the more than one million women, children, and men who have been forced from their homes as a result of the recent violence in a country already struggling with chronic poverty. Almost everyone I met with in the Bangui camp or in similar camps I visited in Bossangoa, a city to the north, had a story of displacement, fear, and loss.
In Bossangoa, I met a woman called Nana, a slender older woman from Benzamde, a district roughly 40 kilometers from the rough tent she lives in now alongside 8,5000 other Muslims seeking safety. Nana lost her husband and four children to the recent violence and now resides with her sister and grandchildren at Camp École Liberté. The local Imam is living in the camp for protection as well, having lost his wife and four of his children in recent attacks. The local Bishop lives nearby in a church that now has 41,300 Christians encamped around it, including Dorcas, a Christian woman who lost her husband in the December 5th violence and now supports their four children, including a six-month-old girl who nodded sleepily in the sling on her back.
Although the Bishop and Imam talk regularly, they despair that their messages of peace are not reaching a larger audience, especially with so many radio stations destroyed by the violence and in a country that avails no opportunity to prosecute those who steal, kill, or loot.
In this tinderbox environment, tensions remain high and the prevention of further violence is an international priority. Since the escalation of hostilities in December 2013, the United States has moved urgently to respond with $101 million in security assistance, both for French troops and additional African troops. During my visit, I saw two U.S. planes arrive with soldiers from the region to augment the existing peacekeeping troops.
On the heels of my visit to CAR, I traveled to Brussels, accompanied by colleagues from the State Department's Bureau of Population, Refugees, and Migration, where the international community collectively pledged nearly $500 million in new funds to address the rising humanitarian crisis in CAR, including $54 million from the United States to provide urgent food, water, and medical assistance to the millions of Central Africans in need as well as support for courageous religious and community leaders who are promoting calm and peace among their communities.
An important step forward is the appointment one week ago of a new interim president, Catherine Samba-Panza, the former mayor of Bangui. After decades of exploitation and corruption by political forces, we are hopeful that Samba-Panza will provide political leadership focused on democratic governance rather than association with militia groups or narrow interests. To this end, she has called repeatedly for an inclusive peace and a new future for the country, and she recently appointed a technocratic Prime Minister, who formed a 20-member interim cabinet comprised of seven women and three representatives of ex-Seleka rebels.
The United States has pledged to join the international community to urgently help prevent the potential for even more killings and violence, including support for the possible pathway to peace that President Samba-Panza presents. The international community is mobilizing to help people like Dorcas and Nana climb out of the current cycle of violence with new attention and assistance-and it matters. So will our continued attention to stronger institutions, rule of law, and justice for a lasting peace.
Related
Popular in the Community