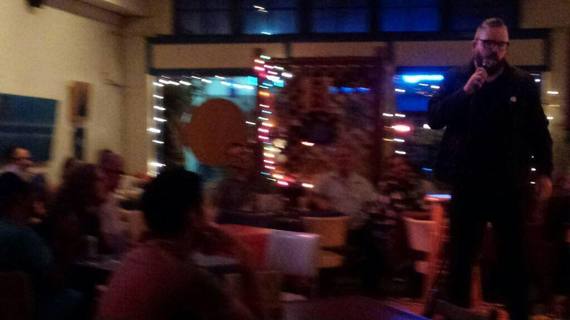 Most days being a stand-up comedian is awesome.
I get to perform with my good friends (and not-so-good friends) and heroes almost every single night of the week. Whether it's a quick 5-7 minute spot at an open mic on a Tuesday night or 30 minute feature sets over 6 shows from Thursday through Sunday, stand-up comedy occupies the large part of my time, and I like it that way.
Every single day someone reaches out to me on social media about how to get started. So I thought I'd jot some words down about the first phase of being a stand-up comedian. Hopefully it's helpful. If it's not, just google "Starting stand-up comedy" and I'm sure some stuff will come up.
When you first start doing stand-up, stage-time is at a premium. No one knows who you are, so you are generally limited to performing at open mics. This can be a soul crushing mix of bad comedy and bad crowds, but it's all you've got, so you appreciate every spot at every place. Keep writing, but don't forget to work on your first five minutes relentlessly. Get it sharp. Value killing with that five minutes. You're going to want to do well when you're not at an open mic.
As you start growing your act, you start to "showcase" more. These are shows with 6-8 comics doing 7-10 minutes with a headliner (usually a local that's an established working comic) doing a longer set at the end. These are essential in a comedians development as the show will generally (not always...oh lord, not always) have better attendance than open mics and is beneficial in meeting other comics that are at a similar level as yourself. Sometimes these showcases take place at comedy clubs and can work as part of an audition process. Imagine that! Getting paid to do stand-up comedy!
If you get an audition and pass, you'll start working as a host. The host works the whole night, doing about 15 minutes up front and then introducing the rest of the comedians on that night's bill all the while remembering to promote future shows at the club and to tip your bar and wait staff. Hosting can be challenging and unfulfilling, but I encourage you to get good at it, because it's your first step into working at the club. In the early years, host as much as you can. I can't stress that enough.
If and when you acquire the comedy chops, your local club might move you to feature (or middle) act. You're probably not there yet, so don't worry about it.
In closing, if you're starting stand-up to become a big star, don't. I'm not saying that won't be the outcome, but you have to love this first and foremost. It's a ton of work, for little (NO) money. If you try it and the fire doesn't burn in your belly for each and every night of performing for strangers (sometimes just a few) at a bar or café or laundromat (what up Brainwash?) than stop doing it. Move out of the way. Leave the stage-time for those that crave it and need it. Start a band or something.
REAL LIFE. REAL NEWS. REAL VOICES.
Help us tell more of the stories that matter from voices that too often remain unheard.