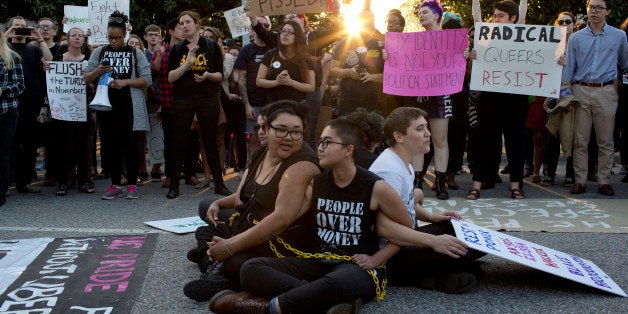 Stuart Milk, Harvey Milk Foundation
Christine Pelosi, CA Democratic Party Women's Caucus Chair
Once again we see a hateful and discriminatory law get rushed through a North Carolina statehouse and signed by the state's Governor in the cover of darkness. All of American society must rise up again, as we did in Arizona and Indiana. It codifies legally approved discrimination against the LGBT community and all of that community's allies, friends, business associates and family.
Already we have seen faith leaders and civil society join with sports teams and commerce agents and call this law regressive, damaging and dangerous. We saw CEO's at Bank of America, Biogen, Dow and Safesforce stand up and speak out that this law is not only wrong but it is bad for business. And we know that Americans of goodwill across our great country are learning of this travesty and vowing to condemn bigotry and embrace LGBT equality.
The North Carolina law overturns existing and future bans on discrimination that don't mirror the state's nondiscrimination laws for workplace and public accommodations (hotels, restaurants and places that serve the public). The state law does not ban discrimination based on sexual orientation or gender identity so this effectively forces all cities, municipalities and counties to give the green light to discrimination against LGBT people.
Moreover, the discriminatory law prohibits transgender people from using bathrooms and locker rooms in schools and government agencies based on their gender identity. Instead, they're forced to use bathrooms and locker rooms based on the gender in their birth certificate, which can only be changed by a difficult long process and then only once they have had gender reassignment surgery.
The passing of this law has scared the Whittington family who are partners with the Harvey Milk Foundation's educational campaigns saying that the result of this law is that young trans kids like 8-year-old Ryland Whittington would be forced to use the restroom of a gender that he does not identify with. Anyone watching Ryland and his amazing family in this 5 minute video would know unquestionably that this is simply wrong and damaging!
Banning trans boys and girls from using the school bathroom of their gender identity would likely violate federal law including particularly Title IX. Both the US Justice Department and US Department of Education have ruled that Title IX does not just ban sex discrimination in federally funded schools, but also bans anti-trans discrimination. North Carolina could risk losing significant federal funds for its public schools by having passed this law and we ask you to join us in asking the Obama administration to look into that and begin the process of holding North Carolina schools accountable to Title !X.
As advocates in the next generation of the Milk and Pelosi families, we must call out how this happened: There can be no doubt that the drafters, endorsers and signers of this law followed those that hate us and did so under the cover of darkness. And the "us" being not just LGBT people, but our allies and friends too. They have followed the lead of those that hate who we are. They have followed the lead of those that hate our history. They have followed those that hate our accomplishments on equality and on fairness. They have cowered to those that hate we even exist. They are following those that hate us so much they have indeed codified this hate into law by passing this legislation.
It doesn't have to be this way. Indeed, American society has evolved toward equality not against it. In the past five years we have seen the end of military discrimination with DADT repeal of "don't ask, don't tell" policy, the enactment of the Matthew Shepard and James Byrd, Jr. Hate Crimes Prevention Act. President Obama's mandate that requires government contractors prohibit discrimination of LGBT employees and their families, unprecedented instruction to all foreign U.S. offices encouraging collaboration with at-risk minority communities, including LGBT people and of course the evolution of marriage equality. We will not go back!
Therefore, we call on North Carolina to undue this law, right this wrong and make North Carolina whole again. We call on them to bring people together in acceptance and not take us back to the antiquated days of legal disenfranchisement.
The North Carolina law not only codifies discrimination into law, it teaches and validates hate. True leadership embraces all our differences and works to teach and enshrine equality.
As Nelson Mandela said, "People must learn to discriminate and hate, and if they can learn to hate, they can be taught to love, for love comes more naturally to the human heart than its opposite." It is our hope that during this Passover and Easter season, people will choose to teach love and to value equality over discrimination.
Please join us in teaching love, supporting equalitync.org, and sharing this message using the #standwithcharlotte.
Calling all HuffPost superfans!
Sign up for membership to become a founding member and help shape HuffPost's next chapter