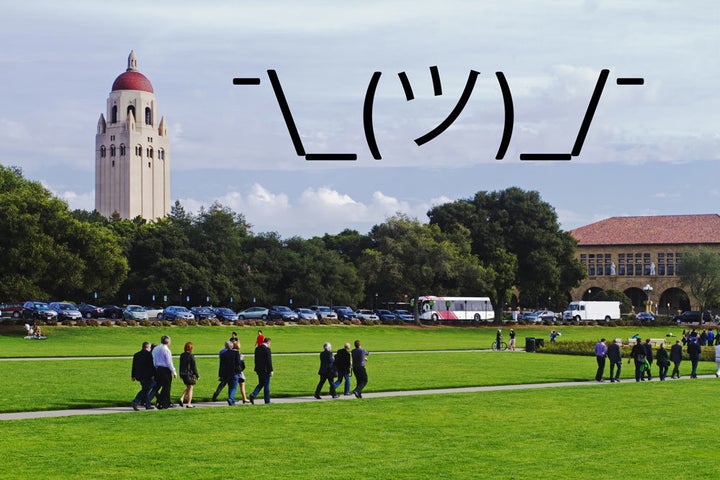 Just to be clear: Bruni's column was satire, a jokey riff about how colleges and universities take outsize pride in trumpeting how many applicants they reject. In reality, Stanford announced last week that 2,063 high school students have been admitted to the class of 2020, giving the Bay Area school an acceptance rate of 4.69 percent -- not zero percent.
But it appears that Bruni's joke went over the heads of some readers. Scrolling through comments at the Times site and on Twitter, it's clear a few people didn't understand the piece is satire.
Here at The Huffington Post, we actually first noticed Bruni's article thanks to pitches from publicists to at least six of our reporters and editors asking if we wanted to speak with college application consultants to follow up on Bruni's bombshell. There was nothing in these publicists' pitches to suggest they knew he was joking.
"Hi," one such email reads. "Frank Bruni of the NY Times' op-ed today on college admissions news from Stanford University is indeed a shocker, with no one admitted to the class of 2020. It is college admissions season with the dreaded 'wait list' letters arriving this Friday and official acceptance letters going out by May 1st. Are you planning to cover this topic today or in the next few weeks? I am working with college admissions strategist [NAME REDACTED] and he can offer expert commentary on this subject matter."
To be fair, the Times didn't add any kind of disclaimer to indicate the column was a joke, and Bruni's work for the Times doesn't usually take the form of satire. But anyone who reads him regularly knows that he takes issue with certain aspects of the college admission process, especially the way many schools wear their rejection rates as a point of pride. In fact, Bruni published a book last year, Where You Go Is Not Who You'll Be: An Antidote to the College Admissions Mania, that roundly rejected the idea that highly selective schools offer the only path to happiness and success.
Still, it seems his joke this week didn't quite land with everyone -- even among people who had already gotten their Stanford acceptance letter.
"There has been confusion among the public, parents of students who were admitted, and even some high schools who had students admitted," Stanford spokeswoman Lisa Lapin told HuffPost.
At least one person seems to have missed the joke only to catch on later. Phillip Palmer, an anchor at ABC7 in Los Angeles, tweeted a link to Bruni's column Wednesday morning with the comment: "all do respect Stanford, NO school is that good... NONE [sic]." He later deleted it.
This discussion is irrelevant to most prospective college students anyway. Research shows that a large number of college freshman end up attending schools within 100 miles of their home.