Santa Clara, CA -- The conference championship did not disappoint. While both teams were vying for a spot at the Rose Bowl, the worst possible scenario happened for the Stanford Cardinals. With a 34-22 win over the USC Trojans, the Cardinal's will be headed to the Rose Bowl and not the BCS Championship they were hoping for. Both Alabama and Clemson won, knocking them out of playoff contention.
"Very proud of our kids and the season that they've had," said Trojans head coach Clay Helton. "To make it to a Pac-12 Championship game is a great honor for us. Very sad for them that we did not play our best game against a very, very talented Stanford team."
 
Both teams prior to tonight's game had good wins last week, but the better team advanced. The Pac-12 Championship game started off slowly when a more aggressive Cardinals team led 3-0 with a field goal after Kevin Hogan's touchdown pass to Christian McCaffrey was overturned due to a penalty. McCaffrey had a phenomenal game with 32 carries, four catches and one pass for a total of 461 yards.
 
"I mean what doesn't he do is what you could ask me," OLB Su'a Cravens said about McCaffrey. "He catches the ball in the back field, makes guys miss, and takes it to the house, and rush the ball inside and on the edge and really score with any play they draw for him. He's just a special guy. In my opinion, he should win the Heisman."
He's a top candidate for the Heisman Trophy and will definitely head to New York. USC Adoree Jackson made a great block on a deep pass from Hogan to McCaffrey on opening drive which forced the field goal. By the end of the quarter Stanford was fourth and short going for it, getting the first down with less than a minute left. The Cardinal's "wildcat" play began the second with McCaffrey's 11-yard touchdown pass to Hogan extending their lead 10-0.
 
The MVP of the night, continued to amaze the fans with his performance today. McCaffrey's 50 yard run setup Stanford's second field goal of the game. The running back made history tonight when he surpassed Barry Sanders 3,250 all-purpose yards late in the second quarter. But Saunders did it in 11 games while McCaffrey took the whole season, he finished the game with 3,496 all-purpose yards. Peter Gustin sacked Hogan giving the Trojans back the ball. Alex Woods kicked a 40-yard field goal to end the half making it a 13-3 game.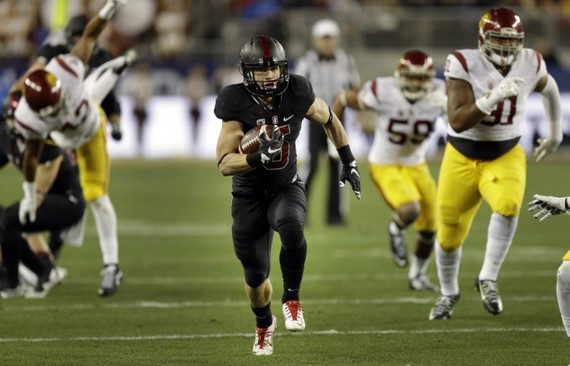 Photo by AP
 
"It's a huge honor, it really is," said McCaffrey on breaking Saunders record. "It's an extremely exciting feat for me, I couldn't do it without my teammates. I can't tell you how much I love those guys. It takes all 11 guys on the field doing their job on the field to make it happen. I love this team."
 
USC came out of the half more aggressive and scored their first touchdown to make it an exciting game. Cody Kessler finally connected with a receiver; he threw a one-yard touchdown to Jaleel Pinner. Wood missed the extra point. 75 plays for 65 yards was all it took for the Trojans to become more competitive in the third. Kessler moved his offense down the field quickly with back-to-back first downs. A flag on the next play moved the chains giving USC a huge break.
 
That set up Ronald Jones rushing for the 27-yard touchdown for the lead. This is the first the Trojans have led all game. USC had a total of 251 yards, 80 of that came in the first half while 171 yards was recorded in the third quarter alone, 95 rushing yards. But McCaffrey kept Stanford in contention with a 67-yard pass from Hogan to McCaffrey. That setup a seven-yard touchdown by Hogan giving the Cardinals back the lead 20-16.

"The biggest thing for us was corralling those receivers," Stanford head coach David Shaw said about USC coming out strong in the second half. "You know JuJu, we know he's not one hundred percent. He's a special, special football player. He can make guys miss. And Alijah Holder did a really good job in the second half getting him on the ground. Our guys kept fighting the whole game. We trust our defense, we trust our guys."
 
McCaffrey now has 442 all purpose yards a Pac-12 Championship record. LeMichael James previously held he record with 288 yards. Kessler was sacked by Blake Martinez forcing a fumble that led to a defensive touchdown by Solomon Thomas for 34-yards making it a 27-16 game. That was the first defensive return touchdown in Pac-12 history.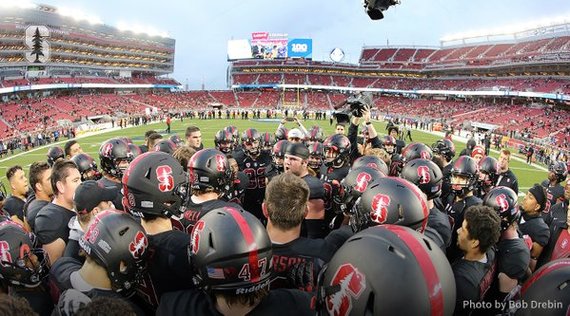 Photo by Stanford
Kessler on the quarterback keeper, rushed for a 12-yard touchdown and the Trojans failed on the 2-point field goal in the fourth. Down by 5-points with everything on the line for both teams. JuJu Smith-Schuster set a career-high 11 receptions in a single game, that marks a championship record. With 6:35 left in the fourth Hogan found a wide open McCaffrey for a 28-yard touchdown. Stanford gave themselves enough breathing room with a 34-22 lead.
 
"I think I was just able to -- I was put in a bunch of situations to be successful, I think," McCaffrey said. "I can't talk enough about the O-line and the holes, especially in the first half. We knew that if we wanted to win the game, we were going to have to run the ball efficiently, and those guys were unbelievable."
 
The stats alone for McCaffrey is enough to increase his votes for the Heisman. USC NET TOTAL Yards is 357 while McCaffrey had 323 yards. He scored his third touchdown of the night late in the fourth. McCaffrey rushed for a two-yard touchdown to seal the Cardinals victory making it a 41-22. This is the most points scored by Stanford in a Pac-12 Championship game and the third most points scored by a team in the Pac-12 Championship game.
Calling all HuffPost superfans!
Sign up for membership to become a founding member and help shape HuffPost's next chapter