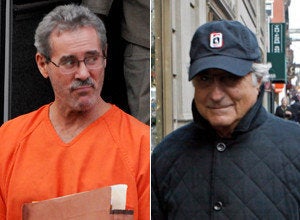 Jailed financier Allen Stanford has been moved to a prison hospital in Butner, North Carolina, to treat his addiction to anti-anxiety medication, according to the Federal Bureau of Prisons website.
The prison campus in Butner is also where Bernie Madoff is serving a 150-year sentence for masterminding the largest financial crime in history.
A spokesperson for the Bureau of Prisons could not immediately be reached for comment.
Stanford, 60, is accused if running a $7 billion Ponzi scheme. Federal prosecutors said he bilked investors with the sale of fraudulent certificates of deposit issued by his offshore bank in Antigua. He has pleaded not guilty to a 21-count indictment.
The federal medical center in North Carolina where Stanford is a patient is part of a four-facility complex that houses low- to medium-security prisoners, according to the government's website.
Stanford became addicted to a powerful anti-anxiety medication while jailed. A federal judge in Houston has ruled he is not currently fit to stand trial unless he is weaned off the medication.
His lawyers also say Stanford suffers traumatic brain injury following a September 2009 fight with another inmate that sent the former billionaire to the hospital with a number of broken facial bones.
(Reporting by Anna Driver, editing by Gerald E. McCormick and Derek Caney)
Calling all HuffPost superfans!
Sign up for membership to become a founding member and help shape HuffPost's next chapter