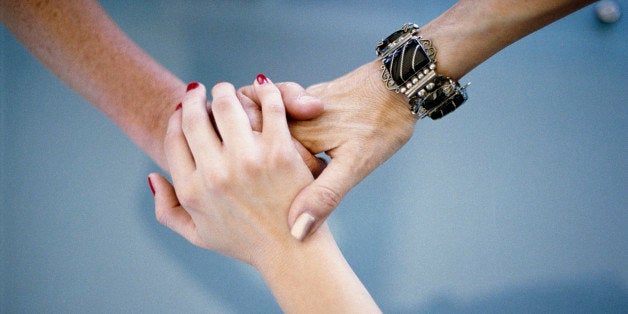 "I tried to push it out of my mind, but it was so heavy I didn't talk, I didn't eat, I didn't sleep, I didn't interact with anyone. After work, I would drive to a secluded place to scream. I didn't talk, I didn't eat, I didn't sleep, I didn't interact with anyone, and I became isolated from the ones I loved most."
- Excerpt from letter to the victim's attacker in the Stanford Rape Case
To our sister who survived the assault by the former Stanford University student, Brock Turner, I want you to know that we stand by you. You don't know us personally, but we are a part of the collective sisterhood standing with you today and every day moving forward.
As one of your sisters, I wept in pain reading your powerful testimony that has now been read by millions. I am here on behalf of other sisters to let you know that we are joining you. Today, we stand with you. Today, we stand with all of our sisters whom you gave a voice to with your testimony.
Your powerful testimony has touched the collective heart of our sisterhood. Our hearts honor the courage it took for you to write your words and read them out loud in court. I personally call upon our sisterhood to pray for strength in your ongoing healing process.
Why am I writing this? As a woman, I am sure I am not alone in feeling angry. We are angry at the trauma you have endured through the horrific assault and the process of the trial. We are angry at the criminal act committed by Brock Turner, who has been convicted of three felony charges. We are angry at the light sentencing by Judge Persky. Most of all, we are angry because these cases of sexual assault keep happening to our sisters.

We cannot abandon our suffering sisters any longer.
As a physician I hear stories nearly every day of women who are victims of sexual assault. Many of these women never reported the case or saw any form of justice if they did report the crime. In my early career as a neurologist, I met too many sisters who were suffering from long-term mental health ramifications of sexual assault. Symptoms ranged from anxiety and depression to non-epileptic seizures and personality disorders. These women would get labeled "crazy" and often are left feeling isolated. We cannot abandon our suffering sisters any longer.
Your testimony gave a voice to the shocking number of women who are victims of sexual violence in the United States.
According to Center for Disease Control and Prevention (CDC), in the United States, almost 20 percent of women are raped during their lifetimes. This CDC survey performed in 2011 cannot account for the number of women who fail to report sexual abuse or sexual assault because they fear the consequences.
The National Women's Study highlights the staggering mental and emotional issues that women face long after the physical assault is over. Women who are victims of sexual assault are more likely to suffer from post-traumatic stress disorder (PTSD) and depression. Also, rape victims are more likely than non-victims to abuse alcohol and other drugs. In the rape treatment outcome research study, concerns are raised that a woman may present symptoms of post-traumatic stress disorder to her physician. If the woman does not reveal a history of sexual assault, the PTSD may go unrecognized, under-treated, or misdiagnosed.
We are our sister's keeper.
I am writing this as a call to action to our sisterhood. We must first acknowledge our collective anger, outrage, and hurt. Next we must transform these emotions into action. What can we do when a sister whom we know has been assaulted?
Heather Ryan, a 14-year NCIS veteran, worked with hundreds of sexual assault victims during her career as a female agent. She now teaches assault prevention on university campuses around the country.
"The reality is every survivor acts differently. There is no one right way to act. As a friend, sister, daughter, mother, your job is to support her through the feelings. Power has already been stripped from her. The last thing you want to do is add to her feelings of powerlessness. Just hold her hand through the ups and downs," advises Ryan.
Ryan also advises undergoing a sexual assault examination, even if the victim has showered. "It isn't abnormal for showering to be the first response after being assaulted. The need to wash off the violation can be overwhelming. If she does shower, it does not mean that she should not go to the hospital. She still needs to be tested for disease, checked for injury and there could still be evidence."
Will you join me in setting a healing intention for our sisterhood?
Let the Stanford Rape case be a catalyst for change. How will you join in supporting our sisters? Will you start by joining me in setting an intention or prayer for healing for our sisterhood?
Let us send an intention for the healing of our sister, who bravely shared her testimony.
Let us set the intention that her courageous testimony will empower other sisters who are victims to find a path healing.
Let us set an intention that we will stand together to prevent sexual assault cases.
Let us give intention that our sisters, who are victims, will have access to healing their physical and mental health issues that arise from their trauma.
Let us hold an intention that our sisters feel safe and secure.
Let us set an intention to hold the light of hope and love for all of our sisters.
We are our sister's keeper.
Romila "Dr. Romie" Mushtaq, MD, ABIHM is a traditionally trained neurologist with additional board certification in Integrative Medicine. Dr. Romie brings together Western Medicine and Eastern wisdom to optimize brain and mental health. As a professional speaker and expert media analyst, she empowers audiences to manage stress with her program Mindset Matters which is based in neuroscience, positive psychology, and mindfulness.
Dr. Romie writes at www.DrRomie.com where you can sign up to join her global mindful living community and learn more about how to create a happy brain for a happy life. You also can follow Dr. Romie on Twitter, Facebook and connect with her on LinkedIn.
Calling all HuffPost superfans!
Sign up for membership to become a founding member and help shape HuffPost's next chapter