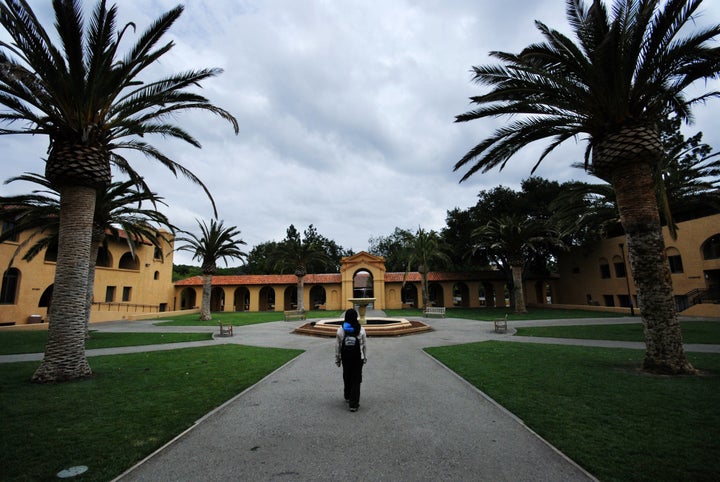 The Bay Area school promptly responded by saying thanks, but no thanks -- there will not be a new survey.
On Monday, the Associated Students of Stanford University posted the results of the annual student government elections, revealing that 90.6 percent of voters were in favor of a referendum calling on the school to administer a new survey.
The referendum carries no authority, and only serves as a symbolic call by student voters. The student senate unanimously voted earlier this year to use a referendum to address the question of redoing the survey.
Stanford polled undergraduates and grad students in 2015 to find out how many had experienced sexual violence on campus and whether they trusted the school to handle reports of assault. Many universities around the country have done similar surveys of their campuses in recent years after activists, policy experts and the White House called on schools to do so. Pending legislation in Congress would require every college to survey its students about sexual assault.
But Stanford students and faculty have criticized the university for how it rolled out the results of its own poll.
Stanford says that just 1.9 percent of respondents were sexually assaulted at the university -- a figure that combines male and female rates together, and one that uses a limited definition of sexual assault. By Stanford's reckoning, an encounter qualifies as "sexual assault" if the victim was incapacitated, or if the assailant used force or the threat of violence. This means, for example, that if someone was sexually penetrated without their consent, but they weren't incapacitated at the time and they weren't threatened with force or violence, their experience doesn't count toward that 1.9 percent figure. The survey said 4.7 percent of undergraduate women and 6.6 percent of "gender-diverse" students experienced sexual assault meeting that definition.
"The students have spoken, and they have spoken clearly," said Matthew Cohen, the student senator who spearheaded the effort to redo the survey.
However, Stanford defended the survey, calling it "one of the most extensive and detailed of any university." The school said it won't be redoing the survey, and that in fact it intends to reuse it in 2018. Stanford has also downplayed criticism of the survey, saying that only a small number of people have raised objections to it.
"There really is a single primary critic and students who were in her class," Lisa Lapin, a Stanford spokeswoman, told The Huffington Post.
Lapin is referring to Michele Dauber, a law professor at Stanford who has vocally criticized the survey. In response to Lapin's comment, Dauber said it was "unfortunate" she'd been singled out, and noted that Cohen was not in her class.
Cohen, for his part, says he won't be deterred.
"While the university may continue to ignore the overwhelming support for a new survey, this campaign is not over," Cohen told HuffPost. "As a senator who was re-elected to a second term, I will continue advocating for a new campus climate survey on sexual violence."
The U.S. Department of Education's Office for Civil Rights currently has four simultaneous investigations open into whether Stanford violated the gender equity law Title IX in its response to various reports of sexual assault.
Two of those federal investigations involve cases related to a single male student who was accused of sexual and physical assault by multiple women. The accused student was found responsible of violating the school's sexual assault and harassment policies, but he was allowed to graduate and received a 15-year ban from campus and alumni events.
Students also protested in 2014 over another case where a male student received a sanction for sexual assault after getting his degree.
Redoing the survey would be a way for Stanford to provide a "fair evaluation of what's happened to survivors and what's happened on our campus," argued Madeleine Lippey, a sophomore who has organized sexual assault awareness events.
"I don't know anyone who disagrees with that -- that Stanford messed up on the survey," Lippey told HuffPost. "That is an absolute consensus."
But the school says there are multiple reasons why it can't redo the survey this semester.
Conducting another survey so soon after completing the first "would predictably produce inaccurate data, due to survey fatigue and the unavoidable bias in response rate that would result," Lapin said.
She also argued that "sufficient time has not passed to achieve the primary purpose of the survey, which is to see whether efforts that have only recently been implemented will have an impact on campus climate and student conduct."
Still, with students voting so overwhelmingly in favor of redoing the survey, it sends a bad message for the school to dismiss the idea out of hand, Lippey told HuffPost.
It shows "flagrant disregard to student opinion and perspective," she said.
Related
Popular in the Community