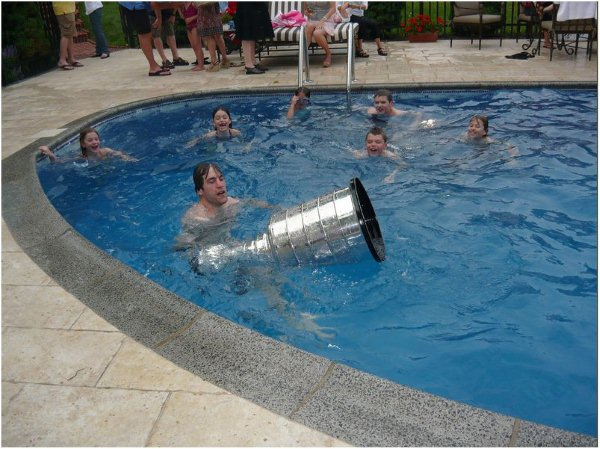 Lifting the Stanley Cup overhead during a victory lap is the most dreamed of moment for NHL players and armchair diehards -- the thing that gets camera bulbs flashing. But any self-respecting hockey fan knows that as far as the cup goes, the interesting stuff happens after the last lap. There are few limitations for what championship winners can do during the full day they're each granted with the cup. And no shortage of food and drink related shenanigans that go on with it. Why not? Supposedly, it was originally a punch bowl.
For instance, at last count, 2,163 individuals were engraved on the cup, including more than 10 women. There are at least 12 misspellings including the Toronto Maple "Leaes," "Bqston Bruins, and New York "Ilanders." (Incidentally, there have only been four official engravers.) The Hall notes the dimensions of the original bowl (7.28 inches high, 11.42 inches in diameter) and the full current cup (35¼ inches high, 34.5 lbs). "Full" refers to the five removable rings at the cup's base, each listing 13 teams and players. Rings stay on for 64 years, then are retired and displayed at the Hall.
Each player on a championship team gets 24 hours with the cup -- though not without company. The cup is minded by a trustee, a tradition started by Lord Stanley in 1893 when he donated it (there have been nine trustees). According to the Hall of Fame and ABC.com, some misadventures include: being kicked into the Ottawa's Rideau Canal, using it as a flower pot and christening vessel, and leaving it on the side of the road. It has been to the White House, Lenin's tomb, and the Arctic Circle.
Food? Drink? According to Andrew Podnieks' Lord Stanley's Cup, it all started in 1896 when the Winnipeg Victorias drank Champagne out of it. What's happened since? Applejacks, ice cream, pitepalt, beer, and more -- consumed out of something players sleep, swim, shower, and hit strip clubs with. And that's just what can be documented.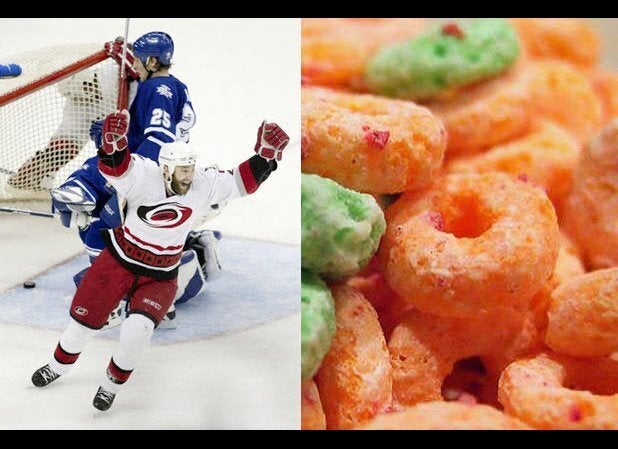 Food and Drink Moments with the Stanley Cup
Popular in the Community