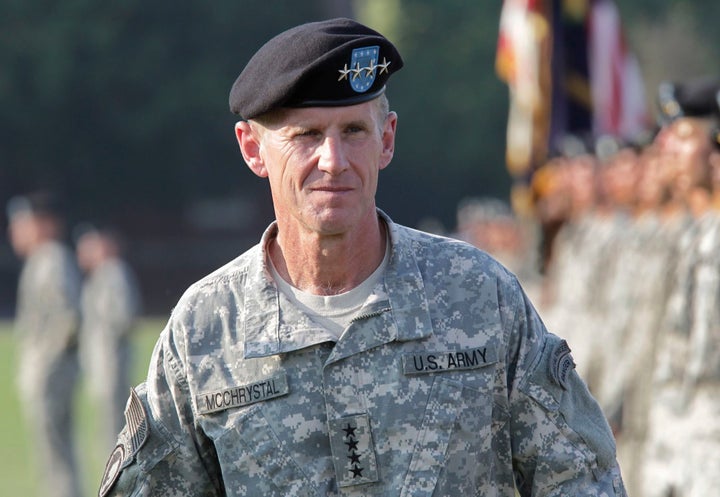 WASHINGTON -- As they say in Washington, old soldiers never die -- they just fade into cushy, off-the-books sinecures on K Street. Stanley McChrystal, fired last summer after a damning Rolling Stone article, has added a lobbying component to his consulting shop, The McChrystal Group, proving again that for elite Washington, failure is not an option.
McChrystal is not himself a registered lobbyist and the firm doesn't appear in the federal database. By not registering to lobby, McChystal is not required to disclose what issues he discusses with members of Congress or who his clients are.
But clients who come to the former general hoping he can pull strings on Capitol Hill will get fully serviced regardless. On Friday, two lobbyists with deep connections to the House spending panel, Jeff Shockey and John Scofield, announced in Politico Influence that they were forming a lobby shop that will be affiliated with the McChrystal Group. Roll Call reported that the pair will work out of the McChrystal Group's office in Alexandria.
David Bolger, McChrystal's spokesperson, told HuffPost that if clients need help navigating Capitol Hill, McChrystal himself won't do it, but Shockey and Scofield will. "McChrystal is not getting into the lobbying game," said Bolger.
The firm's own description of its activities, however, sounds an awful lot like lobbying. "McChrystal Group provides a full range of services for clients looking for professional expertise in navigating the policy of the federal government," offers the group's website. "Utilizing McChrystal Group's significant experience in the legislative and executive branches we enhance business development and develop legislative strategies to help clients solve complex problems."
The firm has plenty of connections even beyond McChrystal's. Dana White began as a principal at the firm in February, according to her LinkedIn profile. She previously worked as a foreign policy adviser on John McCain's 2008 campaign, as a senior staffer on the Senate Armed Services Committee and as an editorial writer at the Wall Street Journal. Jenny Wing, who joined the firm in January, worked for Sen. Tom Harkin (D-Iowa) on defense and appropriations issues.
Scofield, who didn't return an email, was a Republican communications director for the House Appropriations Committee. More recently, he was a lobbyist with the Democrat-leaning Podesta Group. Shockey, a Republican, was the panel's staff director and a former top aide to Committee Chairman Jerry Lewis (R-Calif.).
Shockey's many trips through the revolving door have led to his fair share of uncomfortable attention. He left the spending panel in 1999 to join Copeland Lowery and was making a killing within a few years thanks to his connection to Lewis. Former Rep. Bill Lowery (R-Calif.) was close friends with Lewis.
In 2005, Schockey returned to the committee to work for Lewis again. To offset his massive pay cut, Copeland Lowery cut him a $2 million check before he went back into public service. Shockey was subsequently caught up in a federal investigation into the relationship between his bosses, Lewis and Lowery, resulting in subpoenas for his former clients.
Now he's Stanley McChrystal's man in Washington.

Popular in the Community