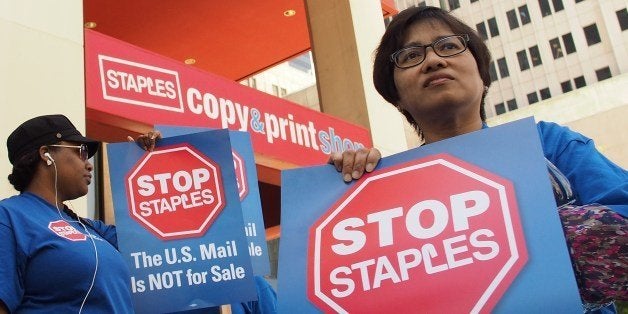 Staples won't be replacing the post office anytime soon thanks to what some are calling a rare victory for unions -- and what one Staples executive claims is a win for the company and its customers
The office supply chain and the U.S. Postal Service announced Monday that they're abandoning a pilot program essentially creating mini-post offices at Staples stores, just days after the American Federation of Teachers, one of the nation's biggest unions -- and an important demographic for back-to-school retailers -- said that it would join the American Postal Workers Union in boycotting Staples.
The 82 stores with mini-post offices will now become part of the Postal Service's Approved Shipper Program, an initiative established in 2005 that allows customers to send mail from thousands of retail locations across the country.
Demos Parneros, Staples' president of North American stores and online, called the new arrangement a "win-win" for customers and the company, declaring that shoppers don't care much about the logistics of the program as long as they have a convenient way to send mail.
"We pay attention clearly to what people are saying, to what people are writing," Parneros said in an interview Tuesday. "We also reacted very quickly to their concerns. We're always concerned, we always worry about everything, but we feel like we're in a good place and we have a good resolution to go forward."
The company and the Postal Service have been coy about whether the boycott forced their hand, though it's hard not to see the latest development as a victory for the unions, who viewed the mini-post offices as a way to take jobs away from them and a step toward privatizing a public service.
Yet Mark Dimondstein, president of the American Postal Workers Union, called the change "a ruse." In a statement released Monday, he contended that "living-wage Postal Service jobs" are still being replaced with "low-wage Staples jobs."
"This attempt at trickery shows that the 'Don't Buy Staples' movement is having an effect," wrote Dimondstein, whose union has been pressuring Staples and the Postal Service for months.
The American Federation of Teachers is standing in solidarity with the postal workers union, a person close to the AFT's campaign to boycott Staples told HuffPost.
The size of the victory aside, as The Wall Street Journal noted Monday, it comes at a time when unions are not exactly thriving. The movement has been battered recently by a major defeat in organizing workers at a Tennessee Volkswagen plant and an unfavorable Supreme Court ruling. Not to mention, membership rates continue to decline.
For its part, Staples can't afford bad publicity or the risk that teachers won't shop in its stores during the all-important back-to-school season. The company has struggled in recent months and is now closing up to 225 stores.
Related
Popular in the Community