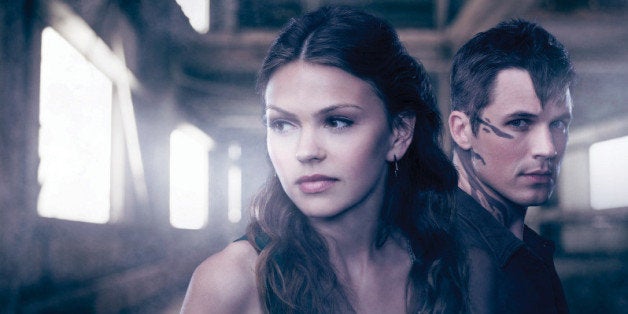 Back in the glory days of The WB it felt like almost every show on the teen network took place in a high school. From "Dawson's Creek" and "Buffy" to "One Tree Hill" and "Popular," teen viewers saw their school lives reflected onscreen, but these days hardly any CW shows take place in high school.
So if you need a dose of high school drama, or just want to relive your senior year glory days, then here are some reasons why you need to check out The CW's new high school sci-fi drama, "Star Crossed."
Romeo & Juliet ... With Aliens!
"Star Crossed" takes the classic Shakespeare tale of tragic love and gives it a new spin. Instead of the fighting families of the Montagues and Capulets, it's the Atrians, the aliens who have crash landed on earth, and the humans who don't accept the love between Emery and Roman.
Julie Taylor Returns To High School
If you miss seeing "Friday Night Lights'" Julie Taylor in a high school setting, then look no further. Aimee Teegarden plays Emery, the girl who saves Roman's life as a child, and falls in love with him as a teenager (and can we all agree that she looks much better as a brunette?).
Alien Eye Candy
Matt Lanter, who plays Roman, has out-of-this-world good looks. Plus, looking back on it, couldn't your high school crush have been from another planet?
The Music
Admit it, you had the "Dawson's Creek" or "Buffy" soundtracks, and maybe even the "Everwood" and "Gilmore Girls" ones. Soundtracks for The WB shows have always been stellar, and "Star Crossed" is no different. The tunes selected would make a perfect "Forbidden Love" Spotify playlist.
"Roswell 2.0"
This isn't the first sci-fi teen drama. "Roswell," which ran from 1999-2002, starred Jason Behr and Katherine Heigl as teenage aliens living among humans in the infamous New Mexico city. "Star Crossed" is basically the new "Roswell," and we couldn't be happier about it.
There's Always A Party
Remember how on "Gilmore Girls" or even the early years of "The Vampire Diaries" there always seemed to be some event going on every week, whether it was a school dance, carnival or town anniversary. "Star Crossed" continues that legacy. In the three episodes that have aired, there has already been a carnival, a forest party and even an alien crash-landing anniversary.
Sibling Love
Another strong bond on the series is the family kind between Roman and his sister Sophia. If you need some "7th Heaven" sibling bonding in your life, this is one of the strongest brother-sister relationships currently on TV.
Everyone Remembers Their First Crush
Like Dawson and Joey or Rory and Dean, the romance between Roman and Emery will send your heart racing back to high school.
Check out full episodes on cwtv.com and catch "Star Crossed" on The CW Mondays at 8 p.m.

REAL LIFE. REAL NEWS. REAL VOICES.
Help us tell more of the stories that matter from voices that too often remain unheard.
BEFORE YOU GO