Jacques Garcia, the interior architect and designer of fabulous five-star hotels like the Hotel Costes in Paris, La Mamounia in Marrakech, and the Hotel Danieli in Venice, recently created his first Asian property, the Hotel Vagabond, in Singapore. The boutique hotel in an art-deco heritage building is located between Little India and Kampong Glam, the young, trendy district ironically situated smack in the middle of the old Malay-Muslim quarter. It is Singapore's first luxury hotel located in one of the city's funky, ethnic neighborhoods.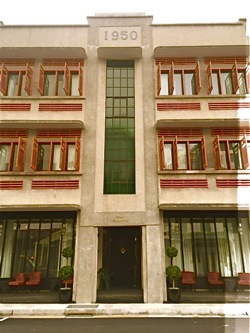 photo credit: Andrea R. Vaucher
The hotel is the brainchild of Satinder Garcha, owner of Garcha Hotels, which is also developing another uber-upscale boutique hotel in Singapore and one in Chile. Garcia and British designer Anouska Hempel will split the design responsibilities at the second Singapore property, The Duxton Club.
Garcha was born in New Delhi and raised in a British-style military academy in the Himalayas until his family moved to the U.S. when he was 17. After getting a degree in computer sciences, Garcha headed to Silicon Valley where he eventually sold his tech HR start-up, People.Com to Monster.Com. An avid polo player with a 3-goal handicap, Garcha now lives in Singapore with his family. His wife, Harpreet Bedi, a lawyer, is the General Manager of the Vagabond.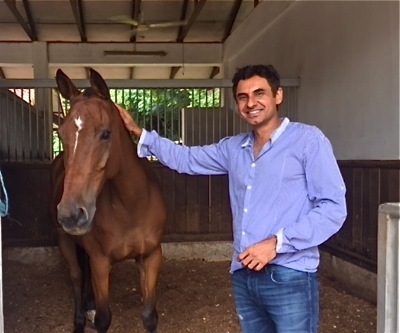 Satinder Garcha at the Singapore Polo Club
photo credit: Andrea R. Vaucher
Essentially an artist at heart, Garcha created the Vagabond as an "art" hotel. Think New York's Chelsea Hotel in a 5-star reincarnation. He envisioned hosting international artists-in-residence who would live for a period at the hotel and present salons, screenings and concerts for the hotel guests.
"He was very clear in his brief of his project," Jacques Garcia recently emailed from Paris. "Art & travel were the two main themes for the project. A vagabond is someone concerned by difference and diversity and I believe that this hotel embodies these characteristics."
Garcia encouraged Garcha to display his own photographs - of his family and friends and their extensive international travels - as part of the 1,000-piece art collection that dazzles from the moment guests step through the doors and encounter a massive solid bronze rhinoceros created by artists and craftsmen from 15 different Rajasthan villages.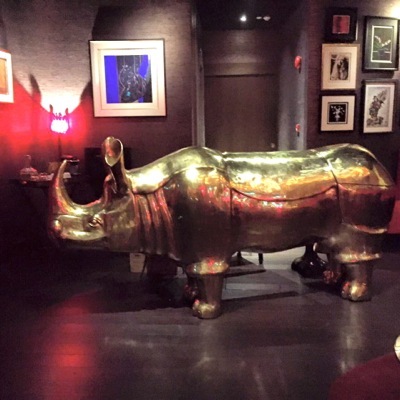 Rhino Reception Desk
photo credit: Andrea R. Vaucher
French artist Franck Le Ray's two life-size golden elephants appear to be hoisting the hotel's elevator and his golden monkey presides over the lobby bar, poised to swing from the brass banyan trees stretched across the Vagabond Salon. The Salon, the design concept Garcia is most proud of in the hotel, was imagined as a ground floor multi-purpose space. The hotel's 5th Quarter Restaurant there readily converts to a theatre or even a disco, complete with DJ booth. Garcia also created two studios for the artists-in-residence in addition to 42 guest rooms.
Fittingly, the author of the photo book, "Inside the Chelsea Hotel," Julia Calfee, a filmmaker/photographer/writer from Zurich was in residence during the hotel's opening in January. At one of her salons, guests were treated to an advance screening of her latest film "A Glaciers Requiem," a sound film about the disappearance of glaciers in the Alps. Another evening, Garcha screened his just completed documentary, "Under the Turban," about a family trip to visit Sikhs around the world - cheesemakers in Tuscany, a Sikh motorcycle gang in Vancouver -- in response to his young daughter's inquiry, "who am I?"
The Hotel Vagabond, with Garcia's signature more-is-more aesthetic, is the antithesis of everything one associates with a Singapore hotel, be it Raffles' colonial charm or the Marina Bay Sands's rooftop infinity pool. And that's a good thing. In a city where the streets are spotless, there is little traffic (it costs $85,000 to get a Certificate of Entitlement to own a car!) and most buildings, though starchitect-designed, are fairly conventional, it's wonderful to be able to stay at a unique boutique property with excellent service and go out the door and experience the real Asia, a roti or dim sum joint here, a $20 foot massage there.
While in Singapore, check out:
Chili Crab at Long Beach Restaurant, Dempsey Hill.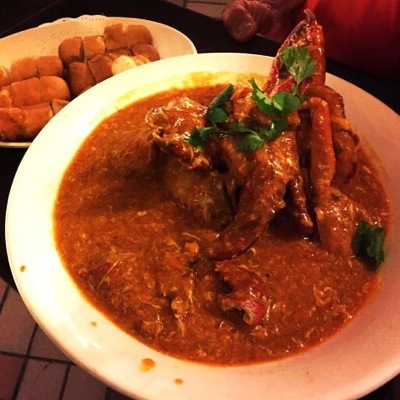 Chili Crab
photo credit: Andrea R. Vaucher
In the only Asian country where its feels safe to eat market food, visit the Hawker Centres for tasty local Chinese, Indian and Malay cuisine.
Candlenut Restaurant in the Dorset Hotel for gorgeously prepared Peranakan cuisine.
Chef Janice Wong's 2AM Dessert Bar for the incredibly innovative chocolates and desserts.
The National Gallery, beautifully reimagined in the old Supreme Court and City Hall buildings. Make sure you visit the roof deck for the iconic skyline view.