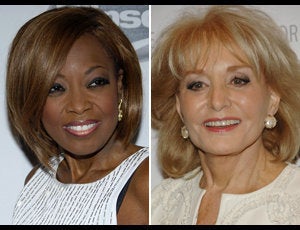 Update: Barbara's rep has responded to Star's war of words, telling UsMagazine.com, ""I will not dignify this with a comment. Barbara's written words say it all!"
Original Post: In her new book, Audition, Barbara Walters opens up about Star Jones, saying she lied to protect Star's secret about her gastric bypass and that Star became a bridezilla as her wedding to Al Reynolds approached.
"She was clinically obese," Barbara said of Star on Oprah yesterday (video below). "She could barely walk onto the set." But when Star chose to keep her gastric bypass operation secret, Barbara claimed "The View" co-hosts "had to then lie on the set everyday, because she said it was portion control and pilates."
Barbara also claimed that Star "wanted the biggest extravaganza wedding — she wanted to be a princess" and that she wanted to promote her wedding to get things paid for.

It is a sad day when an icon like Barbara Walters, in the sunset of her life, is reduced to publicly branding herself as an adulterer, humiliating an innocent family with accounts of her illicit affair and speaking negatively against me all for the sake of selling a book," Jones told Us. "It speaks to her true character."
Watch Barbara discuss Star on Oprah yesterday:
<2--1520965974--hh>2--1520965974--hh>
REAL LIFE. REAL NEWS. REAL VOICES.
Help us tell more of the stories that matter from voices that too often remain unheard.