Star light, star bright,
The first star I see tonight;
I wish I may, I wish I might,
Have the wish I wish tonight.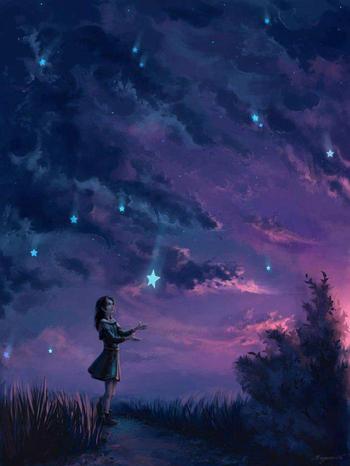 Last week, I wrote a blog about the Germanwings crash called, "The sky was black, my breath was steady." This piece was a call to action as the cause of mental health affects us all - every family, and every human being. The crash brought light to the tragic ripple effect that can take hold from a single person's actions. A few days later, LeGrande Green of Get Bold Today interviewed me about the themes of this piece and his question was, "What can we do? How can we start to see the stars in this very dark sky of this public health emergency?"
The answer that I focused on was volunteerism and philanthropy. We must start to bring this issue to the forefront and rally to make change. We must lend a hand to others who may be stuck in the shadows of themselves.
The solution to seeing stars in a dark sky is simply to look--the light will stand out from darkness if we open our eyes.
My urging for volunteerism and philanthropy coincides with my calendar reading "National Volunteer Week." It is the time of year when people around the world are encouraged to put more emphasis on unconditionally giving back to their communities. In a perfect world, volunteerism would be a permanent practice for people but this week being of service is certainly something we should all prioritize.
Mental illness does not have many global volunteer programs like "Trick Or Treat for UNICEF," Race For The Cure, or celebrity concerts and colored ribbons to raise awareness and funds.
But, the tide is changing and people are starting to become more aware and are taking action.
My hope is that this National Volunteer Week, the brilliant star of mental illness awareness will grow brighter and brighter until it illuminates all darkness.
Our most poignant and bright stars are our Junior Volunteers who are starting to support this cause from a very young age. Let their incredible stories of service in these videos inspire. Attaining the goal of good mental health for all requires every single one of us to get involved and these remarkable young people give us hope.
National Volunteer Week is here: What will you do to follow Mimi, Miles and Anna's lead to light the star for mental health?
Miles talking about raising $40 at his lemonade stand for Flawless
Mimi interviews Flawless about mental health and philanthropy for her 8th grade project
Anna on her experience being an intern with Flawless
REAL LIFE. REAL NEWS. REAL VOICES.
Help us tell more of the stories that matter from voices that too often remain unheard.