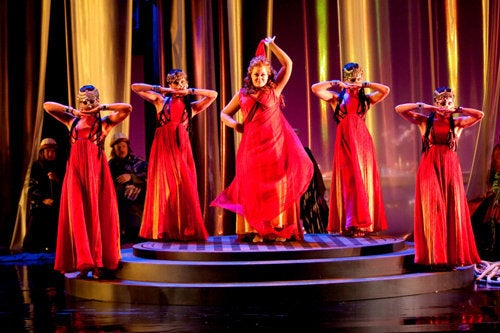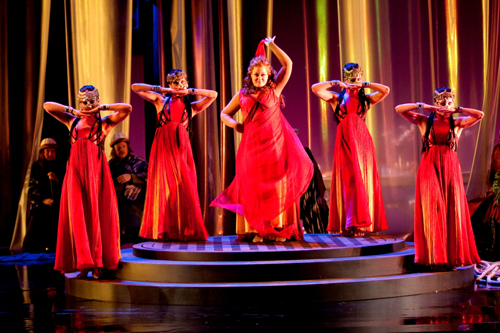 Deborah Voigt with veiled dancers (Photo credit: Scott Suchman)
Not many divas can move easily between the lofty heights of opera and the gleeful climes of musical theater, but Deborah Voigt hopes to conquer both during the next ten months.
It's a rainy afternoon as I wait for Voigt on the steps of the Kennedy Center Opera House. When she strolls my way, she looks svelte, beautiful, and youthful--the ideal singer to make her company debut this week as the temptress Salome in Washington National Opera's new production.
Vocally, Voigt's tone of liquid gold with its radiant upper range remains as distinctive as when I first heard her sing in a 1992 Rossini Gala on PBS. Even among such luminaries as Marilyn Horne, Samuel Ramey, and Frederica Von Stade, the fledgling artist stood out. That same year Voigt won the prestigious Richard Tucker Award, and I've followed her dazzling career ever since.
As we head into the cavernous opera house wings, Voigt shows me the wax head of Jochanaan (a.k.a. John the Baptist), a lifelike prop that Salome must kiss. "Heads weigh a lot," the soprano remarks, handing me the model which feels about as hefty as a small bowling ball.
Downstairs we find her dressing room which boasts a console piano and quartet of mirrors, and from her warm, undivalike manner ("People often mistake me for Nancy Grace"), one might not guess that Voigt is among the world's leading interpreters of Wagner and Strauss. Today we're going to chat about her upcoming season of "firsts," starting with Salome and ending next summer when she'll star as Annie Get Your Gun at the Glimmerglass Festival (formerly Glimmerglass Opera) in Cooperstown, New York. It's an ambitious nonstop schedule, but although she turned 50 in August, Voigt feels she's just hitting her stride.
"I'm lucky to have a voice that can sing Brunnhilde, Isolde, and Elektra," she says, "and I'm really fortunate that I can graduate into repertoire that will allow me to sustain my career. If you have a ten-year window of success, that's considered a good career, and so to be doing it for twenty-plus years and seeing no real reason to have to stop is phenomenal. Anyway, all of us have to reinvent ourselves every so often."
Voigt, of course, is no stranger to reinvention. In 2004 she received support from the opera community when she was abruptly fired from a Covent Garden Ariadne auf Naxos. The director felt the soprano was too heavy to look alluring in "a little black dress." But after undergoing gastric bypass surgery, Voigt later triumphed in the same production. That was 2008, a few years after receiving a surprising call from Andrew Davis at Lyric Opera of Chicago. He offered Voigt the Strauss role she never dreamed she would play--Salome, who performs the seductive dance of the seven veils until she's standing naked before the leering King Herod.
"I'd lost about 70 pounds by this point," Voigt explains. "This was about a year and a half prior to the engagement, and I said, 'Andrew, do you think I'm ready physically to pull this off?' And he said, 'Yes, I think it's time.'" That 2006 Chicago Salome earned fine reviews and inspired her to sing the role in D.C., directed by Francesca Zambello. But will Voigt now shed all her clothes, as some of her colleagues have done?
She flashes a wry smile. "We incorporate a lot of real veils, so you're very distracted by the beauty of these scarves floating through the air. That being said, I do drop all seven veils, but theater is illusion." She laughs. "I'm having a lot of fun reexamining Salome now, and that's the beauty of what I do: I can revisit these parts and delve into them on a deeper level. I'm playing Salome's youth more than I did the last time; I think it's a more rounded portrayal."
In late fall Voigt will start rehearsals for La fanciulla del West, the Met's December centenary production, and then sing La fanciulla in Chicago during January. She added the role of Minnie, a poker-playing barmaid, last spring at San Francisco Opera, cantering into act three on horseback. "The audience loved it," she quips.
But like all of Voigt's heroines, Puccini's Minnie makes her share of demands. "She doesn't shut up all night," the soprano declares, "and she's not repetitive the way Verdi would be, so it's all narrative. And there are a couple of really difficult high Cs that come out of nowhere. She also has an enormous arc, acting-wise, in terms of conveying her hopefulness and simplicity."
The soprano returns to Wagner and the Met next April, finally making her debut in Die Walkure. "I put Brunnhilde off," she admits. "I was meant to do her in Vienna and then in Francesca's new Ring here in D.C. But I'd just lost a bunch of weight and wanted to play some 'pretty girl' parts, such as Tosca and the Egyptian Helen and Minnie and Gioconda. Yet having delayed Brunnhilde I began to think, 'It's not going to happen.' And then came this new Robert Lepage Ring, and Jimmy Levine [music director of the Met] asked me to do it. Of course, the thing about having this level of career is that you're not going to sneak off anywhere to try anything out. So you may as well do it in a house you love with a conductor you love."
Given her background, it's fitting that Voigt wants to perform Irving Berlin's Annie Oakley next July and August. She hails from Wheeling, Illinois, and as a teenager moved to Orange County, California. At El Dorado High School in Placentia, she played Marian in The Music Man, Tzeitel in Fiddler on the Roof, and Agnes Gooch in Mame. "Gooch is still my mother's favorite of all my characters," she says.
As a voice student in the 1980s at California State University, Fullerton, she sang Donna Anna opposite the Don Giovanni of fellow student, baritone Rod Gilfry. Through serendipity, Gilfry will play Frank Butler, her true love and rival, in Annie Get Your Gun, and Voigt is proud that the show will be done without amplification. She's also eager to collaborate again with Zambello, the newly appointed general and artistic director of Glimmerglass.
Voigt will also be Artist-in-Residence at Glimmerglass, which excites her most of all. "It's a unique opportunity for young singers to have access," she observes, "where they can just knock on my dressing-room door and ask a question about anything. Because so much of being a young singer has to do with producing a good sound. But it's also about learning to live as a singer, and figuring out how to balance your free time and your love life and your family life, and how to make the right choices. Because if you can't function as a person, you can't function as a performer."
The WNO wardrobe mistress arrives--she's the soprano's next appointment. Before we part, Deborah Voigt sounds pensive as she says, "It's a huge year for me, having my fiftieth birthday and all these new roles. A lot of things have gone on in my life, some public, some yet to be announced. So there's a lot of stuff coming together. But I don't believe anything's random. I have enormous faith, and I believe God has His hand on my life, which is not to say that I haven't worked hard. But I've hung in here this long, and gone through transformations, physically and vocally, so I honestly feel there's a lot left to come."
Salome runs at Washington National Opera from October 7-23. Visit www.dc-opera.org.
Calling all HuffPost superfans!
Sign up for membership to become a founding member and help shape HuffPost's next chapter