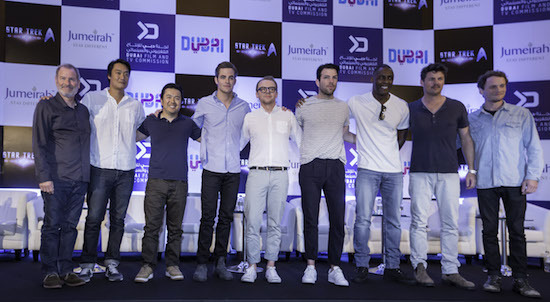 Pictured, from left, are Jeffrey Chernov, Douglas Jung, Justin Lin, Chris PIne, Simon Pegg, Zachary Quinto, Idris Elba, Karl Urban and Anton Yelchin
On Wednesday, the cast and crew of Star Trek Beyond -- which will be released worldwide in July of 2016 -- converged on the Burj Al Arab Jumeirah Hotel in Dubai to talk about their next two weeks filming in the UAE mega city. As a former New Yorker, I've long felt that the Big Apple has lost out to Dubai, in fashion, architecture, accommodations and infrastructure. Now, the Dubai Film and TV Commission, headed by their chairman Jamal Al Sharif, want to make sure that this pioneering, hip, cool and happening vibe that the city easily exudes extends to filming here. And come on, you can't get any more futuristic and gaze-into-what-tomorrow-will look-like than Star Trek!
OK, so I watched the original Star Trek on TV as a child, a lot. In the company of Captain Kirk, Mr. Spock and the crew of the USS Enterprise I felt a bit like the boy from Martian Child once he meets the John Cusack character -- unequivocally accepted. I believe we all crave someone to get us for who we are, and somehow that alternate universe of Star Trek, that look into the future provided it for me. But I'll admit I haven't watched the various reinventions of the TV series, those multiple spinoffs and a myriad of films that I cannot possibly name or count. Until this one, I'm sure.
Inside one of the massive ballrooms of the impressive hotel shaped like a sail, framed by camera crews and an extensive breakfast buffet that included chocolate fondue and fruit kebabs, we watched the stars, producers and filmmakers of Star Trek Beyond descend one by one from a lavish staircase, as their names were called out, to wild applause. I loved the contrasting background of luxury with the casual wear of actors Chris Pine, Zachary Quinto, Karl Urban, Anton Yelchin, Idris Elba, director and producer Justin Lin, executive producer Jeffrey Chernov, writer Douglas Jung and writer-slash-actor Simon Pegg. I believe therein lies the beauty of Dubai, where everything is possible.
Al Sharif kicked off the press conference by stating, "Dubai's diverse locations have truly set it apart as a global filming destination. During the scouting, the film crew was impressed by its diverse attractions and locations that include skyscrapers, beaches, desert and more. There are many factors about the Emirate that are truly unique and attractive to international productions, including the excellent connectivity and cutting-edge infrastructure, as well as the ease of filming."
"We came searching for the future and we found it in Dubai," said producer Jeffrey Chernov who then went on to explain the choice of the megalopolis for what he called, "the third of three movies," as well as a milestone to be released on the year marking the fiftieth anniversary of the series inception.
"Dubai represents the future of what the next frontier would be like in our film," Chernov continued, "and is an excellent place to shoot the movie as well as a special opportunity for all of us."
So how did Chernov and his location crew find the mixture of landmarks and studios used in their film? He explained that it was "a combination of the script dictating locations and great locations dictating the script. We'd drive around Dubai and look at things and we'd have to figure out how could we use those visual guides to tell our story."
Chris Pine talked about Dubai in a more personal way by commenting, "I am always good for discovering new places and this is such a stunning city." Then he went on to utter one of my favorite comments when he said, "I woke up this morning, opened up the blinds and looked out. It looks like whatever tomorrow will be. It's future-land!"
Anton Yelchin also admitted a soft spot for the city by stating, "this is going to sound so pretentious," which of course it didn't, "but as a student of architecture, I'm fascinated to be in this town and it's even better to be here with friends and people I care about. I'm very grateful to the city for having us."
When I later asked Pine, who is way more unassumingly handsome in person than I imagined, what it's like to be an American in the Middle East at the moment, if he feels a need to be an ambassador of sorts, he once again was perfectly generous with his answer, "art is a wonderful mirror, whether we're looking at a painting or we're at a concert or in a movie theater, what we see in front of us is our humanity. Human is what we are."
Pine then continued, "whether it was around the campfire, the Neanderthals telling the stories of the hunt or now us telling the stories of the future, art is the wonderful equalizer. And it teaches us to celebrate our sameness instead of our 'otherness'."
This idea of 'Us vs. the Other' is always on my mind, especially in these days of so much ugliness coming out -- across nations. It's not the world I thought I'd be living in, for sure and it's also so different from how it could have all turned out, if we'd thought to do things differently, if we'd actually thought things through... So that's a question constantly on my mind, how cinema can help bridge the divide and help us to understand our 'otherness,' as Pine so perfectly put it.
When I asked Idris Elba, the striking new dad was clear in his answer, "some of us who are parents we love films, we love to introduce film to our children but we also want to introduce a certain culture to our children. So I think more and more we are turning to the medium to educate and show cultures in a full, fair and expressive ways."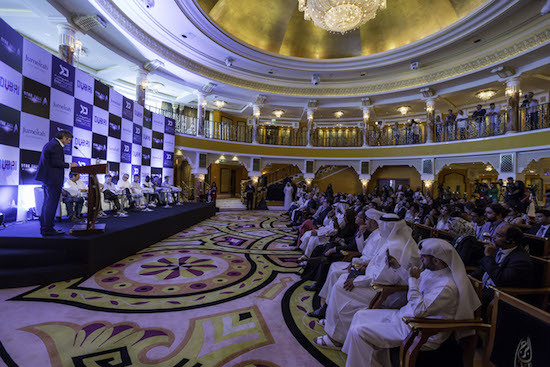 Simon Pegg elegantly then went on to indulge me with his perfect reply, "Star Trek is the ultimate expression of that. Can you imagine a universe where there was no conflict? Obviously they are fighting aliens with tentacles but it was very much about cultural bridging." And continued that Star Trek, "gives us this utopian idea that we can all just live together and there is no judgement and there is no prejudice and there's just wonderful things. It's an aspirational universe."
Wrapping up his answer with another quote of the day, "maybe Star Trek has something to teach us; imagine that, imagine if we could all just get along."
A touching, goosebumps moment for me during the press conference came when Zachary Quinto was asked about the recent passing of the original Mr. Spock, Leonard Nimoy. "We were incredibly close, in many ways he was like a father to me as our relationship evolved over the last 8 years, it was a very profound experience," Quinto said, and continued, "there was this interesting thing in the wake of it, which was coming back to the role for the first time without him. I feel the significance of the responsibility in a way, Leonard has such a profound and positive impact on millions of people around the world, because of his role, and what he and Gene Roddenberry created was so unique." Finally ending with, "we all show up on the set with the best intentions, but for me there is another level to this film which is to truly honor my dear friend and carry on the legacy that he worked so hard to create."
Elba then went on to explain his role in Star Trek Beyond... Or did he? When asked whether he preferred to play the villain in this film or the "world's greatest hero," James Bond, as he was rumored, then unrumored to be, Elba answered diplomatically, "I prefer the villain but I've signed an non-disclosure agreement, so at this point I can't confirm I'm playing the villain." He explained, "most actors will tell you that writers tend to really flesh out villains more because they want to get stuff off their chest, and leading characters tend to take a safer line. I enjoy the expressions of getting into a villainous role because I'm such a nice guy in real life." Which of course made the whole audience giggle along with him.
To executive producer Chernov belonged what I'll call the famous last words, on encouraging and helping to create an Emirati film industry, something near and dear to my heart. He pronounced, "Mission Impossible IV [which he also produced and was partially filmed in Dubai] showed how movies can help tourism, and help cities grow and develop, which in turn helps filmmakers. We want to help future filmmakers and emerging talent, and we have interns working across every department of the movie, testament to our enthusiasm and commitment about the industry here, as well as Emirati talent."
Here's to finding a common ground through cinema, and discovering wonderful new passions, through brand new frontiers. And here's to learning to follow, I mean really follow the Enterprise on its mission, "to explore strange new worlds, to seek out new life and new civilizations, to boldly go where no man has gone before." Or in my case, no woman...
Images courtesy of the Dubai Film and TV Commission, used with permission.
Popular in the Community