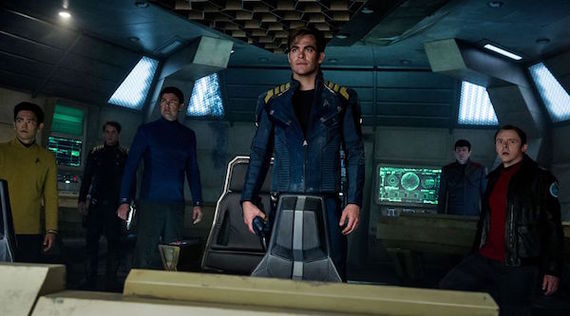 Our prospects for the world in the future are pretty awesome, if only it weren't for an alienated terrorist with an agenda for revenge.
Sounds like a line from an op-ed piece in a leading newspaper? Well it isn't. It's the premise (at its most threadbare) for the upcoming Star Trek Beyond, the 13th cinematic installment made to date, and inspired by the TV series -- which this year enjoys its 50th year anniversary.
Star Trek Beyond proves to be the perfect lucky thirteen.
But now let me explain my opening statement. In a scene very early on in the film, the audience experiences Yorkville, the ultimate space station of the Federation, which was filmed in and inspired by the awesome megalopolis of Dubai. Most of the cast were in Dubai last year for several weeks to shoot scenes that show off the splendor of one of my favorite cities on earth. I believe it's no accident that producer Jeffrey Chernov and Paramount Pictures chose Dubai, because not only does the metropolis look like you've taken a step into the future of cities, but its position within the Arab world, both geographically and politically, parallels the themes of Star Trek Beyond.
But more on that a bit later.
So Yorkville is a vision of idyllic life, as the film opens. There are futuristic fashionistas on the street, no cars, no traffic, roads are replaced by waterways, buildings are architectural dreams come true, defying gravity along the way, and couples come in all shapes, sizes and sexual orientations. People live in harmony and surrounded by man-made beauty. But there is evil lurking not far, and he's embodied by a disillusioned, alienated being, Krall, played by the divine Idris Elba. Krall feels left out of the party and so he literally sucks the life out of others and wants to destroy what is united and integrated. Sound familiar? While in the real world beings like Krall carry black flags, in Star Trek Beyond his forces are equipped with deadly black entities that attack and destroy. Yup. It's that "us vs them" conundrum, played out in the cinematic future, but not so different from our real, immediate present.
I was lucky to have been a part of the original press conference last year, introducing the cast members to Dubai and kicking off the filming in the Emirate. That luck was repeated once again, since I happened to be around for the premiere of the film in Dubai, and the Film Commission here should be proud of the result, since Star Trek Beyond shows off the beauty of this place to the max. But beyond, pardon the pun, its actual physical beauty, somehow filmmaker Justin Lin also captured the soul of Dubai, hidden among the luscious shots of the city's landmarks and sliding amidst the local extras hired to play inhabitants of the future. Dubai is about inclusion, diversity, and visionaries who built a city in the desert from scratch -- and Yorkville bears more than just an urban similarity to it.
At the Dubai premiere, I proudly had my photo taken next to a torpedo pod used in the film (see below) and walked a blue carpet, passing through the gates of the Starship Enterprise on my way to the screening rooms. I watched Star Trek Beyond in IMAX inside the Novo Cinemas at Ibn Battuta, and have to stress that it's worth the extra bucks to watch the film in all its glory, as it is meant to be viewed. Star Trek Beyond requires a full cinematic movie experience that can't be found on your laptop, television or even regular neighborhood theater screen. It's got big colors, big sounds, even big emotions and extra large action sequences -- this is one film that offers an in-your-face all around mega size escapade to the future.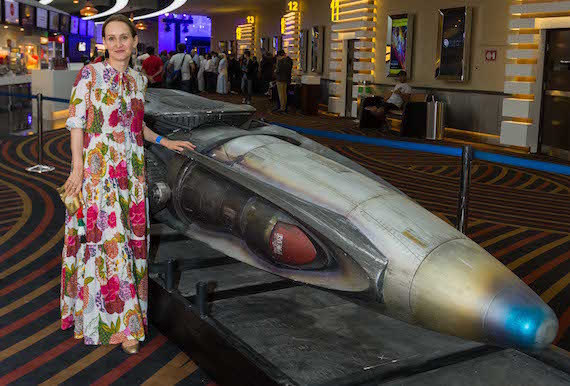 Yet, woven in between the perfectly filmed action sequences, which are what Lin brings as his expected heritage from his Fast & Furious work, are beautiful character turns and inspiring lines.
Actor Chris Pine remained a personal favorite after the Dubai press conference, because he appeared to be the one most conscious of his role as a westerner in this Middle Eastern society, while he also noticed the progressiveness of Dubai's landscape. In Star Trek Beyond, Pine brings his sultry voice, sensual good looks and understated acting to the role of Captain James Kirk, infusing him with a brooding presence that can turn on the wicked charm at any moment. Even while reciting one of the early lines in the film -- "are we striving for something forever out of reach..." -- while undergoing his own personal identity crisis (before s**t hits the fan and the Starship Enterprise is invaded and attacked) Pine doesn't let the pathos take over. Instead, he brings the audience along on his inner voyage, which in turn makes the movie's ending that much more intense.
Other notables in the film are of course Simon Pegg ("Scotty") -- who also co-wrote Star Trek Beyond with Doug Jung, perfectly channeling the quick humor and easy follow along quality of Star Trek creator Gene Roddenberry -- Zachary Quinto (Commander Spock) and Karl Urban ("Bones") -- those two offer a kind of space age, thinking man & woman Abbott and Costello turn -- and the infinitely missed, soft spoken, boyishly handsome Anton Yelchin as Chekov. Among the ladies, Zoe Saldana (Lieutenant Uhura) is touchingly real, Iranian actress Shohreh Aghdashloo's cameo as Commodore Paris is sublime and I must not forget mentioning the film's most notable transition from real beauty to outer space stunner, Algerian-born actress Sofia Boutella as Jaylah.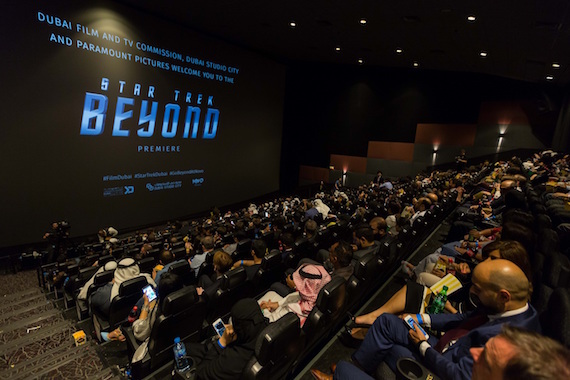 After the screening, selected members of the press and VIPs were treated to a buzzing afterparty thrown by the Dubai International Film Festival, at a venue inside the Doubletree by Hilton at JBR. Thus kicking off the "Road to DIFF" an initiative that will fill Dubai with cinema culture, in the lead-up to the 13th edition of the film festival, which this year takes place from December 7th to the 14th.
Ultimately, does Star Trek Beyond offer the answers for world peace? Probably not, but what it does present is a possibility, a society of unity and acceptance that does possess the common sense necessary to recognize and defy evil and the courage required to defeat it.
Top image courtesy of Paramount Pictures, others courtesy of Dubai TV and Film Commission, all used with permission.
REAL LIFE. REAL NEWS. REAL VOICES.
Help us tell more of the stories that matter from voices that too often remain unheard.