Love is in the air-conditioning at the biggest "Star Trek" convention in the whole world. I am in hot-hot-hot Las Vegas, Nev., which is pretty darned weird, and having one of my greatest weekends ever. Why? Not gambling. Not hookers. Not Manilow. Rather, most of the original crews of the various starships Enterprise (etc.) are here at the lavish hotel Rio, as well as over 20,000 people who not only love these characters but dress like them. It's glorious.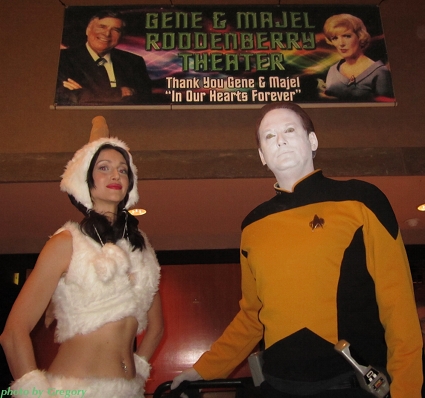 The Roddenberry legacy
Creation Entertainment has staged over 2,000 such fan conventions since 1971, and I'm fortunate: this is my first, and it's easily a Warp 9 fast approaching a Warp 10. From Aug. 11 to 14, 2011, fans and friends of the United Federation of Planets are mingling with perhaps a hundred of their favorite "Star Trek" heroes and villains from multiple series and movies spanning nearly half a century. Creation's very first convention guest, Walter Koenig (Pavel Chekov) is here, and he's one of the most charming, intelligent and entertaining men in the business. Jonathan Frakes (who directed two fine "Next Generation" features, "First Contact" and "Insurrection," in addition to portraying Commander William Riker) plays good-natured foil to his zany android co-star, Brent Spiner. There's singing, there's dancing, there are plays, and alums Grace Lee Whitney, Nana Visitor, Rene Auberjonois, Max Grodenchik, Terry Farrell, Ethan Phillips, Jeffrey Combs, James Darren, Tim Russ and many more provide the ultimate "Trek" mash-up.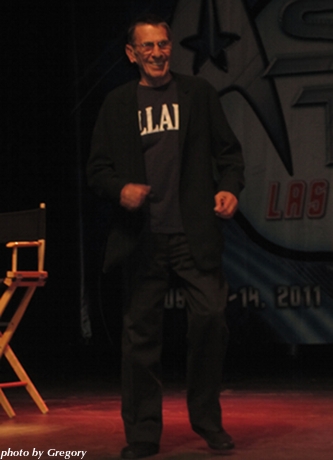 Pure energy: Leonard Nimoy
Plus there's a legend in the house -- very exciting, as he's the most iconic figure in all of "Star Trek" (I have his coffee mug): Mr. Spock himself, Leonard Nimoy, is here. An established artist in various media -- and vibrant at 80! -- he conducts a fun and informative photography seminar, and then, for his penultimate Creation "con" appearance (which brings a Vulcan tear), he gives himself to his fans. He kicks off with a great one-liner ("I was born in Boston, a citizen; I went to Hollywood and became an alien") and proceeds to tell terrific, career-spanning stories: of being a boy in synagogue when first he observed the "passionate, scary, chilling, theatrical" ritual that would eventually yield the popular Vulcan hand gesture ("I never knew that it would come in handy someday"); of being affectionately hounded by fans from Brooklyn to Billings; of directing hit films "The Search for Spock" and "The Voyage Home." Mr. Nimoy even relates his youthful experience of serving as Hollywood cab driver to then-Senator John F. Kennedy:
"He said, 'What are you doing out here?' With my yellow cap on and driving, I said, 'I'm an actor.' And he said, 'A lot of competition in your business.' And I said, 'Yes.' He said, 'Just like mine. Just keep in mind, there's always room for one more good one!' Well, that certainly hit home, and I decided I had to be one of the best."
Indeed, Mr. Nimoy. A prophesy realized.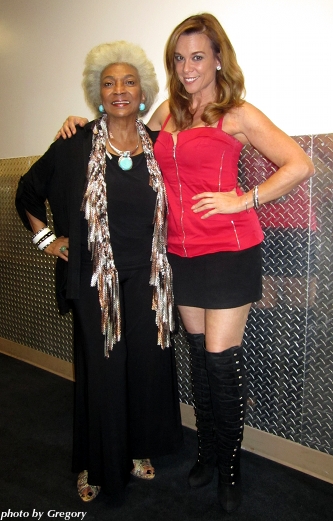 "Star Trek" generations: Nichelle Nichols and Chase Masterson
When the wondrous Nichelle Nichols takes the stage, the effect is stirring, stunning. The woman has gravitas to burn, and she concludes her panel with something I find miraculous: she croons the original "Star Trek" theme, in a voice so epic and beautiful that the air molecules do backflips. Really. Prior to that, she offers perspectives on Uhura kissing Kirk ("she fought it all the way"), the turbulent '60s, and especially the frontier of racial equality on television: "Not only did Gene Roddenberry, with his foresight and his genius, change the face of television -- he changed the world, and for the better! And we're not going to let it go back. I don't care what the damned Tea Party says." With a grand smile, Ms. Nichols also recounts President Obama's feelings toward her history/herstory-transforming character: "He said, 'Don't laugh -- when I was a kid, I was in love with Uhura!' And I'm gonna hold him to it, if I have to walk up to the door and knock on my White House!"
Indeed, strong social philosophies course through "Star Trek," which Chase Masterson ("Deep Space Nine"; co-star with Ms. Nichols in "Of Gods and Men") calls, "transcendent, beautifully human." She adds, "As the grittiest of the 'Trek's, our show's fabric was interwoven with stories of war, family, loyalty, deception, sexuality, and a dash of whimsicality that both took the edge off and served as a mirror." Ms. Masterson knows both the 24th century and this one, revealing of her career, "I've had soldiers come up and say how, even after a lengthy mission in Iraq or Afghanistan, they'd come back to base camp and watch the new episode of 'Trek' before even hitting the showers. It's extremely humbling." Amidst other philanthropic work, Chase provides mentoring to L.A.'s at-risk youths via Homeboy Industries: "It's by far the most satisfying thing about entertainment, being able to leverage this position to create real-life stories of healing and hope. What could possibly be more rich than the opportunity to do that?"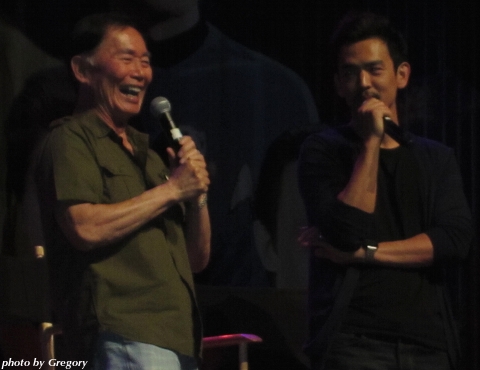 Sulu on Sulu: George Takei and John Cho
One of the most splendid panels is the "Sulu Summit," wherein the lively and legendary George Takei shares the stage with the "stunning good looks" of his cinematic successor (and first-time convention attendee), John Cho. Mr. Takei enthusiastically reminds us that he "saved Kirk's ass" at the end of "The Undiscovered Country" -- in which he played Captain Sulu -- but, as is so often the case in Hollywood, the producers and writers weren't paying attention, and tried to put him right back in the helmsman's chair for the next film. Their solution: they gave Sulu a daughter to take the helm; and George knowingly jokes, "When did that happen?"
Following his elder's lead, Cho divulges, "George explained to me that Sulu was meant to represent part of a vision of ("Star Trek" creator Gene) Roddenberry's world, and that all faces from our planet were to be represented on the bridge of the Enterprise, which is such an optimistic and beautiful view of what's possible for our species." George, whose humanitarian pursuits stretch back to marching with Dr. Martin Luther King, concurs, and also hastens to remind us that former California Governor (how did that happen?) Arnold Schwarzenegger played the marriage-equality card to boost his election, then enacted "a betrayal of his own campaign promises." George doesn't mince words. He also plugs his politically charged new musical, "Allegiance," which concerns U.S. internment camps during World War II and opens next year in San Diego, with Broadway to follow. Busy man!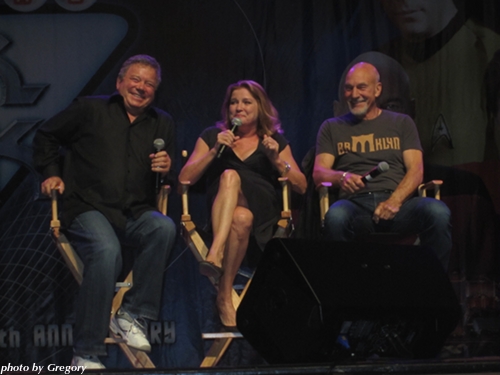 Make it so... funny! Playtime for the Captains
And then there is the Captains Summit. Despite a conspicuous dearth of Kirk-Spock relations (Come on, guys!), the one and only William Shatner -- also at 80! -- claims the stage at Warp 11: joking about Kirk's infamous "Generations" death scene ("Bridge on the Captain!"), peppering fellow Captain Kate Mulgrew with single entendres, and ribbing fellow Captain (Sir) Patrick Stewart for going casual in, apparently, the same clothes as last year. But Brilliant Bill also goes deep: it seems he's recently discovered Joseph Campbell, and he very passionately seizes upon a "Sybok"-like spiritual epiphany (I like his "Star Trek V," incidentally) regarding the ritualistic tendencies of "Star Trek" devotees -- to whom he finally professes his love, and about whom he's making a brand-new documentary (in the form of Creation's new series pilot, "Fan-Addicts").
Sir Patrick, meanwhile, holds his own with booming Britishness and wily wit and mention of imminently jetting off back to Stratford-upon-Avon -- until that devilish Mr. Shatner kicks off their trio with an ass joke. "Do you feel that the tone of the room has suddenly changed?" intones Stewart, to huge laughs. They're both massive presences up there, but somehow Kate Mulgrew, earnest and interactive, steals the show. Clarifying that she's not a feminist but an "independent woman" (in "a boy's club, a man's world"), Ms. Mulgrew -- the first featured female Captain in "Star Trek," on Voyager -- also raves up Roddenberry's pop-cultural achievement: "It was the first of its kind, really, the only of its kind, to transcend class, gender, race, all of it." She candidly discusses doing "Trek" whilst raising young sons: "They really didn't like that I was playing a Captain. The one thing I thought of the entire seven years was, if they have my DNA, and they're watching closely, they're acknowledging that their mother is passionate about what she does. If I can leave them with this, then I've done far better than any father." Nonetheless, she also assures a visiting young couple, "'Trek' is very good for your marriage."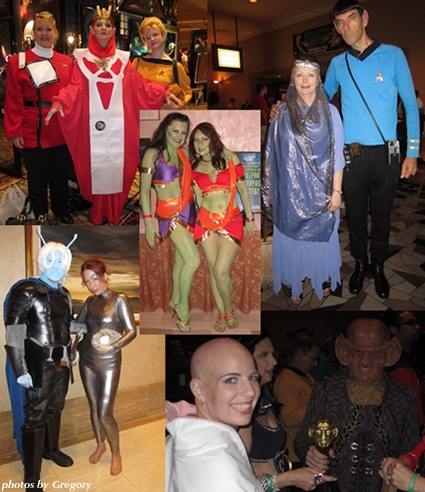 If hotel rooms could talk...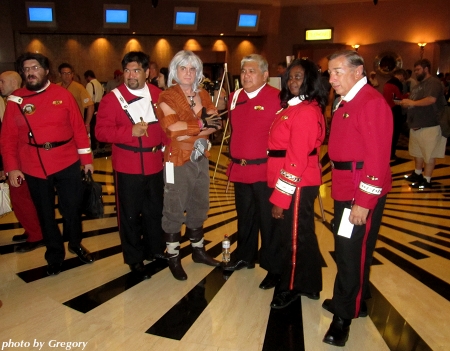 The Wrath (ahem) of Con!
Now I'll admit it: I'm wont to pick up a lightsaber or magic wand as readily as a tricorder (I'm not the phaser type), but this "Star Trek" phenomenon here, it's truly magical. Notably, during and directly stage-right of the boistrous Klingon Summit panel (full costumes, full Klingon 'tude, fully-delighted audience), I ask Creation co-founder Adam Malin (who looks too young to have begun the company in 1971) how this super-cool event came to be.

Creation co-founder Adam Malin interviews master thespian
(and three-species Trekker) David Warner
"I've been a fan all my life," he divulges, citing a small New York City comic book convention in 1969 that launched him into all manner of shows, "and I still get thrilled by all the new stuff that's coming out today. As my partner Gary Berman and I got older and graduated from college, we both knew this is what we wanted to do -- that's what the Creation events do, they bring everybody together. I moved to L.A. 20 years ago, and I have nothing but reverence for the entertainment community, and for the rich legacy of film and television. I still feel the same sense of wonderment, and being here and seeing all these stars, and seeing these Klingons riffing with the members of my audience, it's just a total buzz for me." Mr. Malin praises the members of the armed services, the single parents, the grandparents and multi-generational families who comprise the community. "I'm inspired by thousands of people, and that's part of what gives me the love and the drive to continue to do my personal best for this audience. It's been a lifelong love affair, and I'm very excited about what the future's going to bring."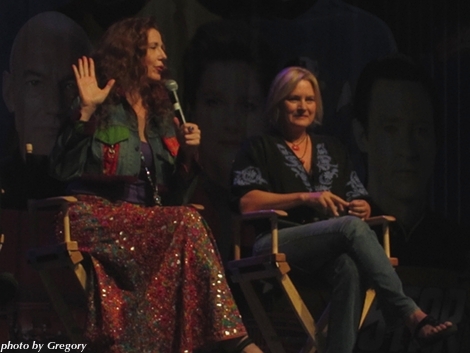 Suzie Plakson ("Female Q") and Denise Crosby ("Tasha Yar")
discuss comedy, Bing and not being set-dressing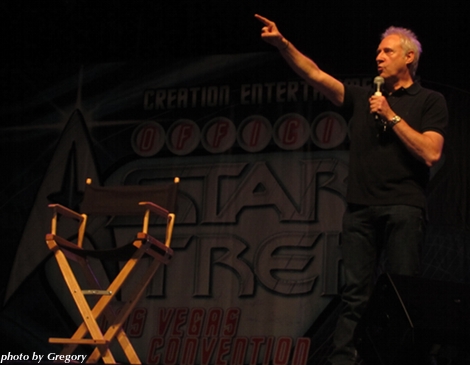 Brent Spiner shows us where outer space is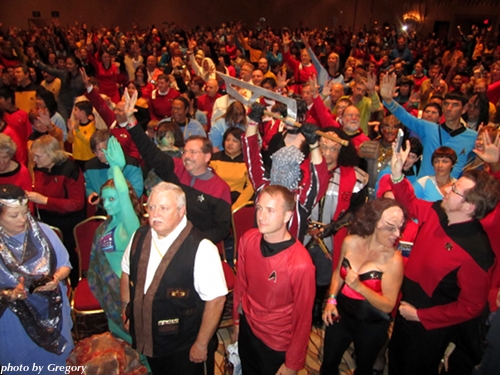 1040 costumed Trekkers set a new world record
So in closing -- although the whole point of "Star Trek" is that the future is wide open -- I must say that this convention has transported me. For the celebs, sure, they're terrific. But also for these thousands of creative, imaginative, genuinely good-hearted and hopeful attendees. I love a nice sardonic twist, but as the world is in kind of a mess right now, I'm just going to admit that this event has raised my spirits. And I hand over the summation to the marvelous Ms. Nichols, who boldly cajoles us: "Who knows, 300 years, 600 years, 60 years from now, what we'll be capable of? Because look how far we've come. Just turn around and look at yourselves -- you're so magnificently beautiful."
P.S. Happy 90th birthday to Gene Roddenberry on Aug. 19, and happy 91st to his dear friend and visionary Ray Bradbury today, Aug. 22.
Popular in the Community