When D23 -- Disney's official fan club -- launched the D23 EXPO back in 2009, all the "wonderful worlds" of Disney was pretty much just Disney. And -- of course -- Pixar, a Disney acquisition in 2006. And ABC, which Disney purchased over a decade before that.
But now Disney's "world" has come to include a "universe" and a "galaxy" (albeit one far, far away). So how does Disney bring all of these seemingly disparate brands together for its biennial fan event? In a word, seamlessly.
Take -- for example -- this Saturday morning's "Worlds, Galaxies, and Universes: Live Action at The Walt Disney Studios" presentation (which will be hosted by Walt Disney Studios Chairman Alan Horn). While special guests from The Force Awakens will be making appearances at this highly anticipated panel, J.J. Abrams let it be known last month at Comic-Con that there would be no new footage seen from this film 'til the Fall.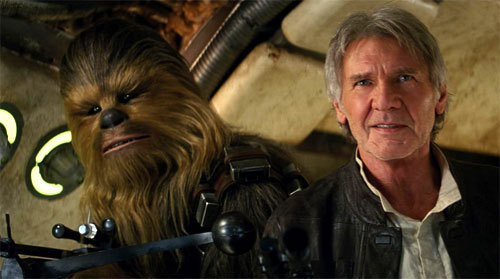 This news will obviously disappoint some Millennium Falcon fans. Not to worry, though. Other divisions at Disney will be picking up the Star Wars-related slack over the course of this three-day long event. Making sure that the Anaheim Convention Center isn't seen as a Force-free zone.
Take -- for example -- the Disney Interactive pavilion on the show floor. If event attendees swing by here, they can then try their hand at Star Wars Battlefront from Electronic Arts as well as Disney Infinity 3.0 (which will feature all sorts of new Star Wars characters and Play Sets). Then there's Force For Change, which will set up its obstacle course on the EXPO show floor to benefit UNICEF. Nearby, Padawans can hone their skill at the Jedi Training Academy, which will take place multiple times over the weekend on Center Stage. Meanwhile, there will be an area within Walt Disney Archives Presents Disneyland: The Exhibit that pays tribute to Star Wars by displaying everyone's favorite robotic pilot, Rex. Plus there will be heaps of new, collectible Star Wars-related merchandise in both the Disney Store and the Disney Dream Store.
But enough about Star Wars. There's a whole 'nother "universe" to explore. Marvel fans who attend Saturday's "Worlds, Galaxies and Universes" panel can expect to see footage from upcoming releases that take place in the Marvel Cinematic Universe. And animation fans who attend Friday afternoon's "Pixar and Walt Disney Animation Studios: The Upcoming Films" presentation (which will be hosted by the one & only John Lasseter) can count on seeing never-before-seen footage from Pixar's upcoming The Good Dinosaur & Finding Dory and Disney Animation's Zootopia & Moana.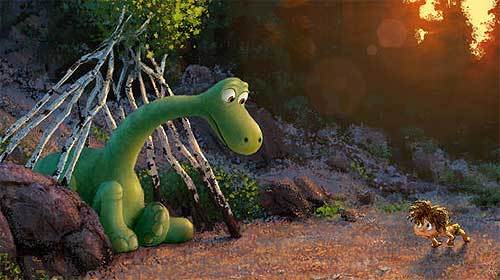 You see? That's what's great about the D23 EXPO. While pop culture fans may currently be fixated on a single aspect of the Walt Disney Studio's upcoming release schedule (i.e., Star Wars - Episode VII. Which -- just last week -- some seemingly clairvoyant members of the financial press predicted that The Force Awakens would go onto earn an unheard-of-$2.2 billion worldwide once it's released to theaters on December 25th), the Official Disney Fan Club refuses to take such a myopic view of the Mouse House. Their goal is to give those who make their way to the Anaheim Convention Center this Friday, Saturday and Sunday a true sense of how deep the Disney bench is. That there's far more to Disney's world than just that galaxy which is far, far away.
Which is why -- in Stage 23 on Saturday, August 15th -- Disney Theatrical will be staging "The Originals." Which will be a 70 minute-long live concert starring Broadway's original Mary Poppins (Ashley Brown), Tarzan (Josh Strickland), and the Genie (James Monroe Iglehart) from Aladdin. Mouse House managers are so confident that this live concert featuring memorable tunes from the Disney on Broadway catalogue will be a must-see for D23 EXPO attendees that they've already arranged for Brown, Strickland & Iglehart to give two presentations of this program on Saturday. One at 11 a.m. and then another at 2 p.m.
Meanwhile over in Hall C, Walt Disney Parks & Resorts will be offering Official Disney Fans Club Members a detailed look of the biggest project that the Company has ever attempted: the Shanghai Disney Resort. More than 3/4th of this 12,500-square-foot pavilion will be taken up by maquettes, models, concept art and engineering drawings that were used in the creation of this $5.5 billion project (which is currently scheduled to open in the Spring of 2016).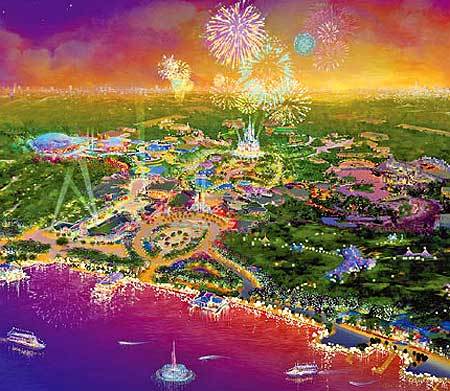 And if that's not enough, on Friday morning at 10 a.m. up in Stage 23, the creative team that's putting together The Muppets (i.e., that highly anticipated sitcom which debuts on ABC on September 22nd) will be on hand to discuss "The Magic Behind the Muppets." Which promises to give D23 EXPO attendees a behind-the-scenes glimpse at what it takes to bring Miss Piggy & pals to life.
And in that very same space on Saturday night, Once Upon a Time fans will get a sneak peek at Season Five. Co-creators and executive producers Edward Kitsis (LOST) and Adam Horowitz (LOST) along with series stars Ginnifer Goodwin and Lana Parrilla will be there to discuss what happens when the citizens of Storybrooke travel to Camelot. D23 own's Jeffrey Epstein will serve as the moderator of the Q & A portion of this sure-to-be popular panel.
And speaking of Mr. Epstein, Jeffrey had a number of suggestions for those who might be attending their first-ever D23 EXPO. Which -- come to think of it -- would also be very good suggestions if one were planning on going down to San Diego for Comic-Con.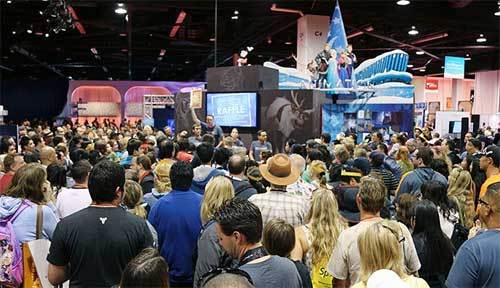 "Come prepared. Download the app. Go to our website. Learn about what's actually going to be shown at the EXPO. Don't just show up without a first, second or third choice for everything that you want to see. Because while it's going to be an amazing EXPO, it's also going to be a busy EXPO. And the more prepared a Guest is, a better experience they will have," Epstein explained.
"More to the point, they should make use of StagePass for presentations in Stages 28 & 23. The FastPass-like system, means they then won't have to wait in line. They'll be guaranteed a seat," Jeffrey continued. "And this year, we added StorePass to make shopping a more seamless experience. If people utilize all of these tools -- the app plus StagePass & StorePass -- they'll then be able to get the most out of the EXPO."
So just to review here: There will be plenty of Star Wars to be seen and experienced at this year's D23 EXPO. Just not in the "Worlds, Galaxies, and Universes: Live Action at The Walt Disney Studios" panel. There you'll get to see members of the Force Awakens cast, along with a host of other stars.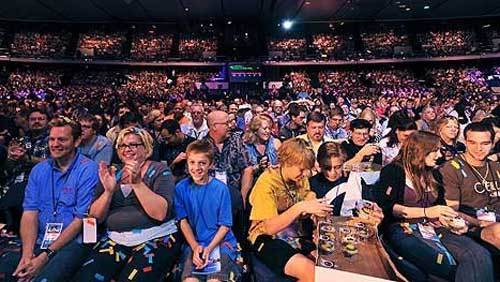 But which members? Which stars? You'll need to be seated in Hall D23 (which seats 7,500, by the way. Up from the 4,000 seats that were available at previous D23 EXPOs) on 10:30 a.m. on Saturday in order to find out.
Calling all HuffPost superfans!
Sign up for membership to become a founding member and help shape HuffPost's next chapter