It's a burger as big as the Death Star (and possibly as deadly).
To celebrate the premiere of "The Force Awakens," Chef Daisy Pagani at The Grayson, a restaurant in New York City known for its sideshow burgers, built a beast of one: "The Force" burger, which will set you back $19.95.
It's two beef patties buried beneath macaroni and cheese, pulled pork, bacon, cheddar and American cheeses, onion rings, mushrooms, jalapeños, a sunny-side-up egg and waffle fries and topped with bacon Thousand Island and barbecue ranch sauces. And of course, lettuce, tomato and sliced onion, with two commemorative (we're assuming inedible) lightsabers.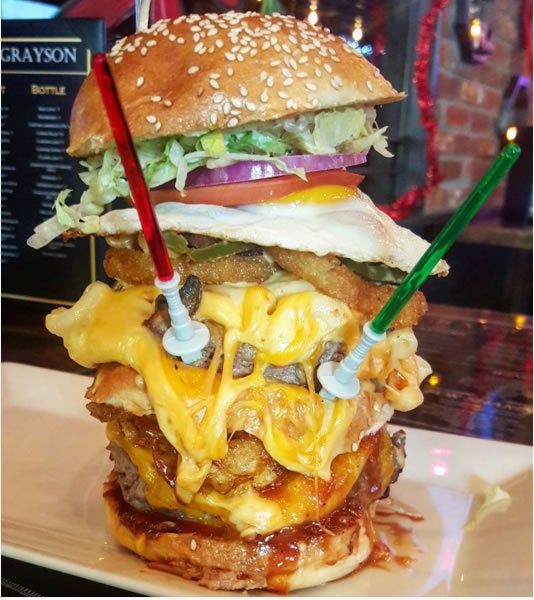 Fifty people have tried to "challenge the force," a rep from the restaurant told The Huffington Post, but only one has been able to eat the whole thing. "It was actually an employee, Lou, who channeled his inner Jedi powers and took it down in an astounding 7 minutes," and still managed to eat the fries. "After his accomplishment, Lou fittingly said, 'The force is strong with me, now I am going home to take a nap.'"
If you're in Manhattan, "The Force" burger is available through New Year's Eve, although you might have to jog to Tatooine and back a few times to work it off.
Are you as happy as you could be? Sign up for our newsletter and join our 30-day happiness challenge to become a happier, healthier version of yourself. We'll deliver tips, challenges and advice to your inbox every day.