As many of you may have watched yesterday, the new trailer for Star Wars: The Force Awakens was released at Star Wars: Celebration happening right now in Anaheim.
J.J. Abrams and Kathleen Kennedy presented it to a crowd of adoring fans, many of whom camped out to catch a glimpse of the new film and the actors in it. And while little was revealed at the panel, and the trailer doesn't quite answer any of the questions we have about what might have gone on in the thirty years since the destruction of the second Death Star, we're still being treated with plenty of new information and things to look at.
If you're interested in a more detailed breakdown of the trailer, StarWars.Com asked me, Eric Vespe from Aintitcool News, Peter Sciretta from /Film, and Devin Faraci from Bad Ass Digest, to dissect the trailer shot by shot for thier livestream yesterday and you can watch that video here.
But for those of you not at the convention center, you'd have almost no idea that there's so much more to see. Chief among these things is an exhibit full of artifacts from the shooting of The Force Awakens and tantalizing bits of new information not revealed in the trailer.
First, we have "Firetroopers." And I would have expected these to be labeled as "Imperials" but they're actually marked as being affiliated with "The First Order."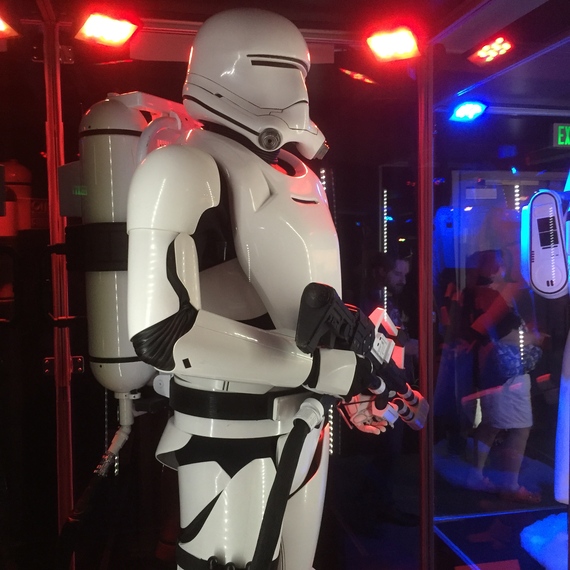 And then we have "Snowtroopers," again labeled as "The First Order."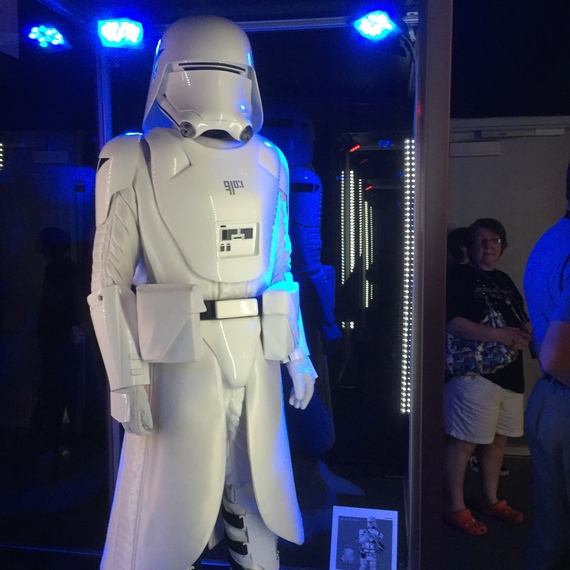 From a design standpoint, this faction is definitely founded on the old order of the Imperials, but they're not calling themselves that. Add all of the incredible World War II imagery from the trailer, and you've created a situation that leads me to believe perhaps Emperor Palpatine was more like Kaiser Willhelm in World War I and whoever is in charge of this "First Order," Kylo Ren perhaps, is creating something like a Third Reich.
The only thing that will answer these questions definitively is the film itself, which can't come soon enough. Star Wars: The Force Awakens hits theatre screens December 18, 2015.
_____
REAL LIFE. REAL NEWS. REAL VOICES.
Help us tell more of the stories that matter from voices that too often remain unheard.