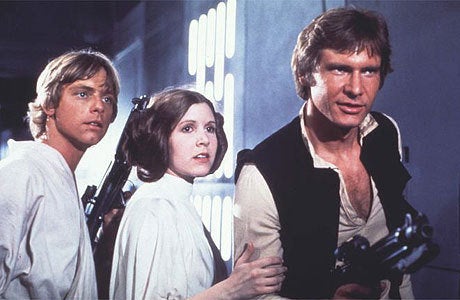 Since the last "Stars Wars" original trilogy film, "Return of the Jedi," hit theaters in 1983, George Lucas has pumped out plenty of Skywalker-related content, but largely, the series' hardcore fan base have yet to agree that The Force is strong with the new material.
Sure, licensed canon-bending spinoff books have sold well, and video games will be forever popular, but when it comes to updates to the saga, big screen or small, the Jedi Council of fanatics have not been pleased. The prequel trilogy was a bit of a dud -- especially that first film with Jar Jar Binks and little Anakin -- and TV cartoons aren't exactly satiating the hunger for more "Star Wars" greatness.
This new update, however, may just put the light back in fans' sabers, so to speak.
The complete saga, packed with remastered footage and extras galore, is finally being put together on Blu-Ray, and amongst the goodies is a series of deleted scenes from the original three movies. Yes, unseen moments with Luke, Leia, Han, Obi Wan and Vader. To get you salivating, here's a sizzle reel of some of those moments.
Popular in the Community