I was one of about 6,000 people in Hall H, at San Diego's Comic-Con, to receive an exclusive invitation to a Star Wars' concert at sunset. Special guests included Harrison Ford, Mark Hamill, Carrie Fisher, Director, J.J. Abrams, Producer, Kathleen Kennedy, writer, Lawrence Kasdan and the new additions to the franchise -- Oscar Isaac, Domhnall Gleeson, Adam Driver, John Boyega, Daisy Ridley, and Gwendoline Christie.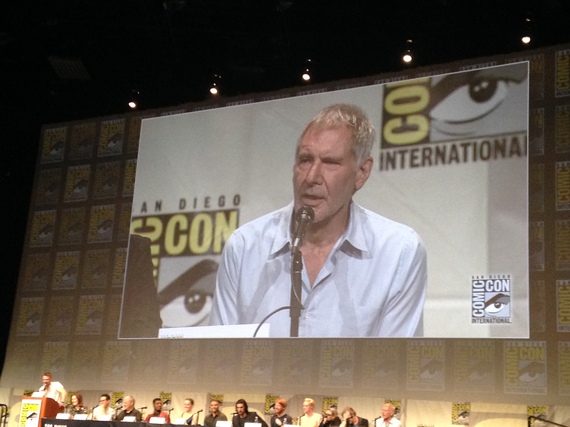 It's hard to convey the frenetic energy of rabid fans who have slept outside for three days, to witness snippets of behind-the-scenes "making-of" Star Wars:VII The Force Awakens. J.J. Abrams started by thanking the fans for creating "new hope" that allowed the continuation of the journey. Kasdan emphasized that they were aware of the responsibility of "bringing new characters to join the ones created by George Lucas -- that monster genius."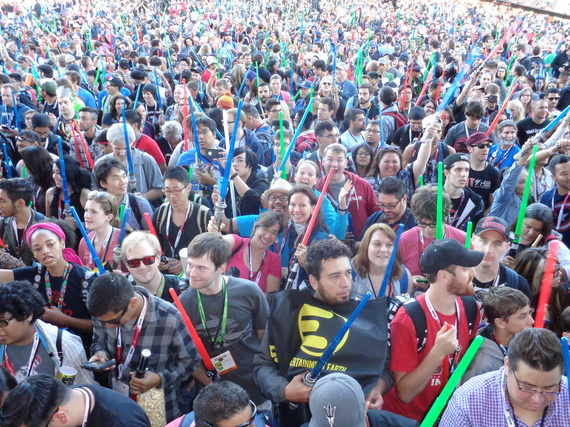 "I dressed as Jaba for Halloween and watched Star Wars on the couch with my parents." Abrams added, "but you can't let the fan get in the way of the story. When you're directing a scene on the Millennium Falcon, that in itself doesn't make it good. What makes it good is character; what are their needs and fears? You've got to harness the respect but not be blinded by it. Kathleen Kennedy revealed that although The Force Awakens, will be followed by two more in the arc, there will also stand alone films.
They emphasized that the film is a return to character vs special effects. Where possible, robotics were used instead of CGI. "There will be CGI but we also gave actors real things to interact with, so that it looks real on screen because it is real." The footage included stark desert scenes, the new cast, Chewbacca, R2D2 and of course, the original stars of the original trilogy. Mark Hamill commiserated with his character's plight of finally falling in love, only to discover his chosen one, is his sister. "I thought we'd find him in a dessert with droids and no human contact. You know what I'm saying?" He asked the crowd, to which Harrison Ford patted Mark's back and said dryly. "I know what you're saying. How many times must I say it? I'm sorry."
John Boyega made a jab at the lack of diversity in Star Wars characters over the years, joking how he had to "fight his way through the black Star Wars characters", depicted by the fans at ComicCon. Gwendoline Christie professed pride that she was to be the first female Storm Trooper, 'Where we get to explore a female, not for how she looks in the flesh."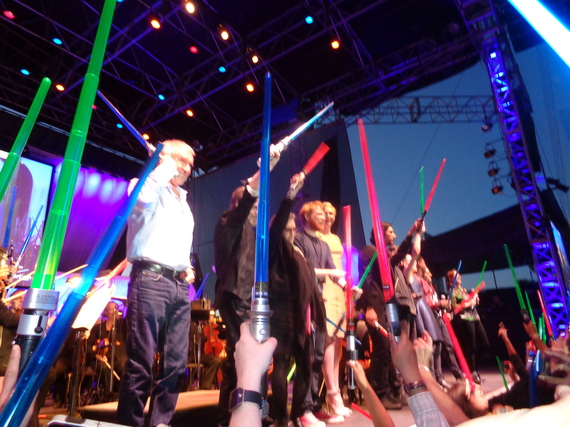 Then J.J. Abrams asked, "How many of you would like to attend a Star Wars concert?" As Hall H exploded positively, he explained that everyone would be given a special pass and would be led by Storm Troopers to a site next to the harbor, under the stars, where they'd be treated to a symphony concert of Star Wars Music. The entire hall proceeded to calmly march to a huge field where they were given their own Light Sabers and waited for the almost hour it took for so many fans to file from Hall H, and walk the few blocks to the concert. As the sun was setting the first strains of the famous theme music began, and the entire Hall H panel, but for the writer, filed onto the stage for a giant selfie with the screaming crowd, and chanting the names of J.J. Abrams and Harrison Ford. The evening concluded with spectacular fireworks. Star Wars: VII The Force Awakens opens this Christmas.
Calling all HuffPost superfans!
Sign up for membership to become a founding member and help shape HuffPost's next chapter