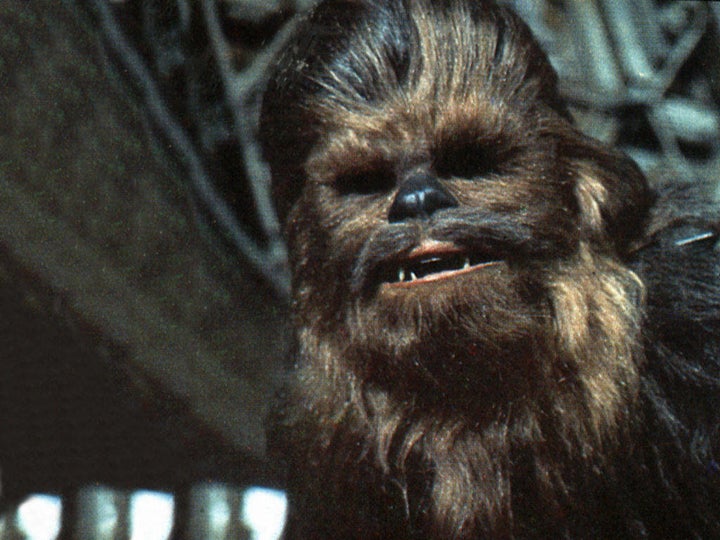 Back in the day, I would gargle soda and entertain friends with my Chewbacca impersonation. It was juvenile, but I nailed it every time. Having said that, the following news below makes me giddy like a school girl (not literally -- I am a grown man -- dammit!) Anyway, read on...
Last week, we heard Han Solo himself -- Harrison Ford -- might be open to reprising the character in the forthcoming Star Wars: Episode VII. Now in an exclusive interview with yours truly, Solo's tag-team partner Chewbacca, himself, is itching to make a comeback as well.
Aside from a cameo in Episode III: Revenge of the Sith, Peter Mayhew has spent over two decades working the fanboy convention circuit. Now that Disney has purchased LucasFilms and a new trilogy is coming, it should come as no surprise that the man behind the 200-year-old Wookiee is eager to return to his Star Wars roots. Below is an interview with the humble fuzzball who deserves to ride again!
Did the Disney puchase of LucasFilms catch you off-guard?
Only in the timing. We expected it next year, but with George retired, it was a good move to hand the reins to Disney. They are very capable of taking our beloved Star Wars into the future.
Did you think you'd live to see a day Episodes VII, VIII and IX would happen? Are you excited?
Stuart Freeborn, who made the original Chewbacca costume, told me from the beginning that there would be nine movies. I expected, as George's retirement became a reality, that the task would fall to future generations to make those movies become a reality. The official word the last few years has been to move forward with a live-action TV series, but there were technology and budget concerns. I am very excited to see what Disney will do with the story and how they will do it. Star Wars is forever, and I am proud to be a part of it.
Have you spoken with any cast members recently -- what's the pulse of the Star Wars universe?
My wife and I have been busy around the home place, so we haven't spoken in depth yet with cast members. As to the pulse of the Star Wars universe, yes, we do know about that. The fans very much want to remain fans, and I think that Disney will respect the fandom aspect of Star Wars. I have participated in Star Wars Weekends with Disney from the beginning, and they know how to put on a show. I think the basics will remain the same, maybe better.
Where do you think Chewbacca might fit in all of this?
In my universe, he will be there fighting the empire all the way. I hope the powers that be feel the same.
Harrison Ford recently said he may not be opposed to reprising Han Solo -- if he doesn't, do you think there's enough room to keep Chewie going?
Of course I do. Chewie and Yoda go way back...
This is true. The prequels get a raw deal. What's your take on them?
The prequels were made for a new generation of Star Wars fans, and I know that they are loved and appreciated by younglings everywhere.
Lastly, I just have to know... has anyone approached you from LucasFilms about reprising the character?
No, but I hope they will. Wookiees, and particularly Chewbacca, are base characters when telling the story of Star Wars. It's important that Chewie remains a part of the story. Everybody loves Chewbacca. I'm sure of it.
Popular in the Community