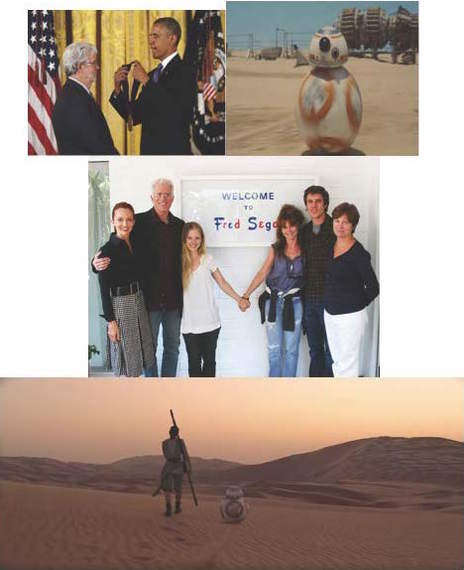 "There should be a point to movies. Sure, you're giving people a diversion from the cold world for a bit, but at the same time, you pass on some facts and rules and maybe a little bit of wisdom." - George Lucas, USA Today
The most recent Star Wars movie, The Force Awakens, is awesome.
In light of the above quote George Lucas' characters stay true to the golden thread of entertainment colliding with life's facts and rules imparting as usual, not a little bit of wisdom, but a lot.
The movie continues his conversation from the original Star Wars trilogy about family, peers and alliances, individuality, school, love, acceptance, dreams, wishes and magic, the Force and the dark side. Even R2D2 and C3PO, the robots tempt us to believe that if there's enough love that feelings preside and heart saves the day. BB-8's sweetness is epic and is so real that you want to extend a hug to him straight from your seat.
George Lucas' honoring at the famed and notable Kennedy Center for the Performing Arts annual celebration for Lifetime Artistic Achievement Awards coupled with the re launching of the genius Star Wars has marked an unprecedented milestone in time.
In his honoring while seated with the President and First Lady of the United States we are reminded of how important storytelling is for our society. It is a testimony to all creators that portal stories in their magic teach us almost everything we need to know about how to journey throughout life.
The hot topic of unity and love found in Star Wars and as always movies, fairytales, fables and stories parallel and impact the current events in mine and Angels at Risk's life, especially this year in 2016.
In a recent conversations from last week with Marcia Lee Taylor, President and CEO of Partnership for Drug-Free Kids, who by the way, partners with a large number of organizations nation-wide, including the effective AIT, as well as a recent conversation with a local organization Didi Hirsch Mental Health Services who is happy to collaborate with organizations like ours, it has become clear still in 2016, that government support is gone. It is a true reality that at a local, state and federal level about this issue of prevention and service for kids and families who are struggling and who need guidance; government support is close to null and void.
Imagine that. Family care and protection is still no longer included in government priority. Who knows, as I mentioned in a blog in 2012 "Angels at Risk: Southern California Juvenile Courts Dissolved" when our juvenile courts closed due to budget cuts in California, what kind of families and kids we are creating. They have no option of help.
"Because of financial misses and messes, which I am not positioned to comment on at all, our society is having to face a daunting reality of compromise. Removing an option of education, life lessons and a chance for something better, and replacing it with a cold assembly line and price tag, can only breed more sorrow, division, loneliness and heartache. Basically, the juvenile system is being gutted." - Susie Spain.
It reminds me why the morals of Star Wars are so important, and why they are thematically the link that I see between Star Wars and the drug and alcohol prevention state of affairs. It's easy to forget that somehow at the core of everything is the beginning of our lives and a connection to our hearts. Somehow financial cuts forgot all about this ethic. In the end, the mirror of the Force and the dark side is everywhere if we look closely. Choosing the Force whenever we can counts. We all have to continue our compassion even when the "system" temporarily loses sight of the Force and the light. As they say in The Force Awakens in their wish, "The light -- it's always been there. It'll guide you."
For us at Angels at Risk, our story and our fable continues on the same road. Our commitment is love and our dedication to faith and unity is resolute. Still, the tips and truths found in all of the Angels at Risk programs and services, curriculum, mission, message, philosophy and goals with prevention tips are on point, and in line with the simple basics found hopefully early on in family and then carried in school and in the school of life, creating the universal truths of integrity, love and heart. Imparting alliance and encouraging these cosmic laws that rule a good life are crucial and vital in creating one community; it is an evolution of greatness.
"We catch kids and families from all backgrounds both rich and poor before they fall through the cracks." - Ted Danson, Angels at Risk founder.
Angels at Risk has a genuine and strong philosophy of collaboration and inclusion across the board. With schools, courts, families, other non-profits and all community resources, our mission and platform has always been to share and to build a grid of solidarity.
It seems that all of us at a non government level, federal, state and local positions are still devoted to believing that things will shift and a commitment to connectivity amongst all of us prevails. The world at large now seems to be clearly trying to address the mental health issue of drug and alcohol use and abuse in children from the insightful and weighty point of unity. We are hearing this in the political climate and in every debate but who knows in the end if any of them will follow through, but it works to continue the hope for the light. Whether it's Hillary Clinton, Donald Trump, Bernie Sanders or Marco Rubio, finally candidates are embracing mental health.
"The Force is what gives a Jedi his power. It's an energy field created by all living things. It surrounds us, and penetrates us. It binds the galaxy together." -Jedi Master Obi-Wan Kenobi
Ever since I counseled or educated kids and families, 35 years off and on, the most assessable and collective expression in helping them find their "God", "higher power", or "positive energy source" has been the referral of the Force just because Star Wars is loved, known by everyone, and world renowned.
The Force is love. Throughout every Star Wars series the Force might be what we can't see, but what we know is there. Loving and being loved or having a universal higher vibration of faith and integrity, even kindness is there, that is the Force.
Drug and alcohol use for children and kids are the dark side. Using them, drugs and alcohol that is, is always seductive, it's cloaked in glamour, power and the mass, but it fails.
In all of this make-believe it seems real. In the end every time, the Force is pure and the dark side is weak.
And our Angels at Risk dream, like the dream of Star Wars, is that by transmitting a message of togetherness about prevention education that there will be change, there will be help and there will be a brand new way because this dramatic issue has no boundaries -- not social, economic or political.
Secretly I wish I could have been there, at Star Wars, to learn how to be a Jedi and study with Yoda as my teacher and having friends like BB-8 and in closing I will say this, the re launching of Star Wars and the honoring of George Lucas coupled, randomly in my mind, with the Pope's visit this past year in 2015 along with the reach for prevention by all of us united including the contemporary politicos is magnanimous. Together, we are making the world being a better place.
George Lucas certainly contributed more to the world than he'll probably ever know or realize<. the="" gift="" he="" gave="" to="" world="" was="" far="" more="">beautiful, truly to me, than words can say.
"May the Force be with you." - Han Solo
May the Force be with all of us, I wish that for everybody.
Need help with substance abuse or mental health issues? In the U.S., call 800-662-HELP (4357) for the SAMHSA National Helpline.
Calling all HuffPost superfans!
Sign up for membership to become a founding member and help shape HuffPost's next chapter