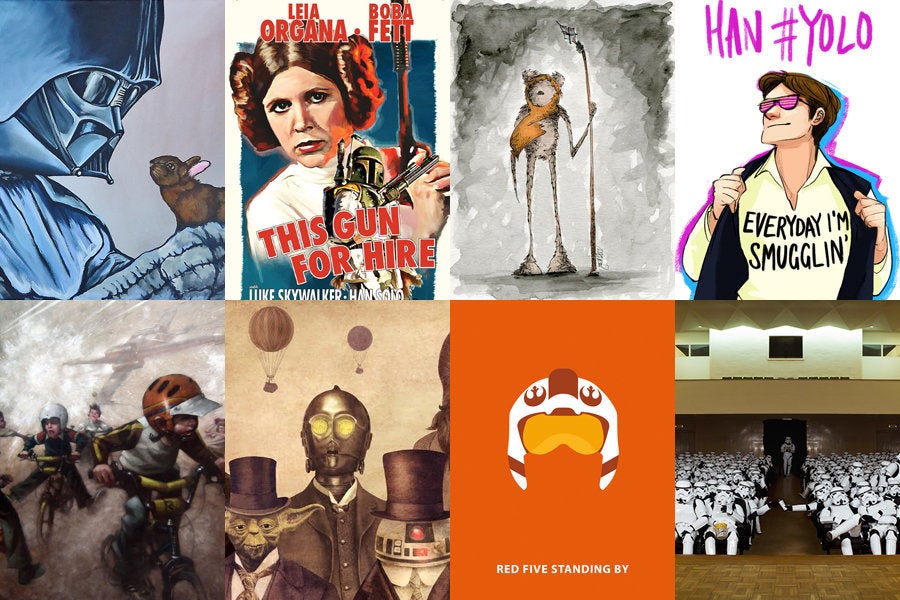 In a galaxy not so far, far away at all, creatures known as human beings are presently freaking out over a bit of film dubbed "Star Wars: The Force Awakens." Men, women, children, puppies -- anyone with a pulse and a proclivity for pop culture -- are aware of, if not excited about, the release of the seventh installation of an American space epic that dates back to the 1970s.
Centuries from now, Earthlings and their interplanetary brethren will look back on December 17, 2015 as a brief moment in time during which people of all origins rallied together behind one monumental work of art. It's rare for the Internet, a digital platform that probably won't exist in any galactic republic of the future, to find itself cloaked in positivity -- in this case, unmitigated joy at the mere prospect of Han Solo and General Leia returning the silver screen.
But it's happening. Right now. And history will have fan art as evidence of its glory.
In anticipation of the return of The Force (courtesy of J.J. Abrams) and characters like Chewbacca, Luke Skywalker and Stormtroopers, HuffPost Arts & Culture spoke with a group of fan artists who have been paying homage to the legacy of filmmaker George Lucas in the best way they know how -- through paintings, photographs, cartoons and modeling clay.
Here is a sampling of some of the best "Star Wars"-themed art out there. From a woman paying homage to her late husband's love of the original trilogy to a film noir nerd to an illustrator rife with hipster puns, these are the artists keeping "Star Wars" love alive today.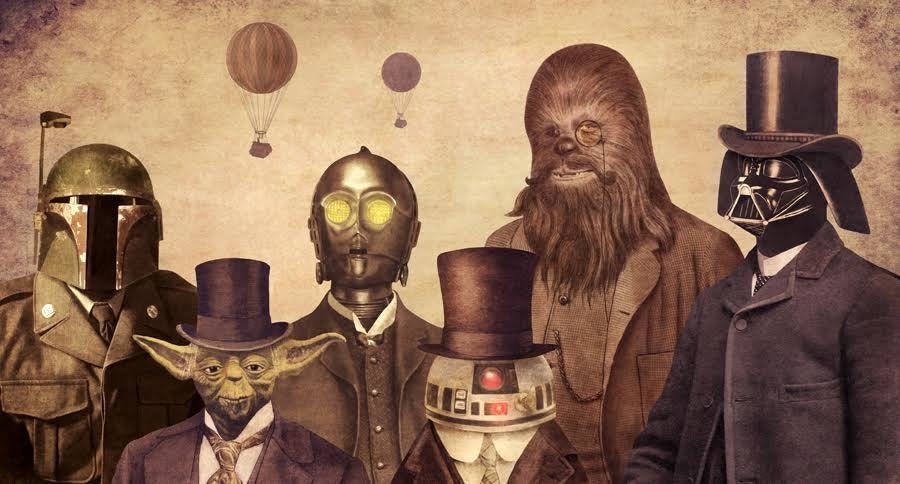 "I've always been a big fan of 'Star Wars' and science fiction in general," artist Terry Fan, who creates Victorian-esque images of characters like Yoda and R2-D2, explained to HuffPost. "When the movie was first released it had a big impact on me and I knew right away that this was going to be big. I still have a 'Darth Vader Lives' button that they gave out at the premiere showing in Toronto."
"Anyway, I also love anything vintage and a lot of my work is influenced by a vintage aesthetic. So I thought it would be really fun, cool to reimagine all these iconic characters in a different time and setting, so hence 'Victorian Wars' was born!" (See more of Terry Fan's work here.)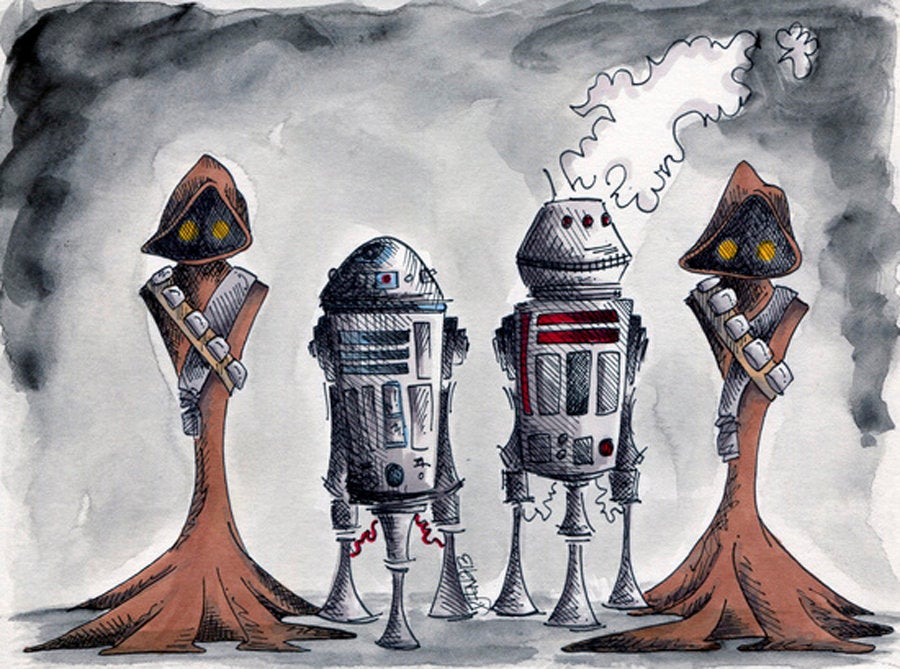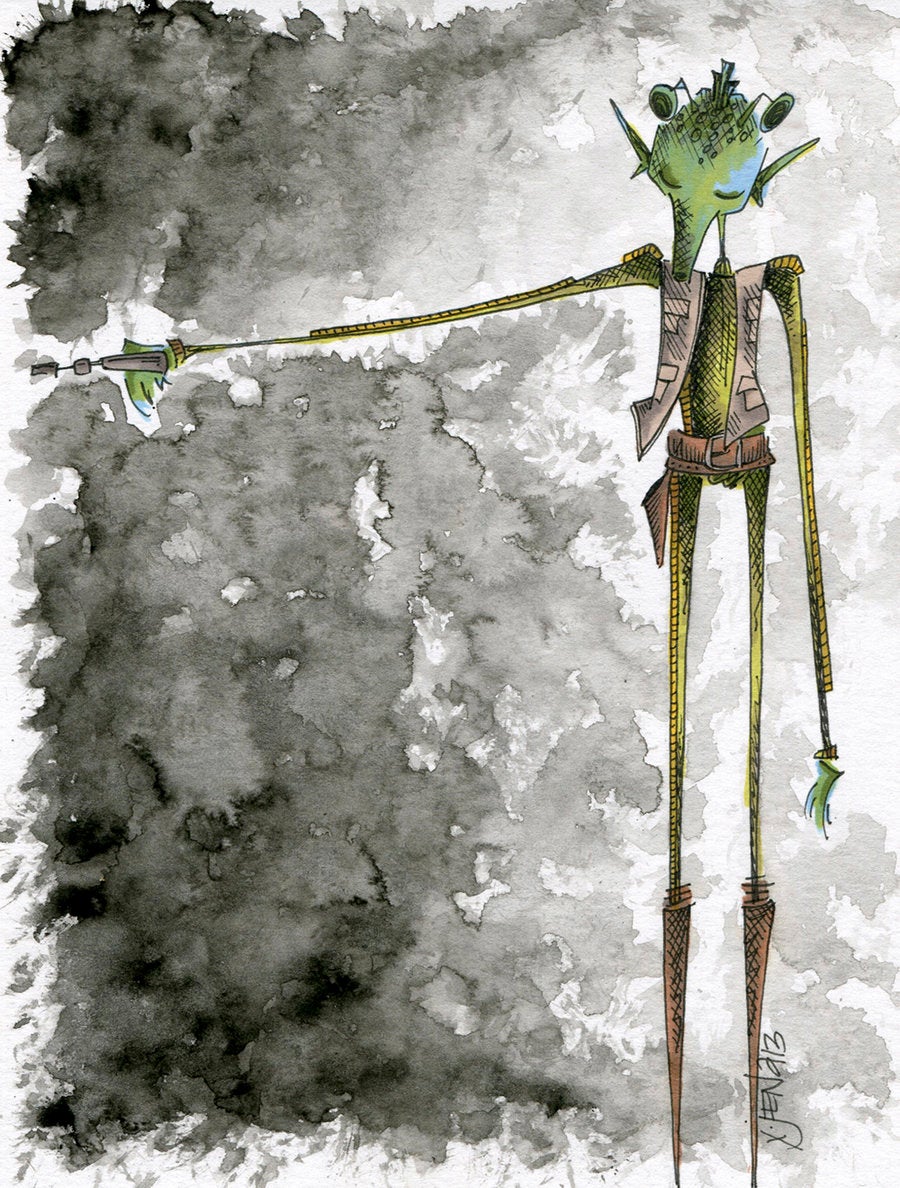 Jena Sinclair is 20-something-year-old artist "traveling the world and experiencing as many adventures as one lifetime can hold." When asked about what motivates her "Star Wars"-themed illustrations, reminiscent of watercolor fashion sketches,  she explained simply: "Replace fear of the unknown with curiosity," adding, "And always ALWAYS love what you do." (See more of Jena Sinclair's work here.)

In an email to HuffPost, artist Kelly Kerrigan explained how she was inspired to combine cuddly creatures with their "Star Wars" comrades after her husband Paul's death in 2010. Paul, whose favorite film was Jimmy Stewart's "Harvey," had a soft spot for bunnies, even calling them his spirit animal. The "Star Wars" characters act not only as effective foils to their cuddlier counterparts, they remind Kerrigan of bonding with her husband over their shared love of the trilogy in college. (See more of Kelly Kerrigan's work here.)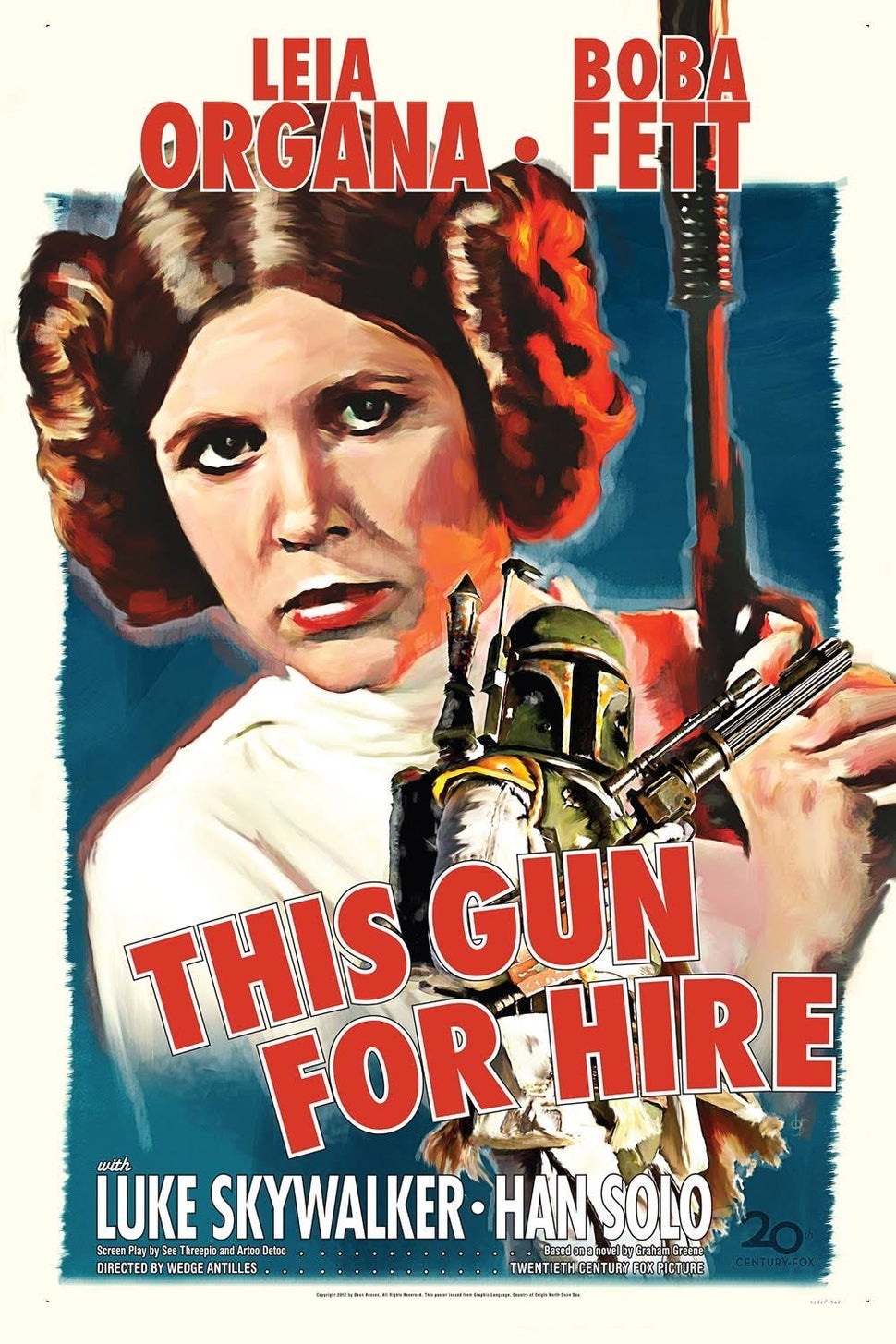 "My inspiration, especially for my noir series, is my love of old painted movie posters and, of course, 'Star Wars,'" artist Dean Reeves explained. "I wanted to recreate the look and feel of a classic film noir poster but with the cast and crew comprised of actors, directors and screenwriters from the 'Star Wars' universe."
"I have loved 'Star Wars' since I first saw the opening crawl back in 1977," he added, "and when I saw the first trailer for 'Star Wars: The Force Awakens' I felt like I was 11 years old again." (See more of Dean Reeves' work here.)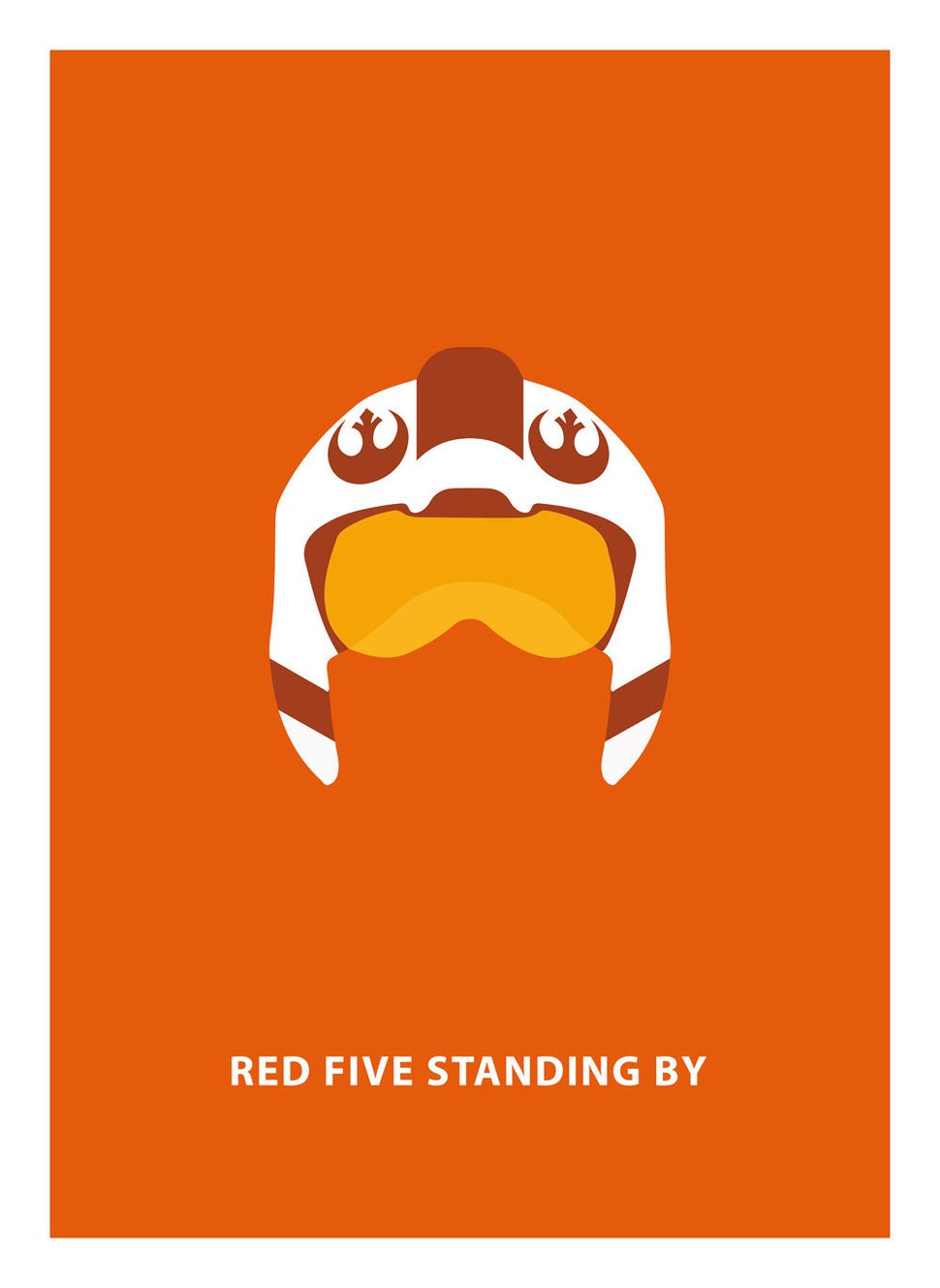 "From a young age I was always fascinated by the imagery found in golden and silver age comic books," Keith Bogan, the artist behind a series of minimalist "Star Wars"-themed posters, recalled. "Once I began studying graphic design, I found myself drawn to the minimalist style -- the idea of taking a piece of art, peeling back the layers and leaving it in its simplest and purest form is something that really appeals to me." (See more of Keith Bogan's work here.)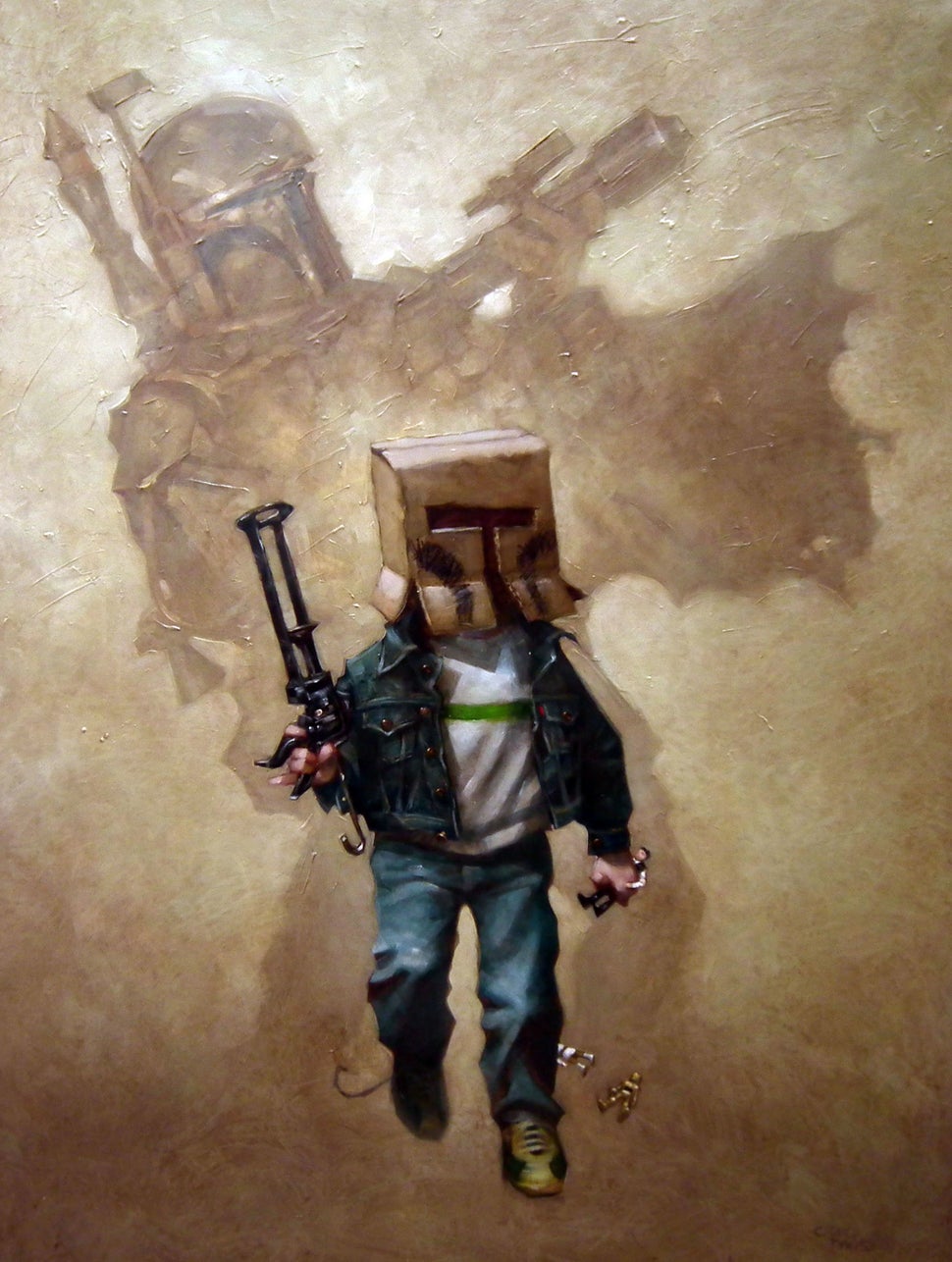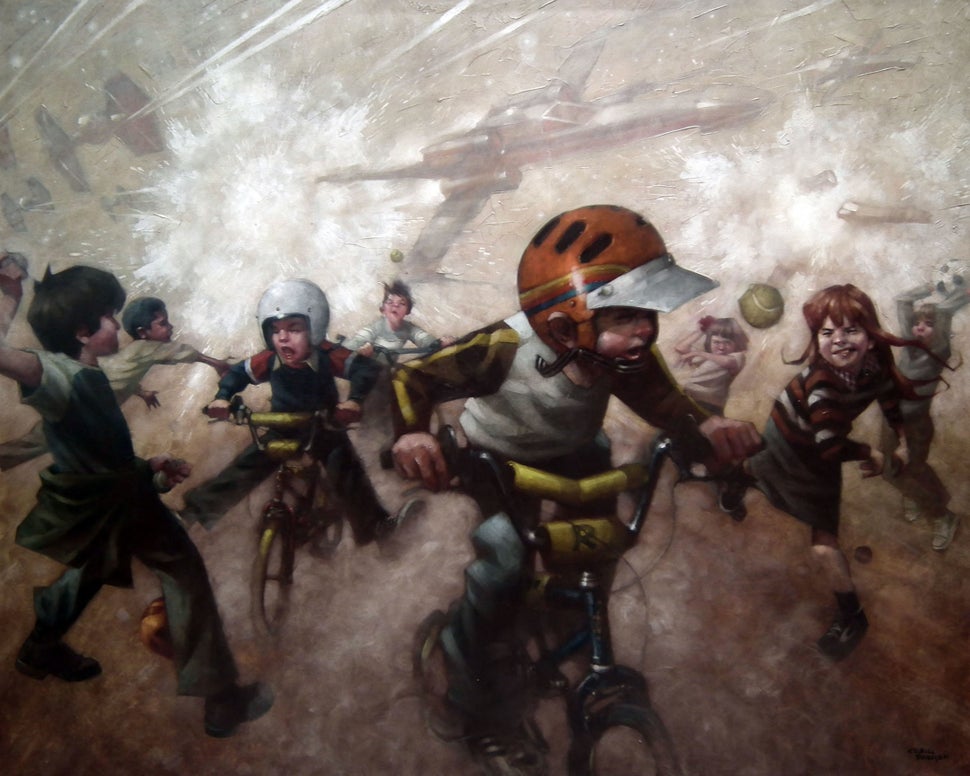 "My paintings try to capture the imagination of children, that moment when the actual world fades and a fantasy one becomes reality, and everything is possible," painter Craig Davison explained. "What better way to show this than through the universe of the 'Star Wars' films, where children continue the battle between the Empire and Rebels in backyards and streets around the world?" (See more of Craig Davison's work here.)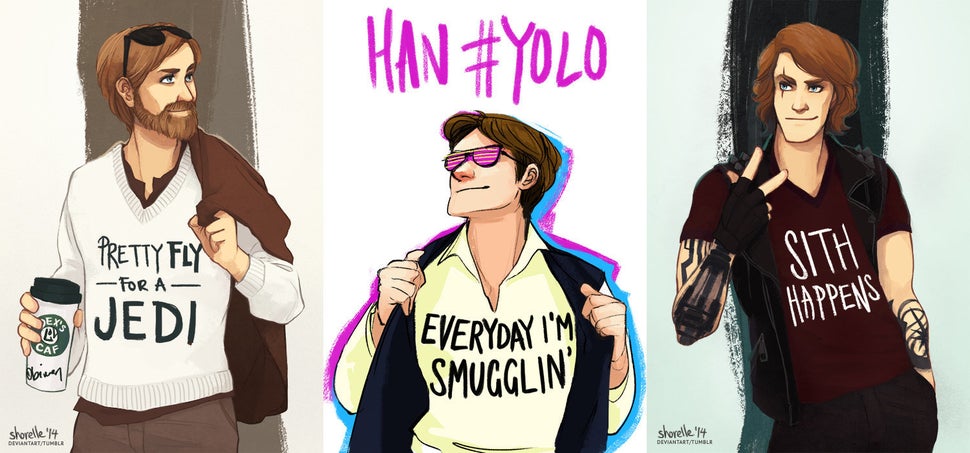 "One of the great things about 'Star Wars' is how it inspires the imaginations of people from all walks of life, all over the world," artist Desiree Surjadi said. "'Star Wars' is the main reason why I started drawing again after many years, because I wanted to be able to express how much I love this universe and its characters, and share how it makes me feel."
"I like to reimagine how classic stories like 'Star Wars' fit into the pop culture we live in today," Surjadi added. "'Star Wars' is also just a lot of fun, and I always get incredibly happy whenever I can connect with people through art and fandom and make them smile (or groan)!" (See more of Desiree Surjadi's work here.)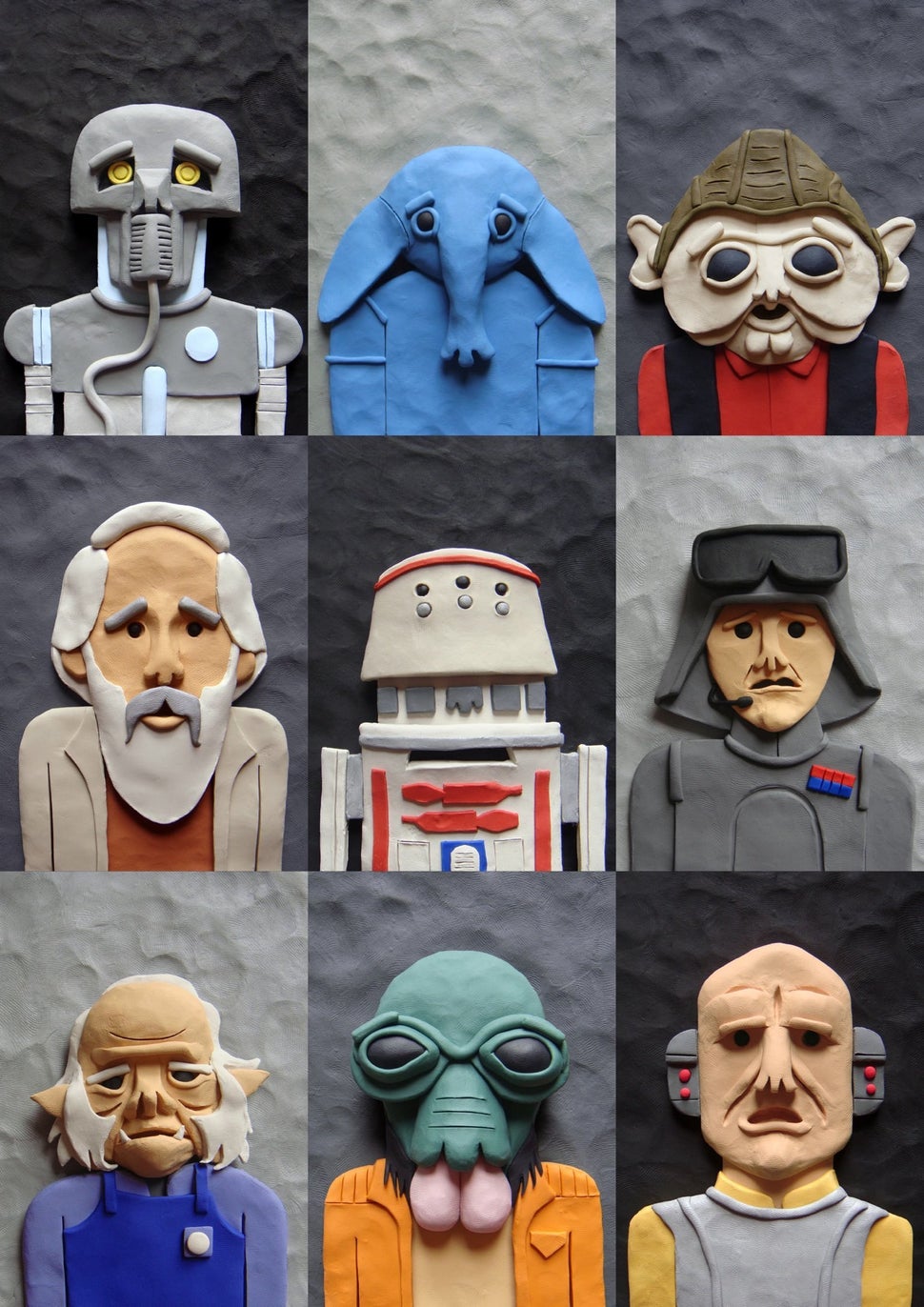 "I've loved 'Star Wars' ever since dad took my older brother and I to watch 'Return of the Jedi' at a our local cinema when I was 6 years old," illustrator Elliott Quince recalled, when asked about his modeling clay imaginations of "Star Wars" characters. "The thing that captured my imagination most were the huge array of weird and wonderful characters. From shiny know-it-all robots to sassy princesses, the films had them all. I remember collecting the toys and recreating the storylines with my friends at school whilst doing all the funny voices."
"Plasticine Tatooine" features lesser-known characters and disgruntled misfits from the "Star Wars" universe, rendering them as bitter individuals, "annoyed by how badly they were treated on set and dismayed at how cruelly their lives panned out since the movies were released," Quince said. (See more of Elliott Quince's work here.)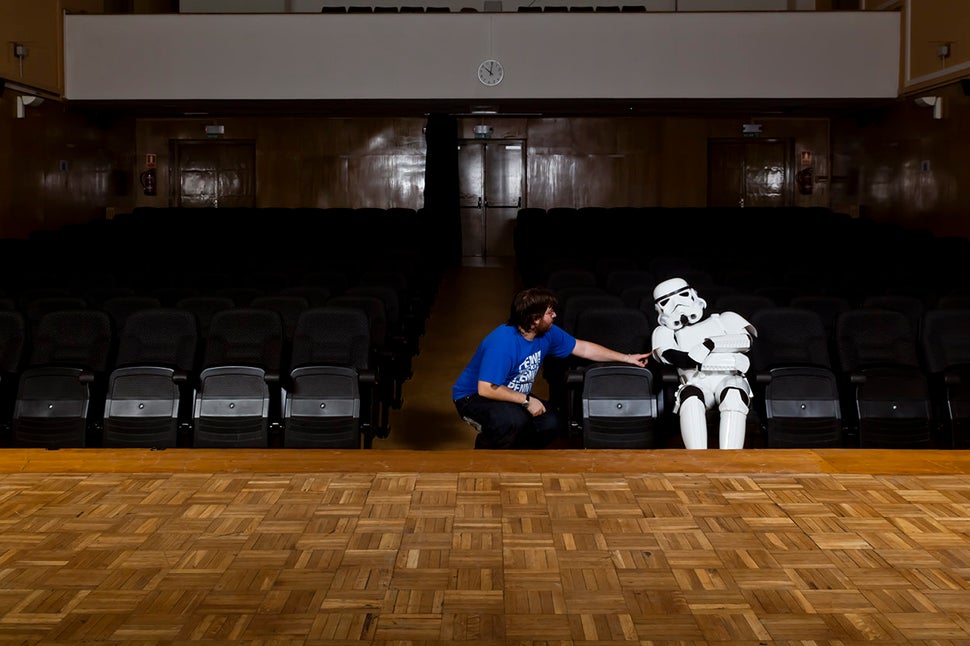 "'The Other Side' represents the routine of diverse individuals in order to manifest the importance of daily routine," Jorge Perez Higuera, a photographer who has spent a fair amount of time staging everyday scenes with Stormtroopers, writes on his site, "by decontextualizing a fictional character and showing its adaptation to our world." (See more of Jorge Perez Higuera's work here.)
PHOTO GALLERY
18 Great Gifts For Any Star Wars Geek
Calling all HuffPost superfans!
Sign up for membership to become a founding member and help shape HuffPost's next chapter