LOS ANGELES, Oct 19 (Reuters) - "Star Wars" fans were given the longest look yet at the upcoming "The Force Awakens" film on Monday, in an action-packed trailer which became the top trending topic on Twitter and sparked a rush of bookings which crashed a U.S. online ticket seller.
The two-and-a-half minute trailer, which debuted during halftime of ESPN's National Football League game, quickly attracted more than 17,000 tweets per minute, according to Twitter. It was viewed on YouTube more than 220,000 times within the first 20 minutes.
Tickets for the film's U.S. release on Dec. 18 went on pre-sale at the same time as the trailer, with U.S. ticket seller Fandango crashing temporarily.
The trailer, which featured franchise veterans Harrison Ford and Carrie Fisher alongside a cast of newcomers, kicked off with lead character Rey (Daisy Ridley) as a scavenger presumed to be the daughter of Princess Leia (Fisher) and Han Solo (Ford).
Fisher makes her trailer debut as Leia, along with the character's trademark hair buns, as she is embraced by Han Solo. Leia is heard saying "The Force, it's calling to you. Just let it in." Notably missing was Mark Hamill, who reprised his role as Luke Skywalker but is yet to be seen in character.
The trailer for the film, directed by J.J. Abrams, provided the vast scope the new film will be taking and the challenges that its leading characters will face.
Finn (John Boyega), a Stormtrooper on the run, says "I was raised to do one thing, but I've got nothing to fight for," and is later seen battling villain Kylo Ren (Adam Driver).
Kylo Ren is shown alongside the charred mask of Darth Vader, saying "Nothing will stand in our way. I will finish what you started."
Fans have until now only seen two teasers: November's 88-second trailer and April's 2-minute trailer, in which Han Solo and Chewbacca made their first appearance.
Ahead of the trailer release, Abrams tweeted a note, saying "We cannot wait to share the trailer with you tonight. I don't care if you're black, white, brown, Jawa, Wookie, Jedi or Sith. I just hope you like it."
The film is expected to gross about $100 million in North America on its opening weekend, Rentrak's senior media analyst Paul Dergarabedian said, adding that it could earn over $2 billion globally.
"This is maybe the most anticipated movie of the last 10 years," Dergarabedian said.
"Star Wars," created by filmmaker George Lucas, has grossed more than $4.4 billion globally since 1977 with six films. "The Force Awakens" is the first of three new "Star Wars" movies being produced by Disney since it purchased the Lucasfilm franchise in 2012 for $4.05 billion.
Earlier Monday, British "Star Wars" fans snapped up tens of thousands of tickets for "The Force Awakens," with movie theater chains reporting record business for advance tickets.
Cinema chain Odeon said Monday was "our busiest day ever for online bookings," while Vue Entertainment said it had sold 10,000 tickets within the first 90 minutes. Both said some customers faced delays purchasing online.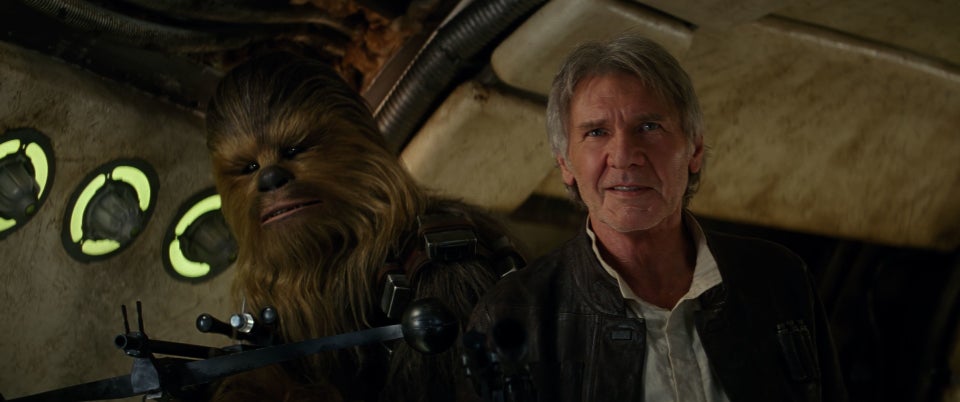 'Star Wars: The Force Awakens'
Popular in the Community