The company showed off artwork of the lands during a panel discussion at its Star Wars Celebration in Orlando on Saturday, and said the new location would be "somewhere on the Outer Rim — lying on the edge of the Unknown Regions."
A post on the Disney Parks blog said:
Speaking at the panel discussion, Disney Imagineer Scott Trowbridge said it's the kind of location that draws "the smugglers, the bounty hunters, the rogue adventurers looking to crew up, the people who don't want to be found ― basically all the interesting people."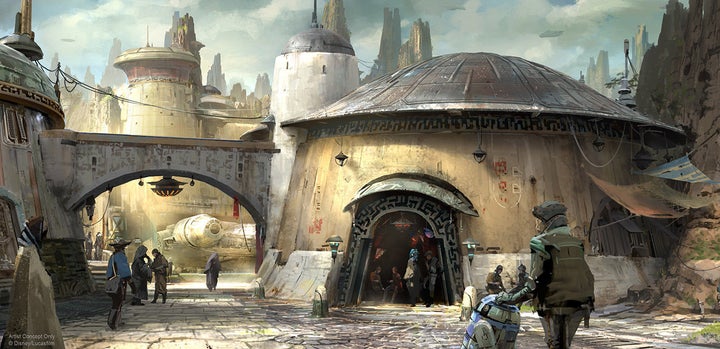 The panelists said Star Wars Land would have its own distinct smells, not to mention tastes, including "blue milk" (a.k.a. Bantha milk).
The company also revealed an image of what looked like a marketplace, which will likely be part of numerous merchandising locations: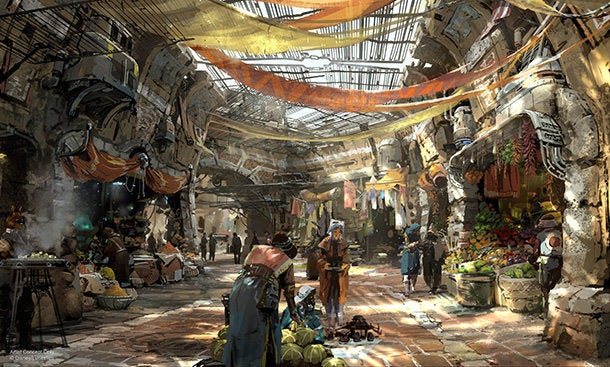 There will be plenty of interactive options. You can remain just a visitor or go a little deeper into the "Star Wars" world.
"There are going to be a ton of opportunities to help out and support the Resistance, lots of smugglers and bounty hunters who are looking for a little bit of help and might be willing to offer you up a side job, and for those of you who are interested in supporting The First Order, that will absolutely be an opportunity as well," said Disney Imagineer Asa Kalama.
One ride will allow visitors to pilot the Millennium Falcon, and Kalama said you could end up banging the famed ship around, but there would be "consequences" for that later.
"An experience might begin on board the Millennium Falcon and follow you right out the door of the attraction and into the local watering hole," he said.
"You can essentially build a reputation in the 'Star Wars' universe," said Pablo Hidalgo of the Lucasfilm Story Group.
"There could be someone looking for you eventually," warned Disney Imagineer Wendy Anderson.
Although the panel didn't discuss how those interactions would take place, the Florida theme parks already utilize RFID wristbands that allow certain characters to know a little something about each guest wearing one. Mickey Mouse, for example, might mention your name or comment on where you're from during a meet-and-greet. Similar technology could end up in use in Star Wars Land.
The panel also showed off some new footage of the construction:
Star Wars Land is scheduled to open at Disneyland in California and Disney's Hollywood Studios in Florida in 2019.