For the better part of a year now, theme park fans have been closely watching as all sorts of steel has been rising up in the northwestern corner of Disneyland Park.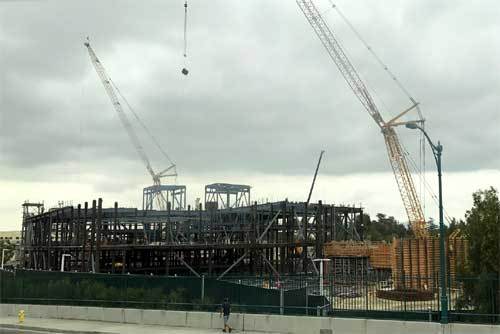 Mind you, it's common knowledge that this construction was being done for Star Wars Land, which is supposed to open in Anaheim & at Disney's Hollywood Studios in the Spring of 2019. But what isn't as well known is what this 14-acre addition to those two theme parks would actually entail.
Well, all that changed last night. Out ahead of today's official opening of this year's D23 EXPO, members of the media were invited into the Anaheim Convention Center. Where – after hiking across the still-being-prepped show floor for this Ultimate Disney Fan Event – they were first offered a glass of blue milk …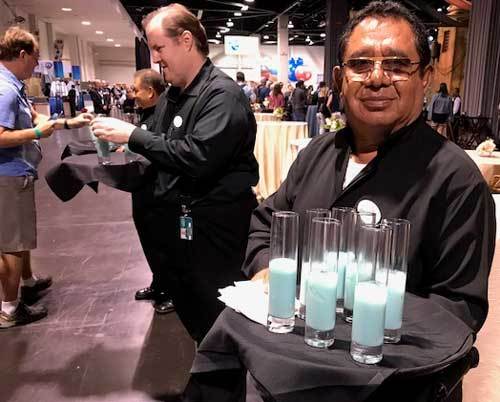 … and then herded into the Walt Disney Parks and Resorts' "A Galaxy of Stories" pavilion. Which is where – after a dramatic curtain drop -- the half-inch-to-one-foot scale model for Star Wars Land was then unveiled.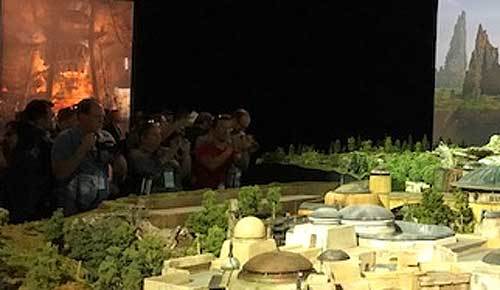 So what's it eventually going to be like to visit this place that Bob Chapek (i.e., the Chairman of Walt Disney Parks and Resorts) once described as " … a gateway planet located on the outer rim, full of places and characters familiar and not so familiar." Scott Mallwitz (who's an executive creative director at Walt Disney Imagineering. More importantly, Mallwitz was part of the team that drove the creative direction of this project) said that the usual theme park rules won't apply to this land.
"This place is not about some narrative where you have to follow a crowd. It's your own actions & choice – more importantly, the relationships you forge as you're exploring this immersive environment – that will then determine how your Star Wars Land experience will unfold," Scott explained. "I mean, even the way you choose enter this part of the park will have an impact on your adventure."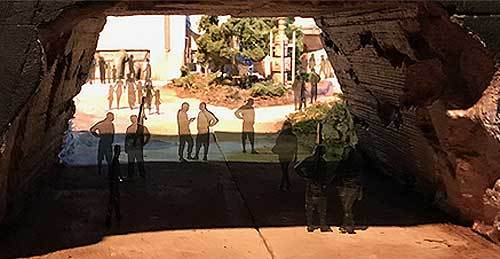 How so? Well, let's say that you choose to enter Star Wars Land through the Frontierland land entrance. Which is just off of Big Thunder Trail.
Here you'll encounter a thriving spaceport with multiple landing pads. A place that people have traveled to for millennia to exchange goods & services.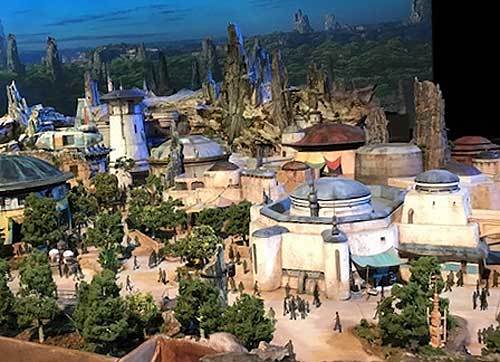 However, were you to choose to enter Star Wars Land from over on the Fantasyland side of this theme park …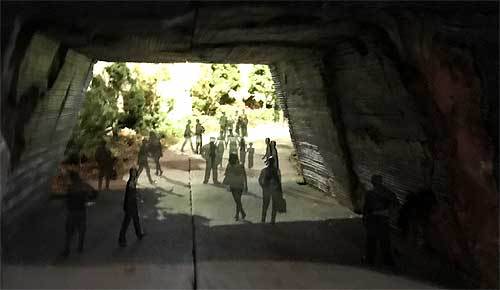 … you'll then find evidence that the First Order has recently arrived on the scene (Please note the First Order TIE Fighter in the lower righthand corner of the image below). Which – what with all of the Stormtroopers who are now in the vicinity – is putting many of the merchants in this area on edge.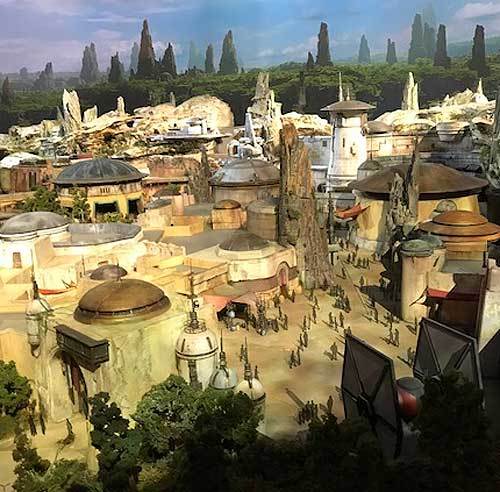 Mind you, if you enter Star Wars Land from the Critter Corner side of Disneyland Park, after passing through a lush forest …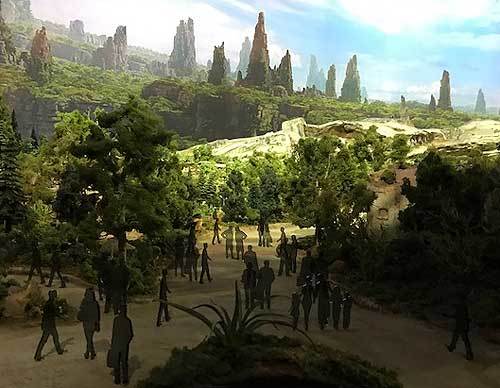 … you'll then suddenly find yourself in the middle of a staging area that the Rebellion has set up. And as you chat with the pilots & droids who are standing by that X-wing starfighter & A-wing interceptor, you'll find out that something big is about to go down in this formerly quiet corner of the galaxy.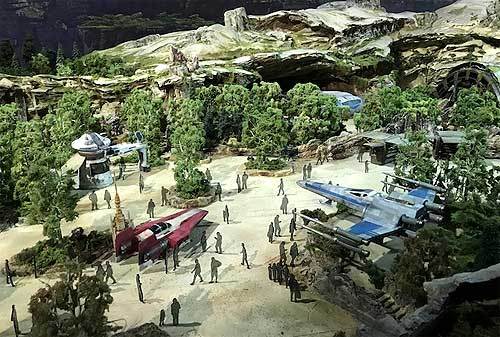 Why did I use the word "quiet" ? Well, you have to understand that – according to the backstory that the Imagineers & Lucasfilm have dreamed up for Star Wars Land -- this spaceport dates back to the old sub-light speed days. And because now (in the Star Wars universe, anyway) basically everyone uses light speed to barrel around the galaxy, this spaceport isn't quite as popular or well-known as it once was. Which is why it's now the preferred hangout of traders & space pirates who would prefer to operate in the shadows.
Which is why – if you wander through its narrow streets – you may eventually come across a certain Corellian freighter that Star Wars fans love parked in one of this spaceport's docking bays.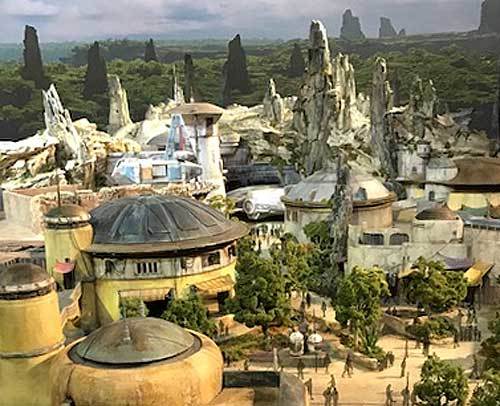 Visitors to the D23 EXPO (which runs at the Anaheim Convention Center now through Sunday, July 16th) are sure to spend hours staring at this massive model as they then try and suss out which rock formation hides the show building that houses the attraction which then puts you right in the middle of a battle between the First Order & the Resistance. Or – for that matter – where one goes to queue up for that interactive experience that will give guests the opportunity to actually pilot the Millennium Falcon.
Sadly, Mallwitz wasn't all that forthcoming when I pressed him for details on Star Wars Land's two marquee attractions. But he was willing to look back at when this project was first officially revealed. Which – appropriately enough – at the last D23 EXPO back in 2015.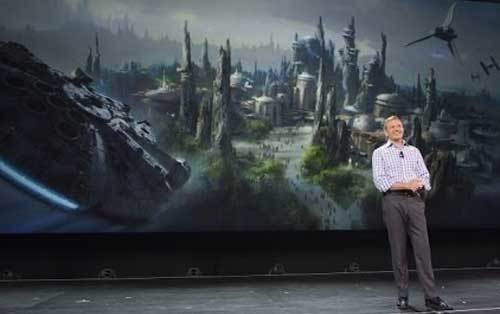 "When Bob (Iger, Chairman & CEO of The Walt Disney Company) stood on that stage, he challenged WDI. He wanted us to be very ambitious when it came to bringing Star Wars into the parks," Scott explained. "And given that it's not every day that your boss asks you to deliver on such an exciting, high profile intellectual property … Well, I hope this model shows that the Imagineers really embraced that challenge. "
Popular in the Community